Five DIY Projects To Celebrate This Earth Day
Earth Day, not just a time to plant trees and recycle, but a time to celebrate our Earth and show it some love. To help get your creative juices flowing, I have listed five DIY projects you can try out yourself this Earth Day.
1. Custom plant holders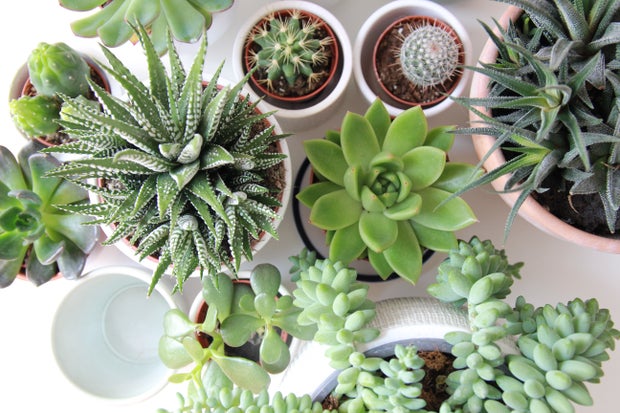 Photo by Angèle Kamp from Unsplash
Give your plant garden an upgrade by making some custom plant holders. You can buy clay or wood pots for this project. Go to the craft store and buy some pastel-colored paints, as well as either silver, gold or rose gold as an accent color. You can paint a design, your name, a little plant or just a solid color. Make it your own and treat your plants this Earth day.
2. DIY windchime
This DIY uses recycled cans, metal lids and plastic bottles! First, you will need to cut a plastic soda bottle in half. Poke about five holes into the base of the bottom half of the bottle. Using about five strings, tie each one through its own hole on the bottle. These should vary between 12 and 15 inches long. Moving to your soda cans, draw different shapes on the can and cut them out. Using tape or glue, attach these shapes to the ends of the string that aren't tied off. Add a handle made of string to hang your wind chime, and you're done! You can even get creative and find your own method to make this recycled wind chime.
3. An Earth Day snack
We're talking dirt cups. I promise you this snack is not just for grade school kids. We all know the drill. Chocolate pudding, crushed up Oreos and gummy worms. But just think, if you're of legal drinking age, why not spice things up a little bit? That's right, vodka-soaked gummy worms. I'll cheers to that!
4. DIY corkboard made of wine corks
Trust me; this one is a lot easier than the wind chimes. All you need for this DIY is a hot glue gun and a bunch of wine corks. Cut your corks in half and then lay them all flat lined up next to each other. Start with a row of about 10 cork halves and then move one to the next row. When you're finished, you should have a big rectangle of corks. Feel free to glue this on a mat or poster board so that you can hang it up. You can put up pictures, enamel pins or even stickers on your new corkboard.
5. Reusable shopping bag
This project is the easiest but will allow you to see the greatest difference in your lifestyle. Most craft stores will sell blank, pre-made bags for you to purchase, but feel free to use old t-shirts or fabrics to make your own bags! Once you have your new reusable bags ready, grab some paint and create your own designs. Put your own style onto your bags so that you'll want to take them to the store with you! Taking reusable bags to the grocery store will save the planet on plastic waste and save you from plastic bags galore in your pantry.
Want to see more HCFSU? Be sure to like us on Facebook and follow us on Instagram, Twitter, TikTok, Youtube and Pinterest!