Five COVID-Friendly Galentine's Day Ideas
If you're like me, then you're still following all of the COVID precautions. Like many holidays, events and activities, you've had to change plans and accommodate for the Coronavirus; however, this doesn't mean that you have to cancel your plans altogether. Galentine's Day, or Feb. 13 for those who are unfamiliar, is a day dedicated to celebrating the relationship you have with your favorite gals! Like every other social event for the past year, things are going to look different, but you can still celebrate Galentine's in a COVID-friendly way! So here are five COVID-friendly Galentine's Day ideas so you can still celebrate with your favorite ladies!
1. Have a socially distanced picnic.
Grab some blankets, your favorite foods and snacks, find a cute spot at your local park and have a socially distanced picnic with your girlies! If you're feeling fancy, you can make a Pinterest-worthy charcuterie board filled with fancy cheeses, meats and fruit. Or you can keep it lowkey and grab whatever chips and snacks you have in your pantry. Put on your favorite outfit and make sure to take cute pictures of each other!
2. Bake something over zoom together!
Find a recipe that you both like, whether it's cake, cookies or brownies, and have a zoom party while you all bake together. Find some cake and cookie decoration inspo off of Pinterest or TikTok. If you're not feeling too ambitious, you can buy the pre-made cookies and pop those in the oven, or even just make some chocolate covered strawberries.
3. Have a Netflix or Hulu watch party!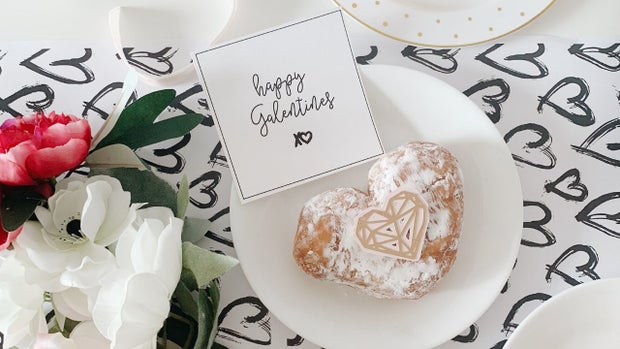 Uby Yanes
If you're feeling lowkey and just want to stay in and chill over Galentine's Day, then watch your favorite movie together with your girlies! You can put on one of your favorite movies, or even watch season two, episode 16 of Parks and Rec, which is all about Galentine's Day! If it were up to me and my girlies, we would for sure put on Twilight.
4. Have a Zoom Powerpoint night!
This is a trend that I've seen all around TikTok that would be perfect for Galentine's Day. Pick a funny PowerPoint topic like, "Whose most likely to…" or "Our friends as (insert TV show) characters…" If you're lacking inspiration, then just pull up TikTok and search for #powerpointnight, and you'll be sure to find some fun ideas. Then just pull up Zoom and use screenshare to show everyone your PowerPoint and you're all set! This is a great way to celebrate Galentine's without the worry or stress over COVID! 
5. Get some dinner and watch the sunset together!
For the past few years, on Galentine's my girls and I would always get ready together, go to a nice restaurant, have some dinner and, of course, dessert. Even though restaurants are open in most places, that doesn't mean that everyone in your group may feel comfortable going into one. So if you still wanna spend some time with your favorite ladies and grab some dinner, you still can! Get take out from one of your favorite local restaurants, find a cute place to watch the sunset like a riverfront park and spend some quality time with your girls! You could even just find the nearest parking garage, pop your trunks and you're all set. A bonus is that you can even get some cute sunset pics!
Even though Galentine's Day is going to look different this year, you can still celebrate it in a COVID-friendly way. This year might even be the most important year to celebrate Galentine's because we've all been shown how special and important the relationships in our lives are from this past year. So, buy a cute outfit, do your makeup and celebrate Galentine's Day with your girlies who are getting you through this pandemic!
Want to see more HCFSU? Be sure to like us on Facebook and follow us on Instagram, Twitter, TikTok, Youtube and Pinterest!