The Five Best T.V. Episodes to Watch This Val/Galentine's Day
Even though Valentine's Day is nothing but an advertising plot for candy and card companies, it can still be a touchy subject for some. I'm not sure how we as a society decided that a fat baby in a diaper was going to be our universal sign of love, but either way, I still get discounted candy from Wal-Mart on Feb. 15, so I can't complain. Whether you love love, or the sight of couples makes you sick, you can still enjoy this Valentine's Day by binge-watching all of my favorite holiday-appropriate episodes.
(All episodes listed below are available on Netflix, so go and get your cousin's login information and enjoy)
"Galentine's Day," Parks and Recreation (Season two Episode 16)
We'll start with an episode for the ladies. Parks and Recreation is arguably better than The Office, and I am willing to die on that hill. One aspect that makes Parks and Rec so good, is the amazing power dynamic Leslie and Ann have. These two unlikely friends team up throughout the series, and at the end of every episode you know they have each other's backs. In this episode, Leslie throws her annual "Galentine's Day" brunch for the powerful women in her life, where they get together, eat good food and complain about men (doesn't that sound amazing). While there are remnants of romance, this episode hones in on the importance of surrounding yourself with good friends with or without a special someone, which is something we can all stand to be reminded of from time to time.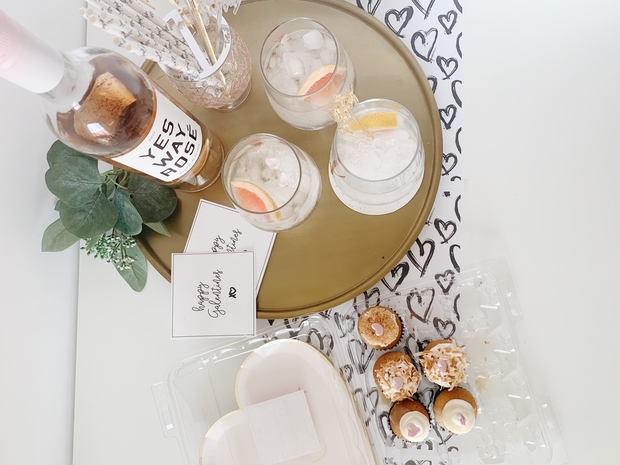 "Chapter Forty-Four," Jane the Virgin (Season two Episode 22)
If you're spending this Valentine's Day with a significant other, first, I'm jealous, and second, this episode is dripping with lovey-dovey goodness that is certified to get you in your feels. Everyone is frantically trying to finish the last-minute preparations for Jane and Michael's wedding, which in and of itself is adorable. BUT, the real kicker, is the actual wedding scene, where Michael surprises Jane by memorizing his vows in Spanish. Spanish. Can you imagine someone loving you so much that they learn a new language for you? He just took the phrase love language to a whole new level. While this episode isn't specifically Valentine's Day themed, it just exudes love and happiness, and what more could you ask for?
"Valentine's Day," The Office (Season two Episode 16)
If you're looking for a Valentine's themed episode without all of the romance and more of a focus more on comedy, then this is the episode for you. Even though I just said that Parks and Recreation is better than The Office, it is still an amazingly written show. This episode is a throwback to before Jim and Pam ended up together and before Steve Carell got hair plugs, so although it may seem like it won't be worthwhile, it still is. Instead of focusing on Jim and Pam, this episode focuses more on Michael and Jan, a relationship I never understood. Plus, this episode is the show's introduction to "The Temp," Ryan, who we all loved to hate by the end of the series.
"Desperation Day," How I Met Your Mother (Season six Episode 16)
"...My favorite day of the year, Feb. 13: Desperation Day" - Barney Stinson. I must admit, he kinda snapped with that one. If there's any day in the year that reeks of desperation and loneliness, it would be Feb. 13. My queen, Robin, even goes as far as to protest what she calls the "Hallmark day" and spends her desperation day hanging out with her single girlfriends. The man, the myth, the legend, Barney Stinson, purposefully doesn't hook up with anyone at night so he won't be trapped with a Valentine's date once midnight strikes. He decides to search for his "Desperation Day" victim by sorting through the seas of hopeless women that find themselves crossing his path. The entire episode follows the gang's separate Valentine's day plans, which mainly involves disappointment, sex and alcohol.
"You Also Have a Pizza," Orange Is the New Black (Season two Episode six)
Surprisingly, a show about a women's prison can be quite romantic. In this episode, the inmates talk about what their definition of love is, and it's beautiful. They all reminisce about what Valentine's day was like before they were locked up, and it's a bit sad, but it's refreshing seeing what their lives were like on the outside. Even though I am still heartbroken over (SPOILER ALERT) Poussey's death, her quote in this episode is the most genuinely pure quote throughout the entire series, and I couldn't write this article without including it. "Love. It's just chilling, you know? Kicking it with somebody, talking, making mad stupid jokes. And, like, not even wanting to go to sleep, 'cause then you might be without 'em for a minute. And you don't want that."
I hope this Valentine's day you're either "kickin' it with somebody, talking, making mad stupid jokes" or you're happily protesting this "Hallmark day" with your besties, but either way, remember you're valid with or without a partner.
Want to see more HCFSU? Be sure to like us on Facebook and follow us on Instagram, Twitter and Pinterest!