The Korean pop group SEVENTEEN has released a new music video for their song "Fear." SEVENTEEN is a group of 13 members that are known as self-producing idols because they produce their own songs and choreography. Specifically, the songs are produced by Woozi and choreographed by Hoshi, two members of the group. They debuted in 2015 with the song "Shining Diamond" under the company Pledis Entertainment. SEVENTEEN has three subunits: the performance team (Hoshi, Dino, Jun and The8), the vocal team (Woozi, Jeonghan, Joshua, Seungkwan and DK) and the hip-hop team (S. Coups, Wonwoo, Mingyu and Vernon). They have produced many music videos like "Mansae" (2015), Very Nice" (2016), "Adore U" (2015) and "Don't Wanna Cry" (2016).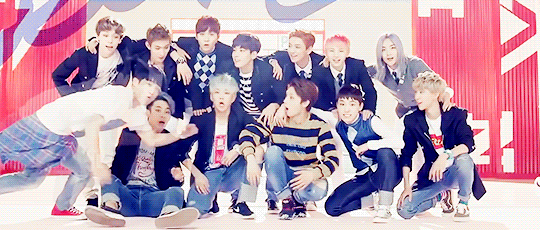 Courtesy: Amino Apps
Since then, they have produced multiple mini-albums and three full albums. The group took a vacation earlier this Summer and are now well rested to make their comeback. Recently they released a music video for their digital single "Hit," which they performed at KCon LA (a Korean music convention). "Hit" is a very fast-paced and energetic EDM song and the music video has received over 20 million views on YouTube.
SEVENTEEN is known for their amazing performance skills, fashion sense and a wide range of music styles. Their latest album An Ode was released on Sept. 16th with their music video, "Fear." It has been two years since SEVENTEEN's last full album, TEEN, AGE was released.
Courtesy: Genius 
The song "Fear" takes on a darker concept than usual SEVENTEEN songs. This song is about the fear of their lover realizing that the love they have is toxic and that they will leave them because of it. In the music video, each member represents a type of phobia. The music video has already received over 10 million views on Youtube and multiple reactions by YouTubers. Many fans have mentioned the iconic makeup looks in the music video. Jeonghan has a scene where he smears lipstick onto his lips and Joshua is covered in glitter.
Courtesy: Allure
Courtesy: MTV
SEVENTEEN performed "Fear" live for the first time on MCountdown (a Korean music television program) on Thursday, Sept. 19. The An Ode album comes in five different versions (Yes you read that right, five versions). There is "The Poet," "Truth," "Begin," "Hope," and "Real." Each version features a different set of photos, concepts and aesthetics for each member. The album has eleven songs and each subunit has one song performed by their members only. Over 160,000 copies have already been sold, tripling the sales from their last mini-album, You Make My Dawn.
Courtesy: Carousell
But that is not all. SEVENTEEN has plans to go on a 2019 - 2020 world tour. The "Ode to You" World Tour was announced in August. This is the second world tour SEVENTEEN has done, with their first being the 2017 Diamond Edge. Only three US cities were visited during their last world tour. Only tour dates in Asia have been released, but more dates and locations will be revealed at a later date. They have not yet mentioned if they will be visiting more US cities for this world tour, but SEVENTEEN could be another group to participate in the US Kpop craze.
Want to see more HCFSU? Be sure to like us on Facebook and follow us on Instagram, Twitter, and Pinterest