Experience the Toy Story World This Week At The ASLC
When the Internet urged filmmakers for an additional movie to the Toy Story trilogy, the Pixar gods surely delivered. Woody, Buzz and the whole gang are back. The iconic Disney Pixar series' newest film, Toy Story 4, premiered on June 20. The movie earned an impressive 97 percent fresh rating on Rotten Tomatoes and an 8.1 out of 10 rating on IMDb reflecting viewers' positive response to this movie.
So, what is this Toy Story sequel about? According to Rotten Tomatoes, the 90-minute-long film is a fresh new take on the secret life of toys. This continuance of the Toy Story 3 storyline is built on Woody's dedication and loyalty to his new owner, Bonnie. When her new toy "Forky" does not want to embrace being a toy, it is up to Woody to convince "Forky" that even though he is made from trash, he is not trash to restore Bonnie's happiness. The whole gang of toys ends up going on a road trip and meeting up with new and old toys along the way, including, Bo Peep who challenges Woody's perception of life as a toy.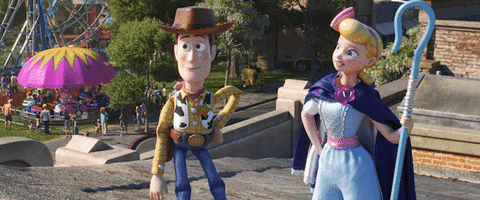 Courtesy: Giphy
Starting on Wednesday, Sep. 25, FSU students can view the blockbuster film, Toy Story 4, free of charge at the Askew Student Life Center. Each movie screening will be accompanied by a Toy Story themed activity or special event.
On Wednesday, moviegoers can watch the latest of the Toy Story series and help out a friend in need. From 5:30 p.m. to 7:30 p.m., OneBlood will be hosting a blood drive in the student life cinema's courtyard. Go to infinity and beyond for others by donating blood in their big red bus. Donators will receive free Dippin Dots and a free Blood Drive t-shirt. Learn more about how donations to OneBlood can save lives on their site. The first movie starts at 7:30 p.m. and there will be a second showing at 10:15 p.m.  
On Thursday, Sep. 26, at 7 p.m. participants at the SLC's "You've Got a Friend in Me" special event will get the chance to create their very own "Forky" out of sporks, pipe cleaners and googly eyes. Participants can also craft stuffed animals and buttons. All the materials needed to create these characters will be provided by the SLC. There will be two showings of the movie. Be sure to bring a friend. The first screening begins at 7:30 p.m. and the additional screening will begin at 10:15 p.m.
Courtesy: @SLC_FSU on Twitter
The last screenings of Toy Story 4 will be held on Friday, Sep. 27. Watch Woody, Buzz and the gang on screen starting at 7:30 p.m. and then later at 10:15 p.m. FSU students that are interested in any of the events can sign up on the SLC's Facebook page although it is not mandatory to do so for these screenings. However, you will need your FSU ID to enter the cinema.
For more SLC events, exclusive screenings and movie times follow their Facebook and Instagram accounts, go to the Student Life Building and pick up a copy of their movie schedule or you can even tune into their podcast called The Sleeze on iTunes!
Want to see more HCFSU? Be sure to like us on Facebook and follow us on Instagram, Twitter, and Pinterest!