Every Budget-Friendly Sustainable Product I Use
Yes, I'm writing another article about sustainability because this is important guys! I've always been environmentally conscious thanks to my nature-loving dad, but this year I took it upon myself to be as sustainable as possible. Here are all the easy and college-budget friendly sustainable items I live by.
1. Bamboo utensils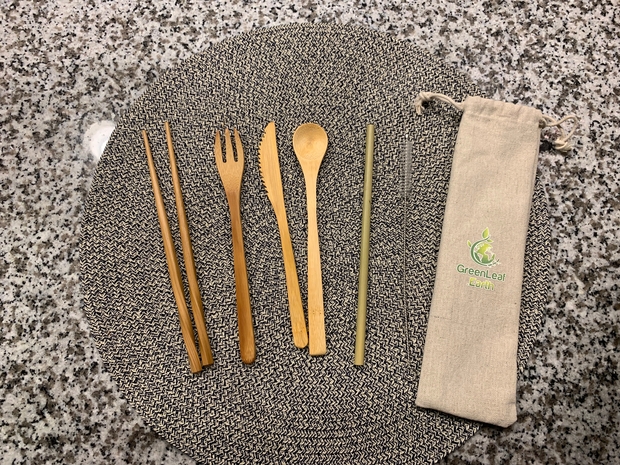 Switching out your plastic utensils for bamboo ones couldn't be easier. This cute set came in a pack of two for only $8.49 from amazon.
2. Glass Tupperware and mason jars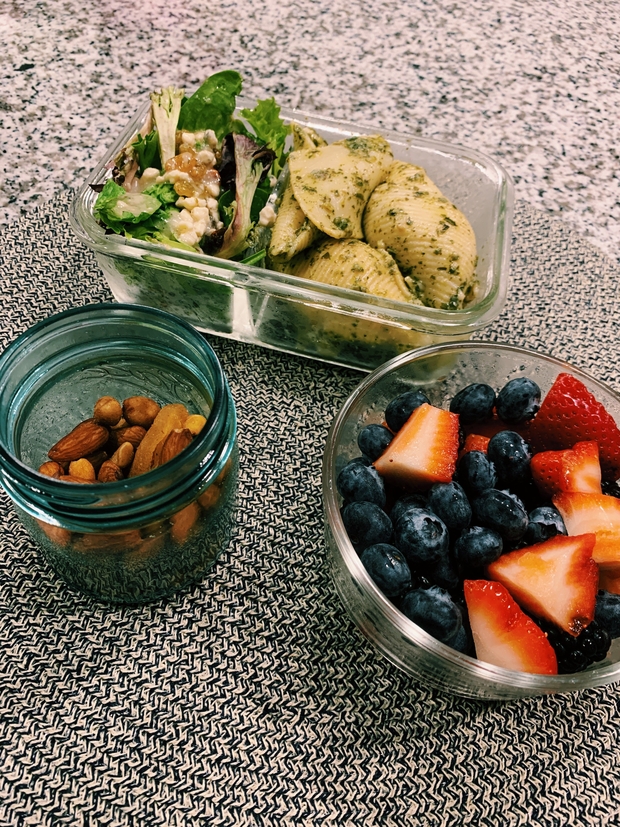 Plastic Tupperware/food containers are sooooo out. Glass is easier to clean, microwavable and sometimes oven safe. I use different sized mason jars for snacks too and it makes my lunch much cuter & greener. 
3. Reusable k-pods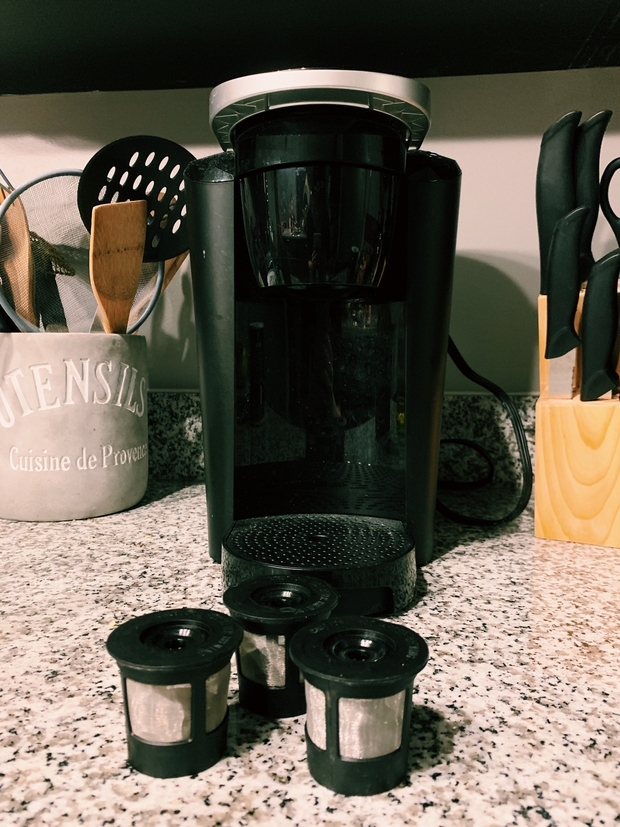 As a coffee-lover and Keurig mom, these reusable k-pods have saved my bank account & the planet. Minimize your single-use plastic waste and save on money by buying your favorite coffee grounds in bulk and filling up these adorable pods.
4. Glass coffee mug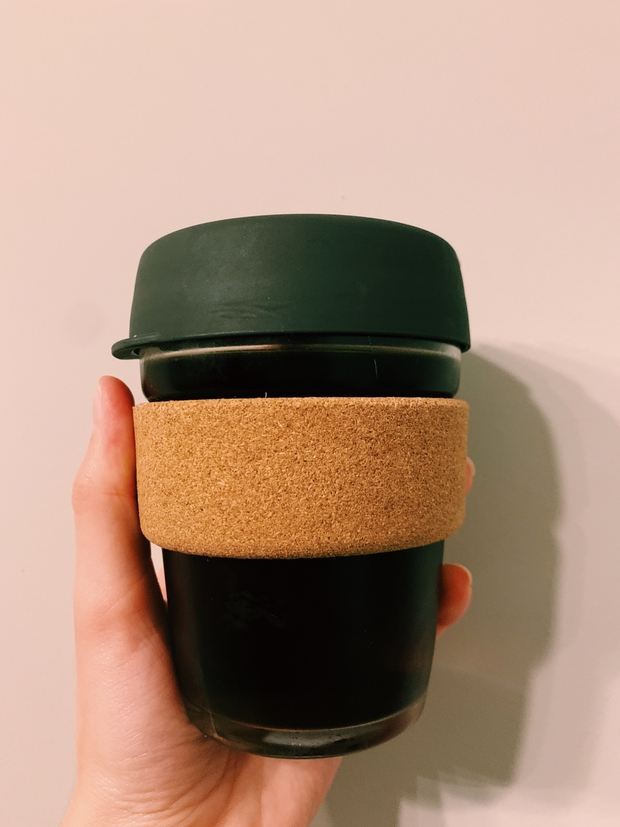 While most to-go coffee cups are made from paper, this KeepCup glass one comes in handy and saves your from having to buy paper cups constantly. It's microwave safe & you can design your own!
5. Glass water bottle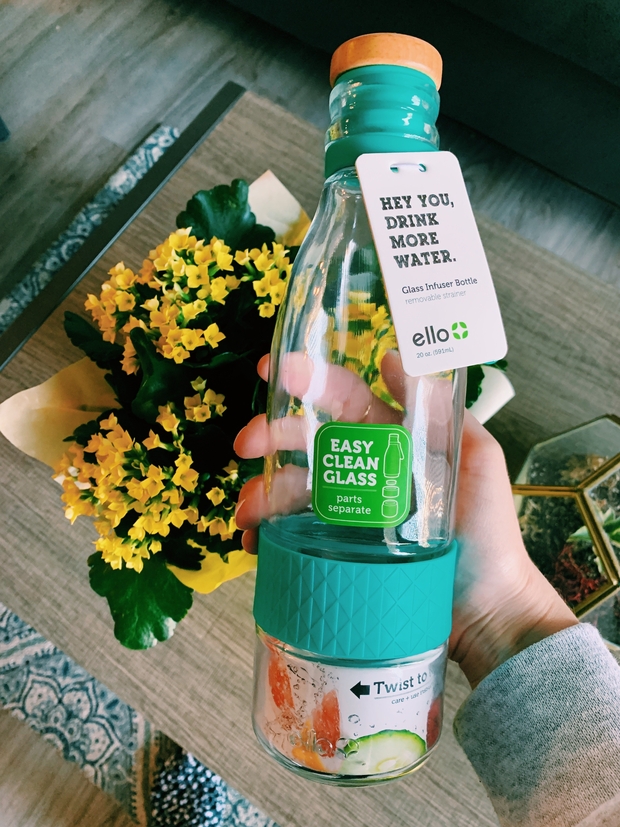 I can't tell you how much I love this water bottle. With the built-in infuser, I make all kinds of detox water without any waste at all. It's dishwasher safe and beyond adorable.
6. Reusable food storage bags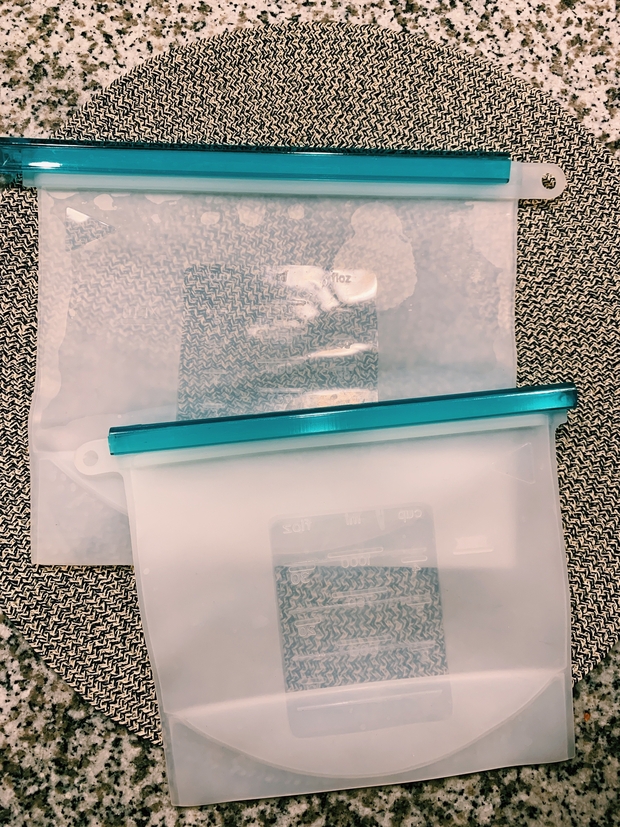 Ziploc bags have quickly become the bane of my existence. Single-use plastic is one of the main contributors to waste and I have no room for that in 2020. These reusable food storage "bags" are my go-to for produce, snacks and leftovers.
7. Reusable grocery bag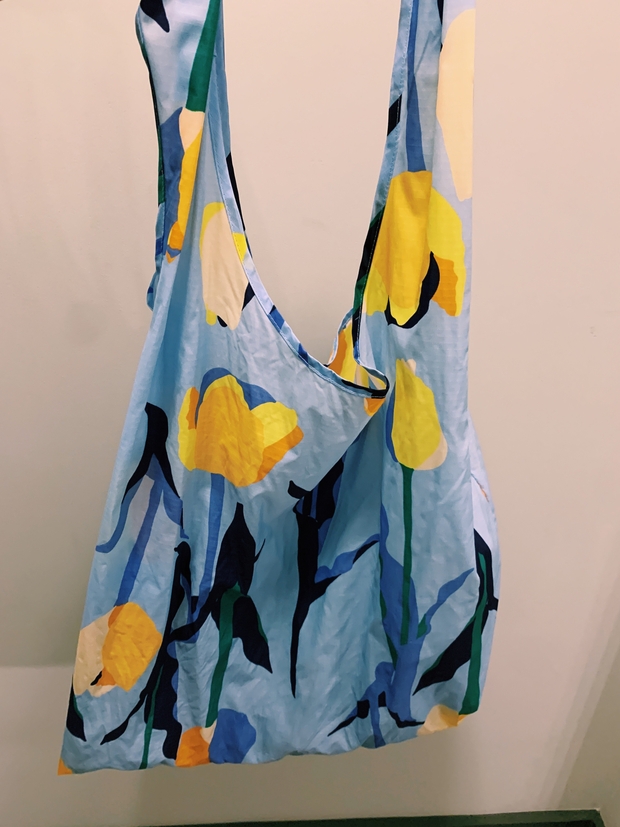 This Baggu reusable bag is, not kidding, my favorite item on this list. I have fit a month's worth of groceries in this bag with no struggle at all. It is HUGE and fits everything I could ever need. Not to mention it is freaking adorable.
8. Compostable trash bags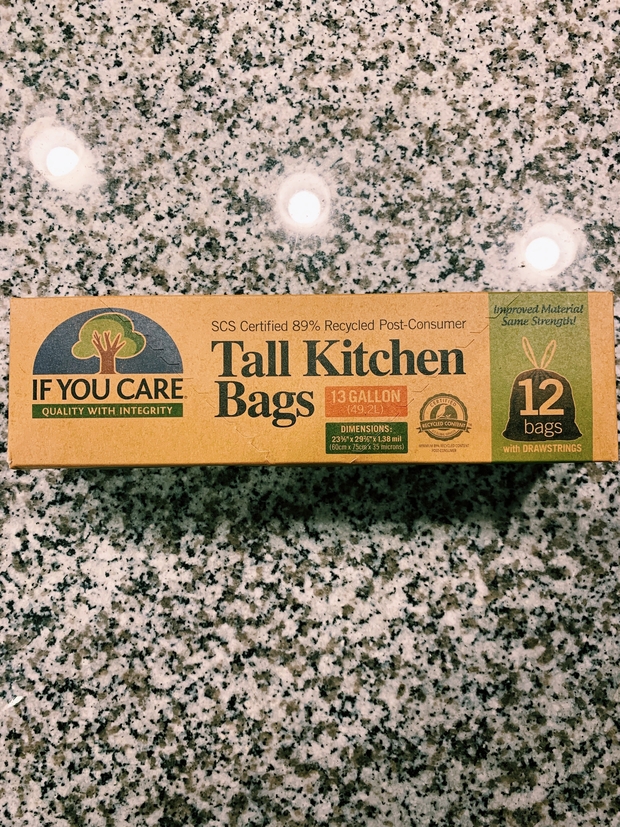 This is such an easy sustainable swap that there's really no reason you shouldn't use these. Plastic waste, especially your trash bag made of plastic, is one of the largest destroyers of the environment so get behind these compostable trash bags ASAP.
9. Sustainable dish soap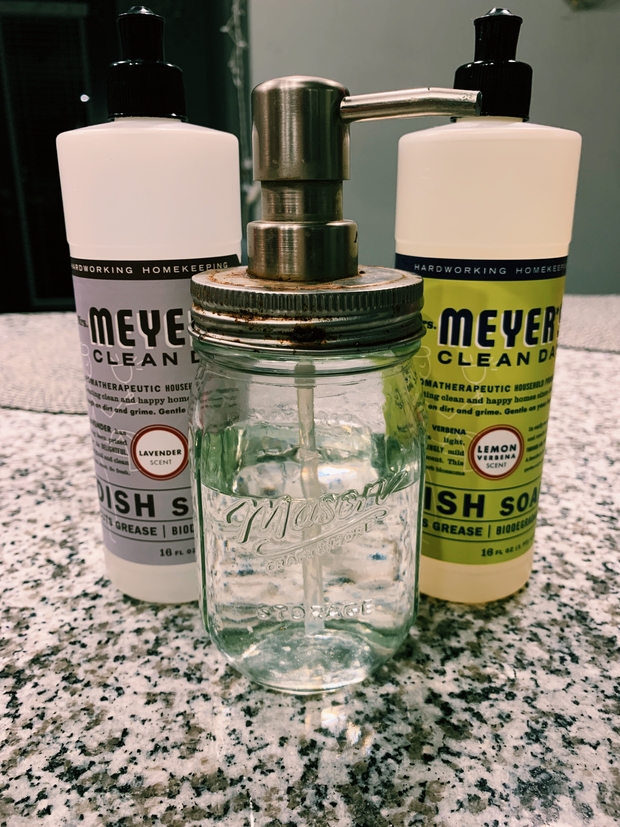 Using a mason jar for dish soap rather than constantly going through plastic bottles is a no-brainer. Using Mrs. Meyer's cleaning products is also a no-brainer. All their products are plant-based and made with essential oils all packaged inside a recyclable bottle!
10. Wool dryer ball and sustainable laundry pods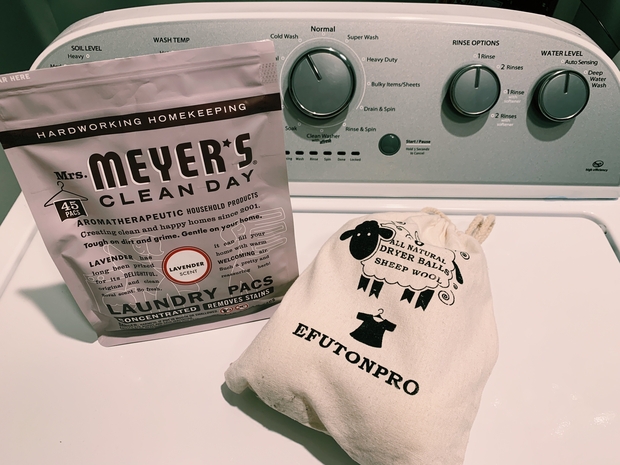 Mrs. Meyer's also makes the best laundry pods I've ever used. They're also consciously made and smells like absolute heaven. These wool dryer balls also help eliminate waste and each one can last for over 1,000 loads.
11. Sustainable cleaning products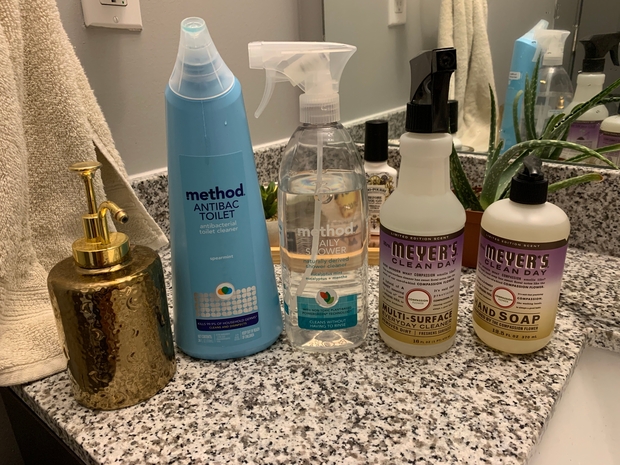 I love using the Grove Collaborate to purchase all of my sustainable products. I got these Method products from there and they have lasted all school year! They threw in a free set of limited-edition scented Mrs. Meyer's products which was an absolute treat.
12. Sustainable beauty products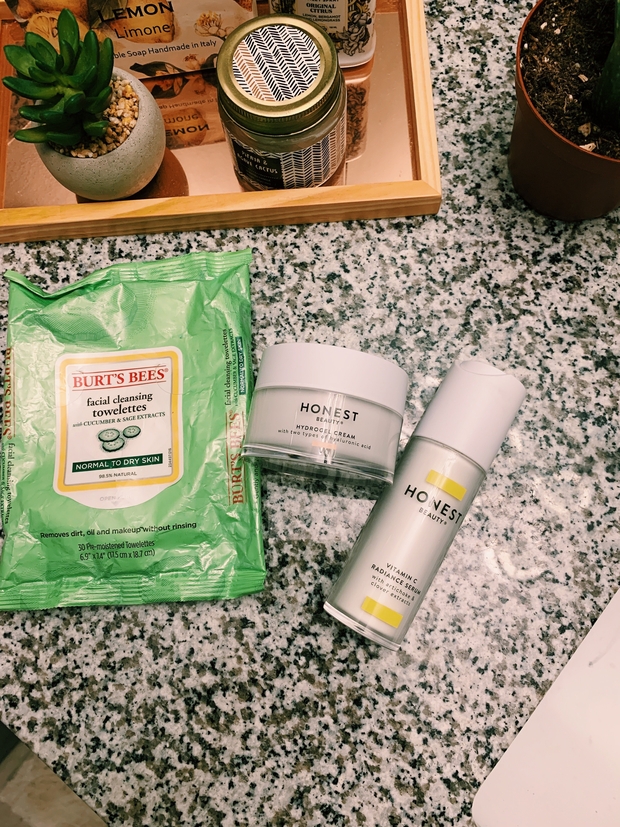 I've been making a conscious effort to purchase more sustainable products for my beauty routine because why would you put something that harms the environment on your face, right? These Burt's Bees wipes and Honest Beauty serum & moisturizer have been an absolute game-changer.
13. Sustainable deodorant and lotion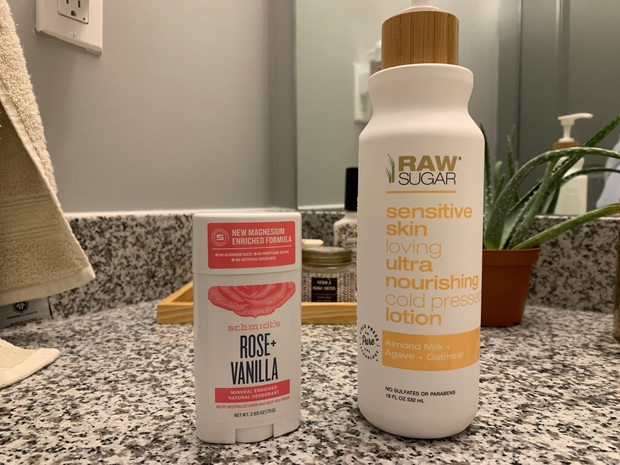 Hear me out, most natural deodorants get a bad rep for not being effective at masking odor, but this Schmidt's one keeps me fresh all day and night. This Raw Sugar lotion also makes my skin so silky-smooth no matter how long it's been since I last shaved. I live by this lotion.
14. Sustainable shampoo, conditioner, soap bar, razor
As someone with dry, thin hair, I have experimented with every type of natural shampoo and conditioner under the sun. These Raw Sugar ones have helped save me hair and the planet. I've also minimized my single-waste plastic by purchasing bars of natural soap and a flamingo razor which only requires replacing the razor head.
15. Bamboo toothbrush & sustainable toothpaste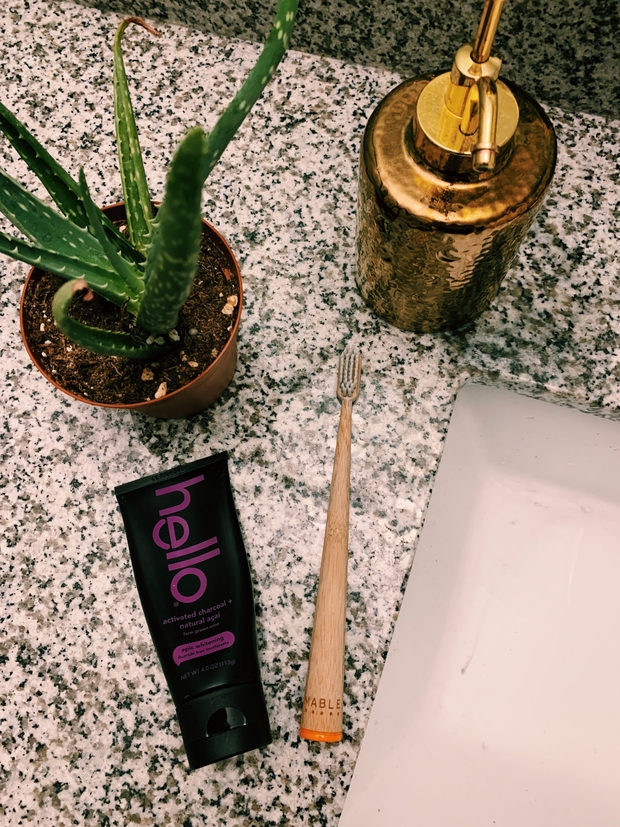 This bamboo MABLE toothbrush is a good clean, good cause and good for the planet all in one. Check out their website to see what I mean! This hello charcoal toothpaste is also made with all-natural ingredients plus it comes in a recyclable cardboard box that is printed on with soy ink, double-win.
16. Consciously made towels & bath rugs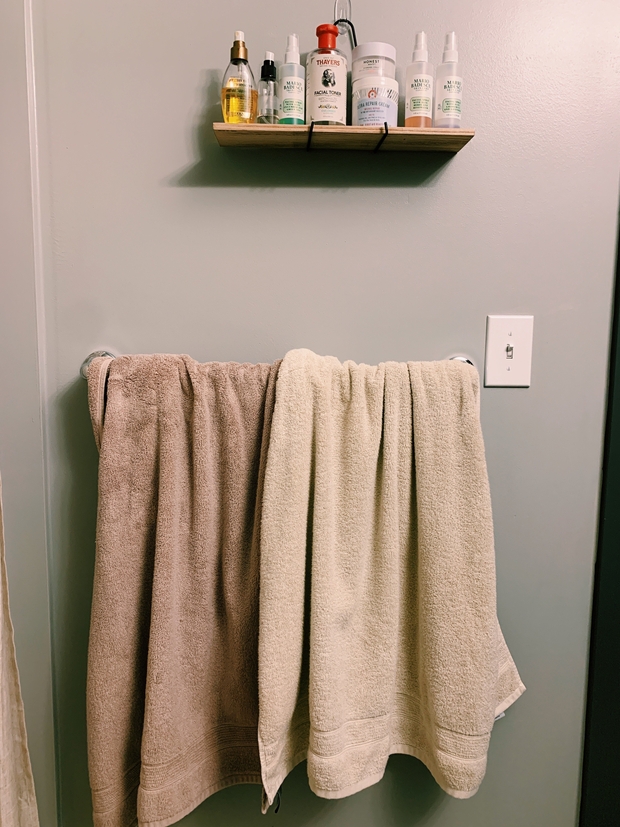 I never realized how much the towel and rug making industry affects the environment until this year. Which is why I decided to switch to these under the canopy bath towels, hand towels and bath rugs. These are chemical-free and each towel saves 7 bathtubs worth of water in production, which is seriously a big deal.
17. Recycled paper notebooks
These greenroom notebooks are 1) super cute and 2) super environmentally friendly. They're made with recycled and sustainable fibers and non-toxic soy inks, so you can get work done and know you're helping the planet at the same time.
All images courtesy of Miranda Torres.
Want to see more HCFSU? Be sure to like us on Facebook and follow us on Instagram, Twitter and Pinterest!