A Definitive Ranking of Strozier Starbucks's Valentine's Day Themed Drinks
Ah, Strozier Starbucks: single-handedly fueling Florida State University students' late-night study sessions and warming up breezy days on Landis Green since 2010. In honor of Valentine's Day, the beloved Starbucks inside of Strozier Library has created six exclusive V-Day-themed drinks.  Check out the super cute menu below.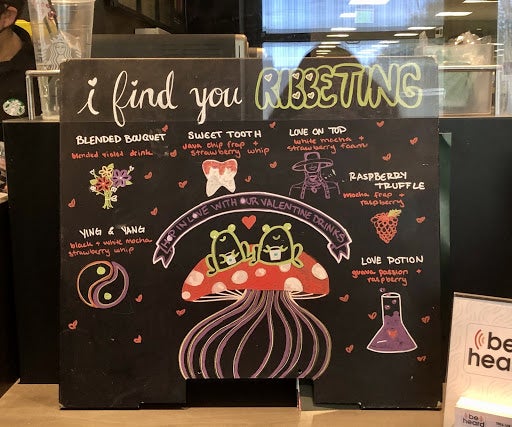 Original photo by Fabiana Beuses
Naturally, I made it my personal mission to try each of these delicious brews in one week. Here's my definitive ranking of Strozier Starbucks' Valentine's Day drinks from worst to best.
6. Blended Bouquet
I'm actually sad that this drink wasn't as good as I'd expected it would be. It was basically a blended Very Berry Hibiscus Refresher with coconut milk. I'd never had the original drink before, so I didn't know what to expect (which was exciting!). The main reason why this drink ranks so low on my list is the insane amount of blackberry seeds in each sip. They got in the way of enjoying the flavor itself; although, I wasn't a huge fan of that either. It was very watered down. It kind of tasted like it had been a Very Berry Hibiscus Refresher at one point, but you left in your fridge and accidentally remembered it five hours later. Yikes.
5 and 4. Sweet Tooth and Raspberry Truffle
I'm strongly anti-frappuccino. Why would you order half-melted ice cream from a coffee shop? Still, for the sake of this article, I decided to try both V-Day frappe options. My initial doubts were correct: neither of these drinks tasted remotely like coffee. They were sickly sweet chocolate milkshakes. The java chips in Sweet Tooth added a delicious, slightly bitter contrast that I enjoyed to the rest of the drink. Shoutout to the girl in front of me in line for randomly offering to pay for my drink! She totally made my day.
3. Yin and Yang
This was the only hot drink I tried. The strawberry whipped cream on top was delicious! This is featured on four out of the six drinks on the menu, so it was critical that I liked it. It's not insanely sweet or overwhelming, yet the strawberry flavor shines through. About 80 percent of the brew itself tasted like hot chocolate, which I guess is to be expected since it's a black and white mocha. However, I felt like it needed to commit to being either coffee or hot cocoa. If the strawberry foam were stronger, this drink would have tasted exactly like a liquified chocolate-covered strawberry.
2. Love Potion
OMG! This drink definitely contains an unhealthy amount of sugar, but it's so good that it doesn't matter. It tastes a lot like guava and passion fruit, which makes it a refreshingly tropical treat for a warmer day. I give this drink props for having the cutest name and the prettiest presentation (it's BRIGHT pink) of the bunch. If you're not a huge fan of coffee, I would definitely recommend Love Potion as an alternative.
1. Love on Top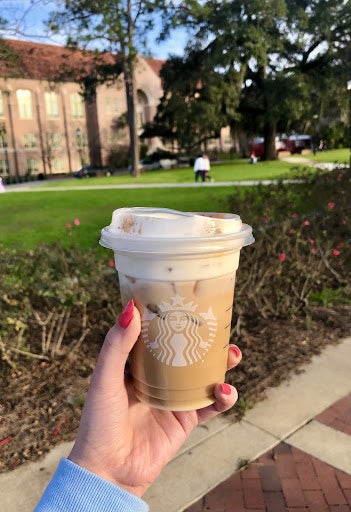 Original photo by Fabiana Beuses
This drink owns my heart and my taste buds. It's advertised as a white mocha, but it tastes just like a vanilla latte (my go-to coffee order). It actually tasted like coffee, which is a huge plus for me! It features the same strawberry whipped cream that tops off Yin and Yang, but it tastes even more subtle. I tried this drink iced to see how adorable it would look in my cup. I'd love to try it hot as well. This is definitely my favorite drink on the Valentine's Day menu.
Let me know if you agree with my ranking by trying all of these drinks at Strozier's Starbucks. They're only available throughout the month of February, so get them while you can! I promise you'll fall in love. 
Want to see more HCFSU? Be sure to like us on Facebook and follow us on Instagram, Twitter, TikTok, Youtube and Pinterest!