Photo by Juliana Carrasco
Dedicated To Creating Change: Juliana Simone
Meet Juliana Simone Carrasco, a freshman at UCLA and Miami native who loves to sing, act and speak on behalf of those who do not have a voice. 
Juliana is a co-founder of the Students Demand Action Miami Chapter and was a member of the Students Demand Action Advisory Board for two years, where she began as a sophomore in high school after the Parkland shooting occurred and felt compelled to be involved in the movement. When her mother attended a Moms Demand Action meeting in Broward, she just had to be there. That's where she aligned with a group of students who were also driven to prevent gun violence in the country and together began this organization. This evolved to become a complete grassroots organization that mobilizes students and other volunteers in over 400 chapters across the country to work because gun violence affects everyone.
During the months leading up to the 2020 election, she told me that she phone banked for Joe Biden, local candidates in Miami and in Georgia and South Carolina. She says that she is very glad that Joe Biden is the current president-elect and that we finally have a leader who has empathy and that while she feels very hopeful, we still have work left to do in holding politicians accountable for every issue that American society is facing today. She thinks that while there is time to celebrate, we still need to work toward the change we want to see, especially with the approaching runoff elections in Georgia.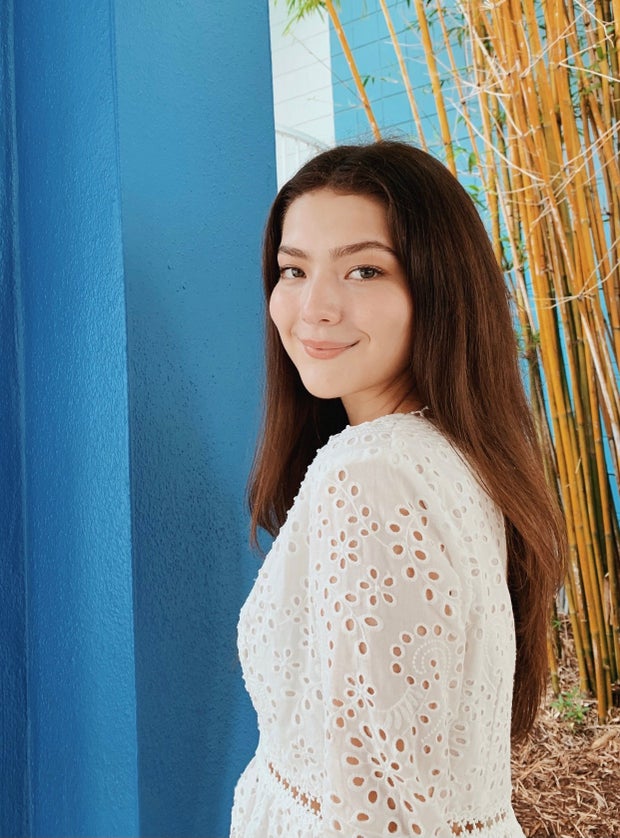 Photo by Juliana Carrasco
She began her journey in the arts at the age of six, at a theater summer camp for her growing interest in magic, where she discovered a passion for acting and officially began working at this craft at the age of eight. She explains that "there is going to be a lot of no's, a lot of rejection, that's something that I faced ever since I was 10 years old, so just be prepared for that, but if you have this dream, then it is there for a reason, so as long as you work hard, I know its cheesy, and believe in yourself, just keep going."  To anyone pursuing a career in the arts, she recommends setting goals with the mindset of a professional, "so if you are a singer pretend you have a performance at the end of the night, so warm up your voice in the morning," and to translate your anxieties into excitement. 
When she is not busy with her classes, activism or acting, Juliana likes to spend her free time singing and playing instruments such as the piano, which she reveals that she is not very good at but is continuously trying to improve her skills. She has also found an outlet through dance and explains that now that we are always communicating through virtual meetings, this is something where she can take her mind off things because they can take a physical and emotional toll on you. She quotes Shannon Watts, founder of Moms Demand Action, who said,  "This movement will always be here, so take your time and then come back when you are ready, because when we are a hundred percent ourselves and a hundred percent ready we can give a lot more back." A piece of advice that she applies to everything she does. 
In regards to her acting, she told me that "you can take 99 no's before you can actually have the opportunity to do what you love, so just take every single moment that you can to be excited and share your work and tell stories that you are passionate about." She also encourages young people pursuing the arts like her to not be afraid to reach for help, make their own stuff and create something new and represent everyone and every experience and culture because "it's so powerful when you can see representation on screen, and that is something that I've been thinking about a lot, with studying and thinking about what kind of projects I want to be a part of." 
Her hope for the future is that even though we are currently so divided as a country, she thinks that we just need to learn how to listen to each other and respect each other, and something as small as this can create a big change. She offers the example of the resurgence of the Black Lives Matter movement over the summer, where "a lot of people want to make this a political issue, but these are lives taken away by the police, and the solution is really making a world where people are respected and loved for who they are," she hopes that society comes to terms with that because this is the only way we can make the change we want to see.
"So when you are at the dinner table, I always hear don't talk about religion, politics or money, and I think that is something that is imposed by the patriarchy, so I think we should just talk about these issues because they are important, and if we don't talk about them we are just going to keep being an issue." She finalizes the interview by expressing that politics should not be something that we don't talk about anymore, especially when lives and rights are being taken, so we need to talk about the intersectionality of systems of oppression such as classicism, racism and sexism, and that starts by educating people and starting a dialogue.
Want to see more HCFSU? Be sure to like us on Facebook and follow us on Instagram, Twitter, TikTok, Youtube and Pinterest!