A Brief History
The War Chant blasts around Doak Campbell Stadium from an ensemble of over 400 band members. The stadium does the Tomahawk Chop and the atmosphere is electric. That is the power of the Florida State Marching Chiefs. Along with the Cheerleaders and Golden Girls, the Marching Chiefs are a game-day staple, but how much do you know about this organization?
The Florida State University Marching Chiefs were founded in 1941 when FSU was still a women's school. They even rehearsed on Landis Green! Over time, the Marching Chiefs grew and earned the title "Wall of Sound." The Chiefs have traveled with the football team to various bowl games including the Sun Bowl in El Paso and the Rose Bowl in Pasadena. This ensemble earned its "World-Renowned" title by traveling to the International Trade Fair in Damascus, Syria. They have also traveled to London, England to play halftime for the World Football League team for the London Monarchs. Most recently, the Marching Chiefs went to Paris, France on Normandy Beach to play for the 75th Anniversary of D-Day.  
Today, the Marching Chiefs are a core part of the Seminole tradition at football games, and the smaller ensemble, Seminole Sound, can be spotted at every basketball and volleyball game. "Florida State occasionally may lose a football game, but never a halftime show," is a quote coined by Sports Illustrated in a feature about the band.
I was able to talk to some members and ask them questions about who they are as an ensemble. Responses have been edited for clarity.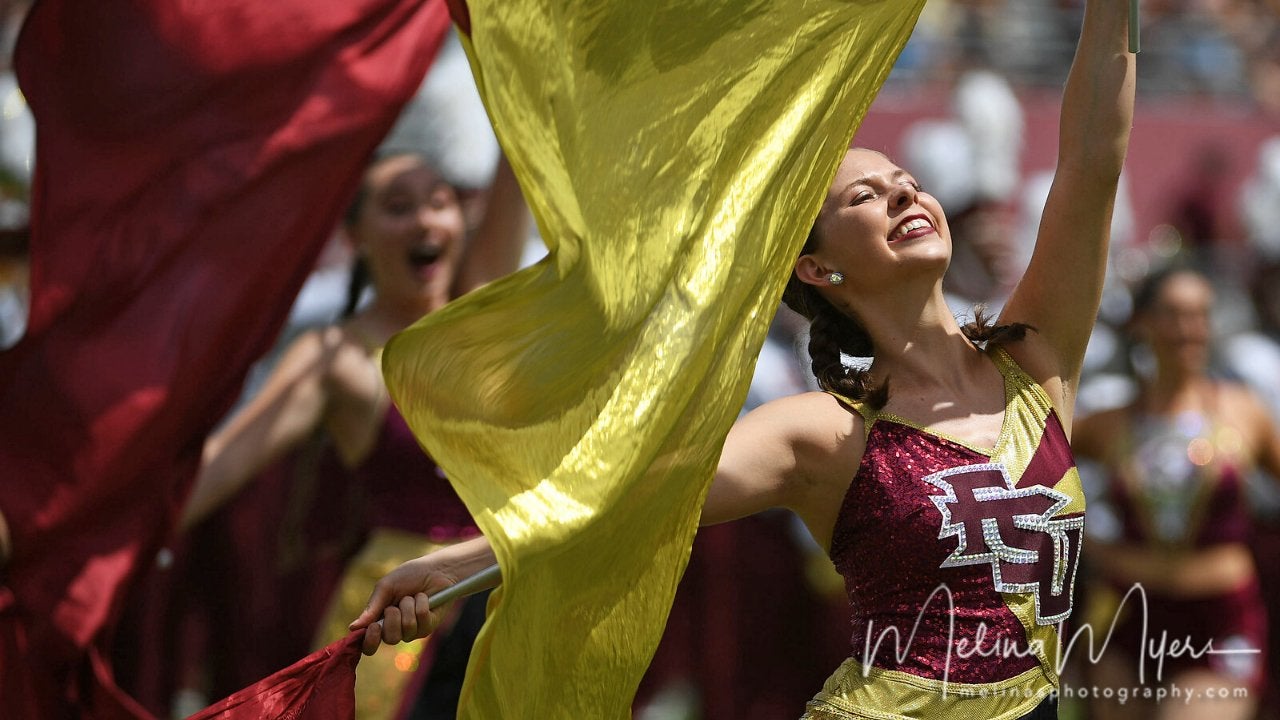 Courtesy: Melina Meyers
How would you describe the Marching Chiefs atmosphere and community?
"The Marching Chiefs atmosphere is like FSU spirit at full capacity. One of the most beautiful things about Chiefs is that it's a band of all different people with all different majors, but everyone has the same, unmatched love for FSU. From football games to Campus Tour and everything in-between, it's harder to find bigger FSU fans than the Marching Chiefs. Before school starts in August, Chiefs show up and spend five entire days (7 a.m. – 10 p.m.) auditioning and working our tails off in order to unconditionally support FSU throughout the upcoming year. We do our best to embody the traditions and excellence of FSU and play a few War Chants along the way.
-Steven Foster, Assistant Drum Major 
How do the Marching Chiefs represent the school spirit of FSU?
"For me, when I think about school spirit I think of a love for the university and its values… One of the things that I think is special about Chiefs is that every day I know all 425 of us are pushing each other to be better students, people and Seminoles through what we do for the University."
-Anthony Ruffin, Row Leader
What is your favorite memory of Marching Chiefs?
"One of my first pre-games before we went on the field waiting behind the elephant doors. You work so hard throughout preseason to make it [into Chiefs by] doing all the marching and maneuvering, and when you're finally able to do it, it's just so exciting! I remember looking at one of my closest friends, Paulina, right before Big 8 (the drumline) started playing, and everyone was so hype and jumping around and so excited. It was the best feeling. MCATDT!"   
-Mason Smith, Section Leader
Who can join the Marching Chiefs?
Anybody from any major can audition, as long as they play an instrument and are ready to learn!
Want to see more HCFSU? Be sure to like us on Facebook and follow us on Instagram, Twitter and Pinterest!