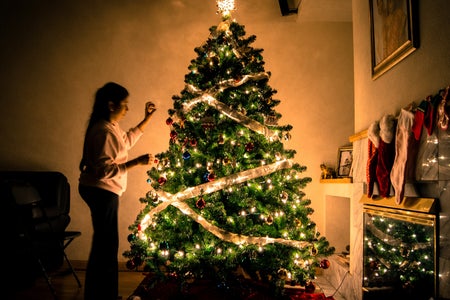 Cheesy Christmas Movies You Need to Watch Now!
If you're anything like me, then you love movies that are so bad that they're good. I'm talking mega-cheesy, would never happen in real life, makes you laugh at the sad parts type of bad movies. And the only thing I love more than mega-cheesy bad movies are ones that have a Christmas theme. See, I'm the girl who decorates for Christmas the day after Halloween. I count Thanksgiving as a pre-Christmas feast that should take place next to a Christmas tree. I know this is controversial, but I just don't care. Christmas is my favorite time of the year and I will celebrate it for as long as I want too! So, if you're like me, here are some movies to watch now to get you in the Christmas mood. If not, I guess you'll have to wait until Nov. 29.
1. Christmas Inheritance
Released in 2017, Christmas Inheritance is a comedy-drama starring Eliza Taylor as Ellen Langford, an heiress aimed to take over her father's business. After some negative press about Langford's party life, her father sends her to their hometown to discover the true meaning of Christmas. She must travel incognito to deliver a letter to her father's best friend. Armed with only $100, she must rely on the townsfolk to help her get through the week.
With a super cliché romance, a natural disaster and a few tear-jerking moments, Christmas Inheritance is a definite must watch this Christmas season!
2. Rodeo & Juliet
After the death of her estranged grandfather, city-girl Juliet, played by Nadine Crocker, and her romance novel writing mother, Karen have to move back to the family ranch. Karen immediately has a disagreement with Hugh, the ranch boss. Juliet connects with her grandfather's horse, Rodeo, and attempts to figure out a way to keep him. Rodeo & Juliet is a story filled with forbidden romances, ex-lovers and a whole lot of country.
With a solid 19% rating on Rotten Tomatoes, Rodeo & Juliet will definitely fulfill your dream of watching a movie that's so bad, it's good.
3. Christmas Wedding Planner
Based on the novel Once Upon A Wedding by Stacy Connelly, Christmas Wedding Planner has all the best elements of a cheesy Christmas rom-com – romance, betrayal and private investigators? Kelsey is beginning her career as a wedding planner by planning her cousin's wedding. But when her cousin's ex-boyfriend comes back into the picture in an attempt to destroy her wedding, Kelsey must do everything possible to stop it from happening.
One of the reviews on IMDb reads "[if] you are into medieval torture," so you know it's bound to be a good time.
4. Christmas With a View
Do you like the Food Network and cheesy Christmas movies? Then, Christmas With a View is perfect for you. Clara is the manager of the restaurant in the Thunder Mountain Ski Resort when a celebrity chef, Shane, is brought on to the staff. Clara attempts to avoid confrontation and get her life back on track after a failed restaurant brought her back to her hometown. However, Clara and Shane's paths keep crossing.
With some romance and a dash of drama, Christmas With a View is a must-watch for all my terrible movie lovers.
Want to see more HCFSU? Be sure to like us on Facebook and follow us on Instagram, Twitter and Pinterest!