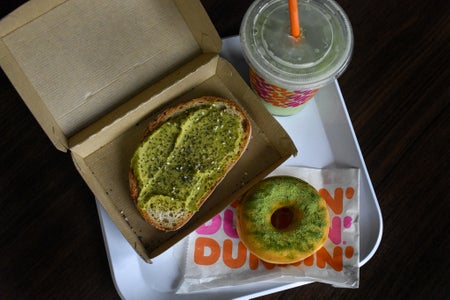 Original photo by Claire Kraft
Channeling My Inner Food Critic With Three New Dunkin' Items
I have always considered food to be one of my top love languages. It has the power to make people smile and fill them with so much joy. That is one of the reasons why I have taken up baking as one of my hobbies. Nothing says "I love you" more than giving someone a freshly baked slice of homemade pie. Growing up, I was surrounded by cooks and bakers who expanded my comfort zone when it came to my taste buds. I love trying new things because, well, you only live once!
And I recently did just that and tried three new things at Dunkin' to channel my inner food critic.
You ask for honesty, and you shall receive honesty.
Now, I take food very seriously because it can impact your whole, entire day. No one chooses to be hangry.
My critic begins by examining five particular attributes: taste, smell, texture, color and tummy feel. Then a number rating out of 10 is conducted. This critique has been adopted from my friend who enlightened me on such a fun activity.
Our first item is the recently released Iced Blueberry Matcha Latte.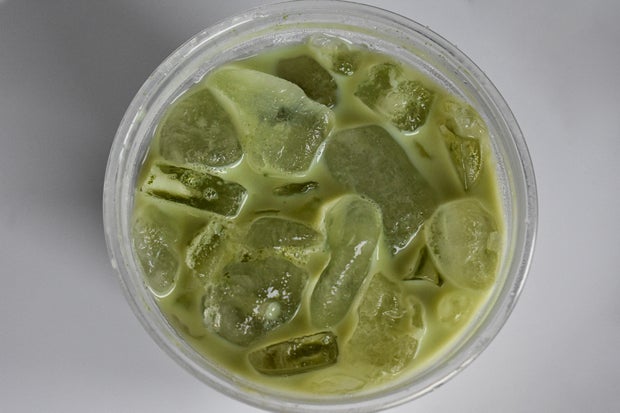 Original photo by Claire Kraft
I consider myself to be a tea fanatic. When visiting the competitor, Starbucks, I choose their tea lattes over coffees quite frequently. This may or may not be because I have early morning tummy issues.
I was very disappointed with this drink. The blueberry syrup that was used tasted very artificial and overpowered the matcha. Matcha has a very particular taste and many people are not fond of it. I would not recommend this if you wanted to try matcha for the first time. The smell was strong and still smelled like fake blueberries. The texture was just like a normal iced drink, with no uninvited globs of goop. The only thing I enjoyed about this drink was the color. Sage green is one of my favorite colors and the drink was very pretty to look at. Lastly, I have to say the drink did not do well on the tummy feel spectrum. It was very sweet and too early in the morning for that much sugar.
Overall Rating: Three and a half out of 10
The second item is the Matcha Topped Donut.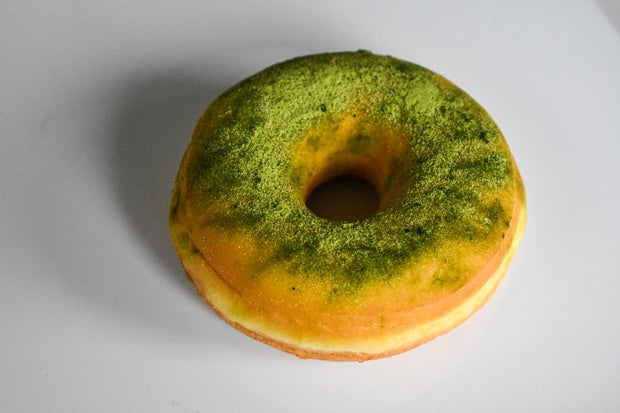 Original photo by Claire Kraft
Having a "Treat Yo' Self" day with a donut every now and then holds no harm. Donuts have to be one of the happiest parts of a morning treat.
The creativity when it comes to donuts is mind-blowing to me. I have seen some pretty crazy donuts and I honestly will choose a plain, glazed donut over a jelly-filled, cereal-coated donut any day.
I appreciate what Dunkin' was trying to do here. It is a trendy idea to incorporate matcha into a yummy snack. However, I could not taste the matcha flavor very much at all. I even licked the powder and it was still a subtle matcha taste. It smelled like a normal glazed donut, not that it's an issue. The texture was fine, powdery but good. I loved the color; it was such a pretty green. Since it tasted like a normal donut to me, there weren't any issues with the tummy feel. Just the normal post-donut grumbles.
Overall Rating: Five out of 10
Last but not least, we have the Avocado Toast.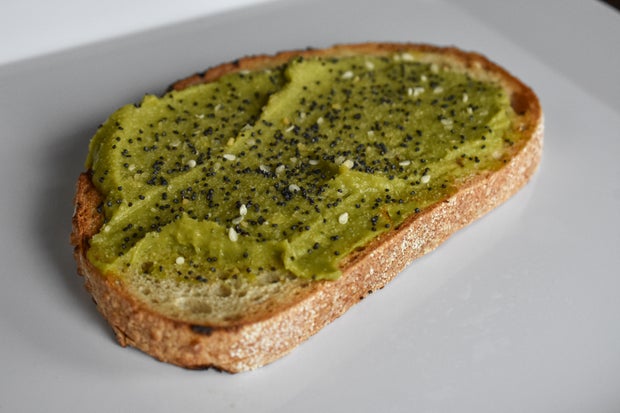 Original photo by Claire Kraft
I am known to dabble with the avocado on some occasions and have found many ways to enjoy it. Smothered on toast happens to be one of the many methods I prefer.
The taste was pretty average and I liked the fact that they sprinkled everything seasoning on top. It was definitely the best out of the three and left a pleasant aftertaste. As soon as I was given my bag, the aroma of the toast filled the car. It smelled amazing, which made me more excited to try it. Now when it comes to the texture, it was a bit odd. It was more of a puréed consistency, so it was not like the chunky homemade avocado toast that I have had before. Is it weird to say it felt like warm applesauce? However, the toast was toasty and not soggy. She has proven to be very photogenic with the beautiful color it provided. The tummy feel made top marks, leaving me feeling satisfied but not quite full.
Overall Rating:  Six and a half out of 10
And there you have it: my brutally honesty review of a few new Dunkin' products. Keep in mind that my taste buds are not your taste buds, so extend your palate and become a personal food critic!
Want to see more HCFSU? Be sure to like us on Facebook and follow us on Instagram, Twitter, TikTok, Youtube and Pinterest!