Meet Chance Onyiorah, a 19-year-old, Miami native and student at the University of Florida. Chance is a second-year student pursuing a degree in computer science with a minor in engineering innovation, a program very specific to UF where she exercises the leadership aspect of engineering.  
When I asked her about the computer science programs that she has worked in, she immediately introduced the impact that the "The National Society of Black Engineers (NSBE)," a professional organization for African American engineering students at the University of Florida, has had on her learning process in this field. The club has a subgroup called NSBE Code, which is specifically for students who want to work on computer science-related projects. The team she is on, she explained, is building a website for a professor where students would be able to log in and reserve 3D printers to use for their projects. 
Additionally, on her own time, she has been working on some independent projects to gain experience. She has a personal website that she has coded herself which displays her accomplishments, goals and also shows her personality. Moreover, she is working on another more complex project called Book It, a book recommendation website where people can go on and rate the books they have read. She says that she still has to learn a lot of things on her own and continue to work on these projects with the knowledge and the experience she is gaining. 
Chance discussed the importance of creativity in this field. One of her hobbies is drawing, given that is something that has always been good at, and recalled an anecdote from when she was a little girl, "They had a spirit week at my mom's work, and one day it was superhero day, so she asked me to draw something on a shower curtain that she was going to use as a cape. She said that the name of her team was team Genie, so she wanted me to incorporate a genie into the drawing. So, I drew the Genie from Aladdin with the magic carpet and all, and colored it in with a marker." Her mother asked to have it ready in a week, which Chance remembered with a laugh and said that "even though it was a big project, I still enjoyed every second of it." 
With plans to graduate next spring, Chance hopes to go into the field of web or app developer, or software engineering, where she would more specifically have to apply her creative skills. In 10 years from now, she says that she hopes to level up and have some type of managerial job within this field where she could help bring in the "new wave of young programmers," and put her experience to good use. Chance explained, "Hopefully, by then, I would have worked on projects that have been impactful in some way. That's also the appealing side of computer science, the fact that you can work in some sort of software or maybe work on a website that a lot of people will use every single day. To me, having that immediate impact on the work that I do is very rewarding."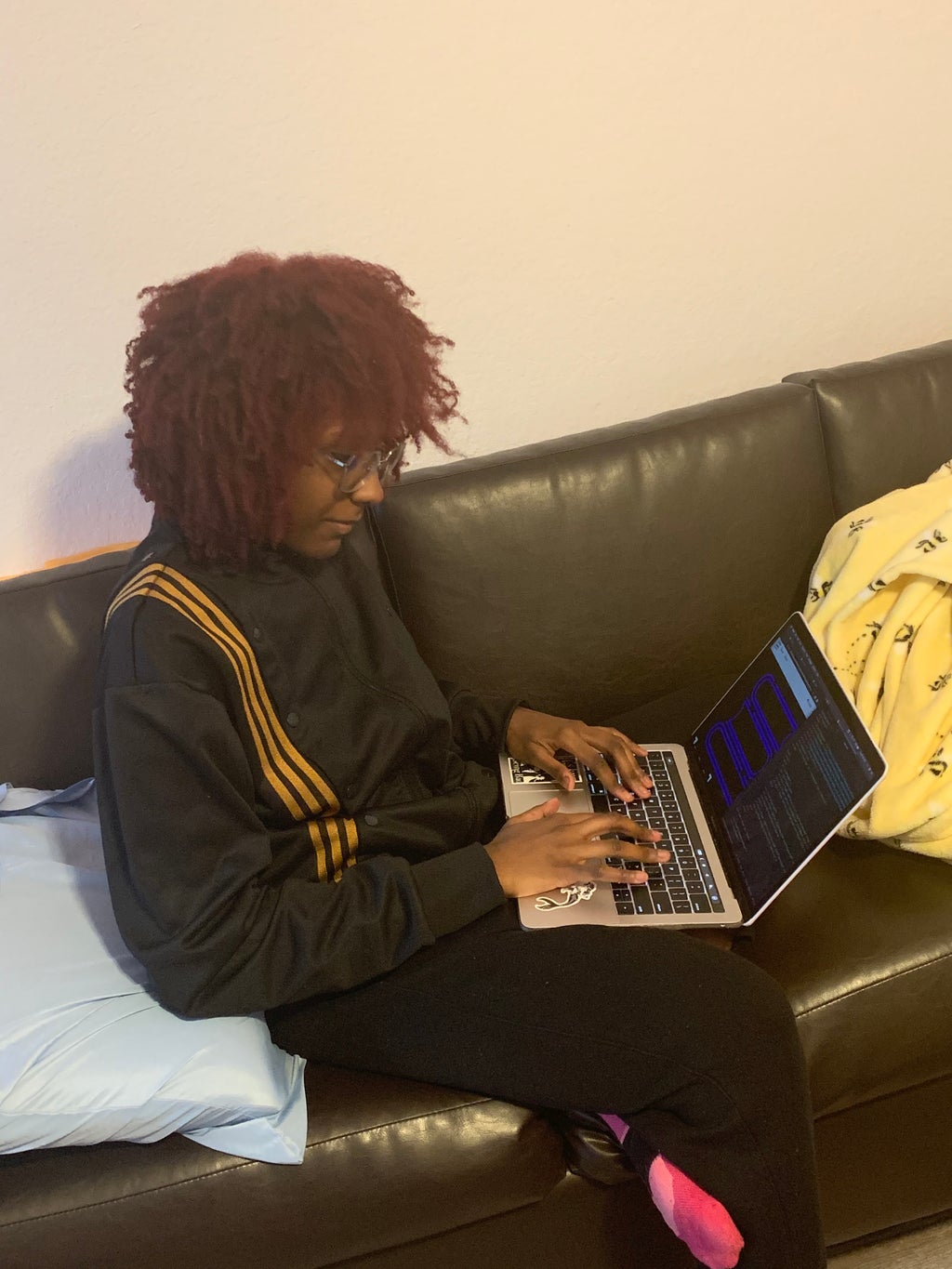 Chance explained that as computer scientists tend to make a comfortable income, she would like to give back to the community where she came from, stating, "I want to inspire more young women to pursue STEM fields… When I was in school, I didn't have any experience or knowledge of the field of computer science until I entered the 11th grade, which to me is way too late," as she thinks she could have been exposed to that at a younger age. She detailed that the first high school she attended did not have the same resources as most schools, which of course affected the mostly minority population of students there.
She says that her absolute dream would be to give back to the community where she was raised in. Chance said, "I'd like to help these underprivileged schools, the schools in the place where I grew up, Miami Gardens. I went to school in Hialeah because Miami Garden's schools have less resources so I would like to bring all those types of opportunities, like STEM, computer science, into those schools and get kids to have some type of interest in the field or at least provide them with the experience so that they can decide whether they would like to explore such field or if they'd rather do something else."
Chance is already applying her work through school, internships and community programs. "I'm not sure what area or what type of tech company I want to go to…," she says, "[but] computer scientists, there is a need for them in any field… so I would feel comfortable in any area that I'm needed, I just hope that in any area that I end up in I'm making some sort of impact in the company and the people who use that company's products or services, that what I do will have an impact there."  
Want to see more HCFSU? Be sure to like us on Facebook and follow us on Instagram, Twitter, TikTok, Youtube and Pinterest!