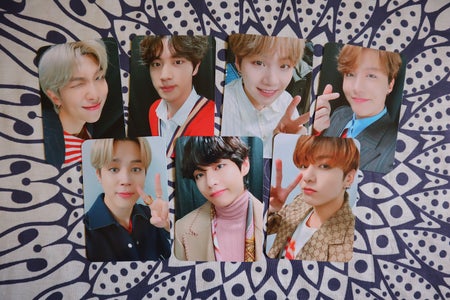 BTS Spends Six Weeks at Top of Billboard Hot 100 Chart
K-Pop boy group BTS grabbed the western music industry's attention as they become the first all-South Korean act to reach the top of the Billboard Hot 100 Charts. On Aug. 21 of 2020, BTS released the track and music video for their new single "Dynamite," an upbeat disco-pop jam acting as their first-ever song recorded fully in English. The song was released with intentions of bringing comfort and joy to their listeners around the world during this unprecedented era of COVID-19. Consequently, the biggest K-Pop group in the world delivered the music video that came to hold the title of the best 24-hour debut of a music video on YouTube with a confirmed 101.1 million views.
Due to the English aspect of the song, BTS broke the barrier and focused on promoting the song in America on shows including America's Got Talent, the MTV VMAs, the Grammy's Press Play Series, NBC's Today Show, iHeartRadio Music Festival, NPR's Tiny Desk (Home) Concert, The Tonight Show with Jimmy Fallon and more, all of which you can find here.
The Billboard Hot 100 Chart is often used in the western music industry to record weekly standings of the most popular songs in the U.S. according to physical and digital sales, radio play and online streaming. The week immediately following the release of Dynamite, the seven-member group was seen at No. 1 on top of the chart, a feat never accomplished by an all-South Korean act. Since then, the group has remained steady, dipping and peaking at spots one and two, competing with top songs in the U.S. such as "WAP" by Cardi B that features Megan Thee Stallion and, more recently, "Franchise" by Travis Scott that features M.I.A. and Young Thug. BTS's success on the chart has been accredited to not only their talent and loyal fans but also the increased radio play received as a result of releasing an English song.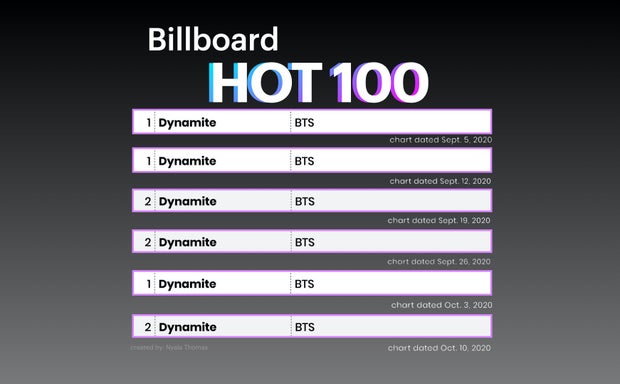 Photo by Nyala Thomas
In this video from BTS's personal Twitter page, fans can see genuine reactions from RM, Jin, SUGA, J-Hope, Jimin, V and Jungkook as they receive the news that Dynamite remains at number one for the second week in a row. At the time of this article, BTS holds three No. 1 positions and three No. 2 positions.
Despite the overall success with Dynamite, BTS remains a South Korean group with members who primarily sing and perform in the Korean language. In an exclusive 2019 interview with Entertainment Weekly, RM, the leader in BTS, mentions that it's hard as an Asian group, stating, "A Hot 100 and a Grammy nomination, these are our goals. But they're just goals — we don't want to change our identity or our genuineness to get the number one. Like if we sing suddenly in full English, and change all these other things, then that's not BTS. We'll do everything, we'll try. But if we couldn't get number one or number five, that's okay." More than a year later, BTS comes one step closer to their goals.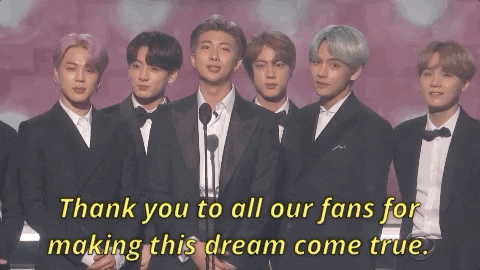 Recording Academy / GRAMMYs / Giphy
This is their first song fully recorded in English and fans don't know if it's their last. As of right now, BTS does not have plans to release another. Group member V was quoted saying, "Do not look forward to it." Even without singing in another language in order to appease the public, BTS proves they are becoming a force to be reckoned with.
Check out the "Dynamite" music video here.
Want to see more HCFSU? Be sure to like us on Facebook and follow us on Instagram, Twitter, TikTok and Pinterest!​