Breonna Taylor Ruling Sparks Nationwide Protests
Ex-officer Brett Hankison, one of the officers in the well-known Breonna Taylor case, was indicted on three counts of wanton endangerment in the first degree on Wednesday evening. If found guilty, Hankison could serve up to five years in prison for each individual charge, with a minimum of one year for each charge.
The wanton endangerment charge is not related to the actual death of Taylor, but to the harm Hankison put her neighbors in when he, according to the Louisville Metropolitan Police Department, "wantonly and blindly" fired into her apartment. Some of his bullets went through the walls of her apartment and into her neighbors'. The ruling reignited nationwide protests, which have hardly ceased since the start of the summer.
The LMPD began preparing for the Taylor decision earlier this week, with Louisville Mayor Greg Fischer signing an executive order on Tuesday that placed the city under a state of emergency ahead of the grand jury ruling "due to the potential for civil unrest." City officials anticipated protests following the Hankison announcement – those predictions were correct.
Following the court decision, from Denver and Los Angeles to New York and Nashville, protests spread across the country. Despite a 9 p.m. disperse curfew in Louisville, violence still ensued. Amid the demonstrations, two officers were shot and wounded. They are not in critical condition and are expected to recover. Over 100 arrests were made in Louisville on Wednesday night.
The other two officers present at the raiding of Taylor's home, Sergeant Jonathan Mattingly and Detective Myles Cosgrove, have not been charged for any crimes and are on administrative reassignment, pending an internal investigation. Kentucky Attorney General Daniel Cameron, in his Wednesday announcement of the Taylor case ruling, explained, "Our investigations show, and the grand jury agreed, that Mattingly and Cosgrove were justified in their return of deadly fire after being fired upon by Kenneth Walker."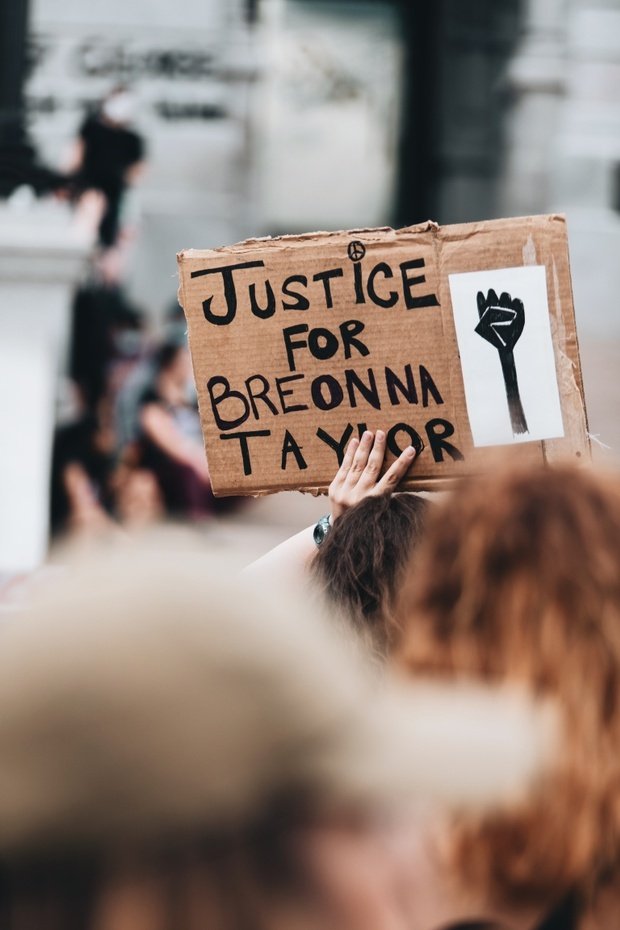 Photo by Logan Weaver from Unsplash
Walker, Taylor's boyfriend, was in the apartment on the night of her death and fired on the officers after they entered her home. Walker claims that the officers did not announce themselves and that he, a licensed gun owner, assumed they were intruders. While some witnesses corroborated that they didn't hear the police call out, the officers said they identified themselves. An initial attempted murder charge on Kenneth Walker has been dropped.
Taylor, a 26-year-old medical technician, was shot multiple times by the officers this past spring. She died at the scene. A ballistics analysis confirmed that while six shots hit Taylor, it was one of Cosgrove's bullets that proved fatal. While the death of Breonna Taylor happened on March 13, the case claimed wide-spread national attention in early June, on the heels of the death of George Floyd. Since then, Black Lives Matter demonstrations have been occurring across the country and the world in response to Floyd and Taylor's cases, as well as others.
Regarding the grand jury's ruling, Cameron stated, "Criminal law is not meant to respond to every sorrow and grief, and that is true here… but my heart breaks for the loss of Ms. Taylor." His sympathy doesn't seem to have garnered him much favor in the eyes of protestors, however. Much of Wednesday night's outrage came after the news that neither Cosgrove nor Mattingly would be charged.
The FBI is still investigating whether any federal laws were broken on the night of March 13. Protests are expected to continue across U.S. cities, though Louisville's curfew remains in place for the next few days.
Want to see more HCFSU? Be sure to like us on Facebook and follow us on Instagram, Twitter and Pinterest!