The Best Female Friendships from The Bachelor Franchise
At least once every Bachelor season we hear a girl in confessional professing that she's "here to find love, not make friends." If we based this on the number of confrontations alone, we might actually believe them! The show can be an intense and frustrating process (group dating the same guy can do that to you) and the emotional toll alone is enough for someone to need a friend or two. We might have a great time watching all the drama unfold week-to-week, but there's nothing we love more than seeing the girls form genuine bonds that outlast the show's melodrama. With Galentine's Day fast approaching, here are the best female friendships to come out of the last few seasons of The Bachelor:
1. Bekah M and Kendall
Courtesy: @Keykendall88 on Instagram
Bekah and Kendall were both on Arie's season of The Bachelor. We all know how that season ended, and eventually, Kendall went on to be on Bachelor in Paradise while Bekah did not. While Bachelor in Paradise was airing, Bekah even caught some heat for tweeting out some pretty offensive things about Colton and Tia's relationship. Bekah and Kendall's friendship has remained unaffected by this and the two are still extremely close friends. Kendall and Bekah have posted pics on double dates with Kendall's BIP beau Joe and Bekah's baby daddy Grayston who she met at a rock climbing gym. They also post more casual pictures like Kendall hugging Bekah's pregnancy bump and of hanging out in L.A. where they both live. They also both appeared on Becca's season of The Bachelorette in an episode where Becca brought her friends from her season of The Bachelor to feel out the guys. We're glad to see one of many friendships from Arie's season living on!
2. Becca and Tia
Courtesy: @bkoof on Instagram
Becca and Tia had one of the most open and real friendships to be blasted on different Bachelor shows. The two also met on Arie's season of The Bachelor and after Arie backed out of his own proposal to Becca, Tia was one of the many women to have her back. On top of that, Tia showed up on Becca's season of The Bachelorette to let her know that she had a former relationship with one of her contestants, Colton, and Becca being the good sport she is returned the favor by coming on to Bachelor In Paradise to help Tia AND Colton navigate their feelings about EACH OTHER. Only a true angel from heaven would stroll onto a beach and advise another person on her relationship with a guy she also dated, and that's how we know the friendship has to be driven by genuine care for each other. Since The Bachelorette and Bachelor In Paradise ended they have continued to hold a friendship with the occasional reunion, but Becca moving in with her new hubby has stalled them from all the possible girl hangs. We hope to see more from them together in the future!
3. Carly and Jade
Courtesy: @carlywad on Instagram
Carly and Jade first met on Chris Soules' season of The Bachelor and when neither of them came out on top, they took their friendship to Bachelor in Paradise together. They were there for each other through absolutely everything, including Carly's unbearably long break up with Kirk on BIP. Jade was just as heartbroken for Carly as she was by all that was happening, and all of Bachelor Nation knew at that moment that this friendship was forever. They were bridesmaids at each other's weddings, and Carly even wrote and performed a song specifically for Jade. A few years down the line, Carly and Jade are both married and have children, and just last year they had their daughters meet for the first time in what other people have been calling the cutest moment in Bachelor Nation history. They look better than ever too!  
4. Cassie and Caelynn
Courtesy: @amyrandolph3 on Instagram
This friendship is fairly new to everyone in Bachelor Nation. Cassie and Caelynn are both contestants on the current season of The Bachelor playing a waiting game to see who ends up with Colton. In the short time, we've gotten to know the two, and they've been insanely close and have had a real friendship blossom despite all the craziness. When Caelynn had her one-on-one and revealed to Colton that she had been sexually assaulted, Cassie was extremely supportive both in the house and on social media. The two are able to talk about their respective relationships with Colton and be honestly happy for each other, and that's more than we could ask for on a show like this! The two have reunited several times since the show ended, one reunion involving a dinner date with Cassie and her family.
5. Literally most of the girls from the last season of Bachelor in Paradise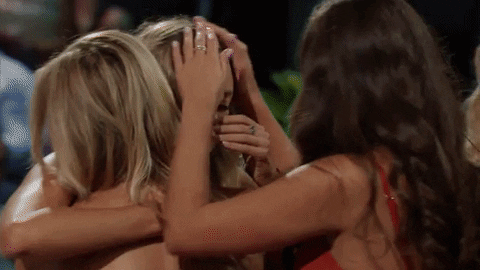 Courtesy: Giphy
Last season of Bachelor in Paradise was almost better than the entire season of The Bachelorette. Everybody's favorites came together: Tia, Colton, Jordan, Astrid, Bibiana, Kendall, and soooo many more! Despite all of our Bachelor Nation favorites being brought together on our T.V.'s, nothing was better than watching all the ladies support each other. Bibiana was the fairy love mother of everyone in Paradise, supporting Tia through all her rough patches with Colton, and even wing-manning for all her main ladies on several occasions. All the girls came together to support Astrid through her rough end of season break up with Kevin and to support Tia when she decided to leave Paradise because of her break up with Colton. The ladies on this show were one in a million to each other, and they were right there supporting each other when they decided to get back with their significant other's, and when they found new love altogether. They're all still cheering each other on almost a year after the show's taping, and we can only hope that friendships like this will blossom on the next season of Bachelor in Paradise.