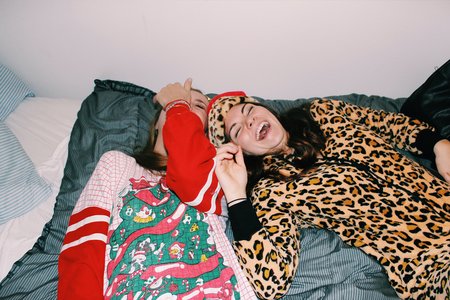 Anna Schultz / Her Campus
Best Christmas Episodes on Netflix
"Christmas Party" – The Office (S2:E10)
Any Office fan will remember this episode for the impromptu game of Yankee Swap (or Dirty Santa, or White Elephant, or whatever you call it). When a game of Secret Santa goes awry, feelings get hurt and Michael gets insensitive. What else is new? As one of the funniest episodes in the show's history, make sure it's at the top of your binge list this Christmas!
"The One with the Holiday Armadillo" – Friends (S7:E10)
There are two types of people in this world: people who love Friends and people who are lying to themselves. If you're in the first category, then you definitely know this episode! The most iconic part of this episode was probably Ross having to dress up as a "holiday armadillo" when he couldn't find a Santa costume in the stores. He made up a story that he was Santa's half-Jewish friend there to teach Ben (aka baby Cole Sprouse) about Hanukkah. Watch this if you want a Friends classic this Christmas!
"The Best Christmas Ever" – That 70's Show (S1:E12)
It's not only the show's first Christmas episode, but it's also definitely one of the best. What more can you ask for from an episode full of the original gang's shenanigans? Especially when they're throwing their first adult-free Christmas party in Eric's basement. And as with any other That 70's Show episode, it will definitely make you wish you grew up in a different era!
"Extraordinary Merry Christmas" – Glee (S3:E9)
You know an episode of Glee is going to be great when it kicks off with Mercedes singing "All I Want for Christmas" and topping a pink and purple Christmas tree. You might know this episode for its adorable tree decorating montage and sing-sesh with the entire glee club, or maybe Rory Flanagan's heart-warming solo to "Blue Christmas." But you DEFINITELY would remember it for the Glee Holiday Spectacular, brought to you by Breadsticks (now with even more breadsticks)!
"Classy Christmas: Parts 1 and 2" – The Office (S7:E11/12)
This two-part Office holiday special is definitely among the best Christmas-themed episodes on Netflix! When Dwight and Jim have a violent snowball fight, Toby takes a leave of absence, Michael tries to win over an old love interest, and Pam is forced to plan two parties, it's the most atypical Christmas at the office yet.
"Forgiveness and Stuff" – Gilmore Girls (S1:E10)
An oldie-but-goodie! Gilmore Girls fans will never forget this season one classic. This episode is our first time witnessing a Gilmore family Christmas, and needless to say, things don't go exactly as planned. This episode is great because it's packed with the classic chaos of Gilmore family drama, all with a happy (or jolly) ending.
"The One with Christmas in Tulsa" – Friends (S9:E10)
The reason I'm probably such a big fan of this Christmas episode is that it centers around Chandler, and he is by far my favorite character. Well, it's either that or the iconic Christmas montage that recaps the gang's best holiday moments. If you're a fan of the show, this episode will be a holly jolly trip down memory lane … all with a classic heartwarming Friends ending.
"Chapter Thirty" – Jane the Virgin (S2:E8)
Picture this: all the juicy drama of Jane the Virgin balanced with all the holly jolly fun of Christmas. That's "Chapter Thirty" for you! If you love Jane the Virgin as much as I do, you know and love this chapter. It ends with a heartwarming scene of Alba getting her green card and the family gathered around the tree … and Petra gets arrested for murder? Yeah, I know. Telenovela juiciness at its finest!
"Santa" – New Girl (S2:E11)
Although it isn't New Girl's first Christmas episode, it definitely is the first one packed with holiday cheer! From Winston getting a cranberry stuck in his ear while making popcorn tinsel to Nick taking his stripper girlfriend to a Christmas party, this episode is just as random as it sounds. But, when it comes to New Girl, do you expect anything else?
"A Very Glee Christmas" – Glee (S2:E10)
Remember Sue rigging Secret Santa so that everyone drew her name? How about Beiste dressing up as Santa to keep Britney's Christmas spirit alive? Or maybe Kurt and Blaine's legendary run-through of "Baby, It's Cold Outside" or Rachel and Finn's cover of "Last Christmas" in the tree farm? If so, then you definitely remember this episode of Glee. Not only is this the first Christmas episode of the show, but it's also undoubtedly the best.
​ ​