From every corner of the nation, eyes were set on the 46th presidential inauguration. Biden-supporters and Trump-loyalists alike watched as Joe Biden was sworn into office. The event was unprecedented in many ways, with its restrictions put into place due to the ongoing pandemic and heightened security measures due to the recent Capitol riots. Despite these circumstances, one capital tradition held firm for the grand event: the fashion.
January in D.C. narrows the choices for politicians and invited guests to choose from for the historic event. However, it is tradition for the men to wear their finest suits and the women to dress in their finest winter clothing. Jackie Kennedy's pillbox hat from the 1961 inauguration would go down as a part of fashion history. Nancy Reagan promised to turn heads back in 1981 in an iconic "Reagan red" ensemble. 2021 was a year no different. Despite the raging polarization occurring within the country, one thing could be agreed upon, the nation's leaders and their guests turned out in style.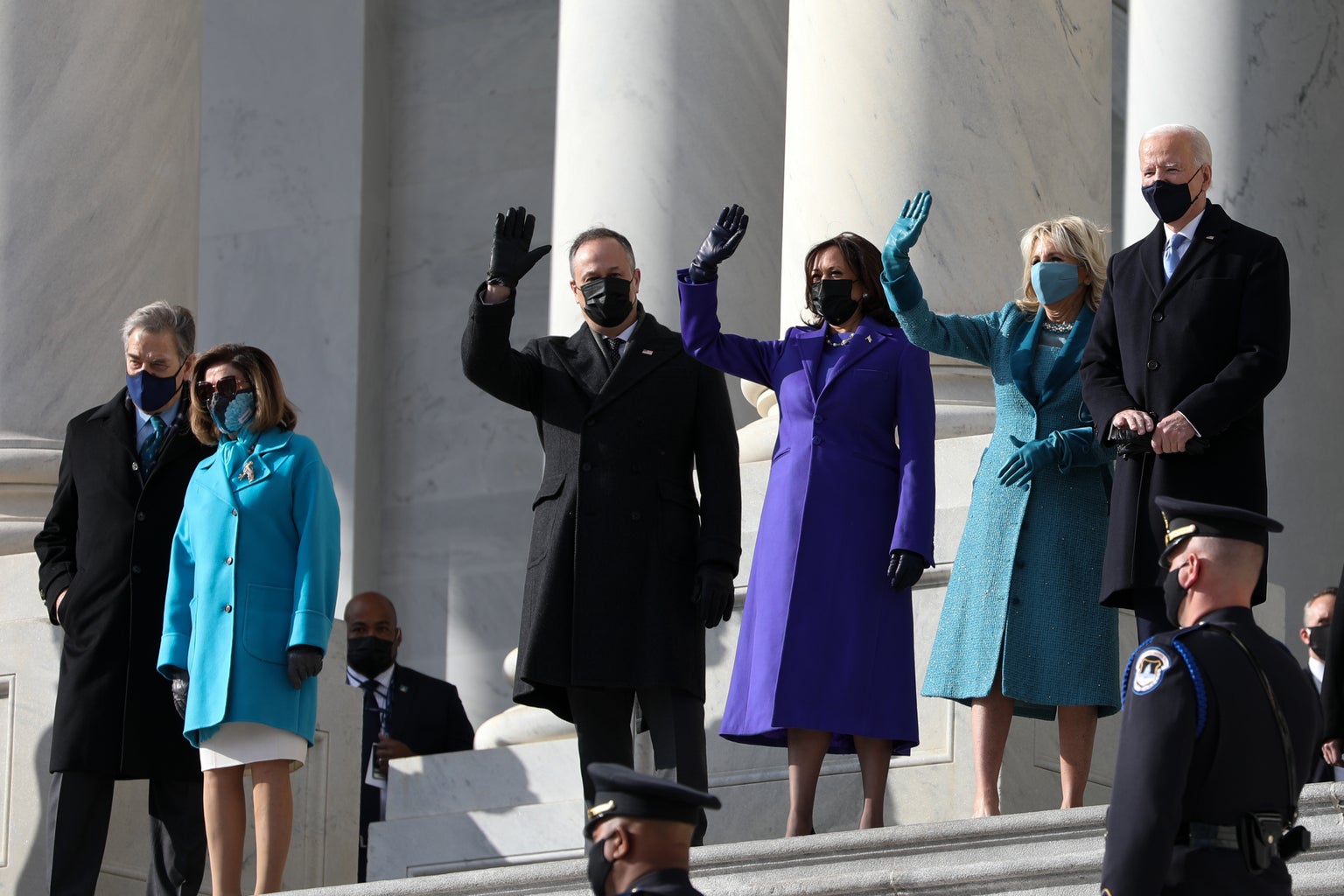 Biden was dressed in a clean fit designed completely by Ralph Lauren—all the way down to the mask!The now first-lady stunned in a light blue set that was put together by a young American brand called "Markarian," based in New York's Garment District. As the first female Vice-President, Kamala Harris came in with a strong choice of a bold yet feminine, color-popping ensemble for the swearing-in. The striking purple outfit was designed by Christopher John Rogers, a designer from Baton-Rouge, based in Brooklyn who has dressed the likes of Michelle Obama and Cardi B.
Former Presidents Obama, Bush and Clinton and their first ladies were also all in attendance. In line with the tradition set forth by Jackie O and Nancy Reagan, the first ladies arrived in elegant and classic yet bold and show-stopping style. Michelle Obama was said to have asked her stylist, Meredith Koop, for "practical, beautiful pants" for the chilly event filled with stairclimbing. The outcome was jaw-dropping. Twitter couldn't get enough of the former first lady's flawless hair and perfect assembly of magenta pieces. The synched-in outfit is not in fact a bodysuit but rather a collection of pieces—a turtleneck, pants and matching coat—wrapped together by a statement belt, all designed by Sergio Hudson.
Celebrities and guests alike also did not hold back with their fashion choices. Jennifer Lopez appeared in a clean white Chanel look. Lady Gaga, never one to shy away from a striking fashion moment, was compared by many to the Hunger Games character Effie Trinket on Twitter. The indeed flamboyant but was equally sophisticated dress was designed by Schiaparelli haute couture. The National Youth Poet Laureate, Amanda Gorman grasped America's attention not only with her moving poem but with her eye-catching style. At only 22 years old, the recent Harvard graduate fit in with the monochromatic theme of the day in a bright yellow coat topped off with a dazzling red Prada headband.
The real star of the show, however, Bernie Sanders and his mittens. Photos of the Vermont Senator sitting cross-legged in a modest coat and patterned mittens have gone viral across all platforms of social media, certainly becoming one of the most defining memes of 2021.
Needless to say, the absence of the 2020 Met Gala was made up for by the 2021 Inauguration high fashion—or local-crafter moment in the case of Bernie Sanders. Theories have flown around as to why there were so many uncommon purple looks throughout the day. One theory being that in the highly polarized left-right, blue-red world that has been of late in the United States, the color choice was intended to represent a unification of the two. Another theory denotes it to being a nod to the National Women's Party's 1913 Newsletter in which they had stated. "Purple is the color of loyalty, constancy to purpose, unswerving steadfastness to a cause." Regardless of the true motivation, the day was filled with beautiful and memorable looks that perhaps inspired a sense of unity in the American people.
Want to see more HCFSU? Be sure to like us on Facebook and follow us on Instagram, Twitter, TikTok, Youtube and Pinterest!