Audrey Hepburn: An Inspiring Woman
An exceptional woman once said, "I believe in manicures. I believe in overdressing. I believe in primping at leisure and wearing lipstick. I believe in pink. I believe happy girls are the prettiest girls."
This was one of the first women to ever inspire me. It was because of her elegance, class and stature, that the beautiful Audrey Hepburn awed so many. She was a British actress and humanitarian. After watching the classic film Breakfast at Tiffany's, the actress blew me and many others away. Her chic style on and off the screen was like no other. She was the beginner of many trends. The epitome of poise. The movie itself caused the jewelry company to explode with popularity and is now a brand name that is known by us all. The character Holly Golightly was independent, snarky and never backed down. After reading the Truman Capote novel, I understood that no other actor could have accurately depicted her level of strength and style. The romantic story is an aesthetic that I always enjoy putting on, it can only be depicted by one of her famous quotes: "Elegance is the only beauty that never fades."
After her movie Roman Holiday released with actor Gregory Peck, commonly seen in To Kill a Mockingbird, she motivated women to embrace the masculine laid-back look, like when she wore a simple white shirt with cropped trousers and ballet pumps. This was very casual clothing like we would see today; many expressed that she did not look girly or feminine enough in these outfits, but she refused to listen. She had an impressive way of making every outfit look good and believed that the clothes were meant to fit her, not the other way around. She stated in her famous quote, "The beauty of a woman is not in the clothes she wears, the figure that she carries, or the way she combs her hair. The beauty of a woman is seen in her eyes because that is the doorway to her heart, the place where love resides." She started many trends that are still admired today; it is a blessing she did not heed to the status quo.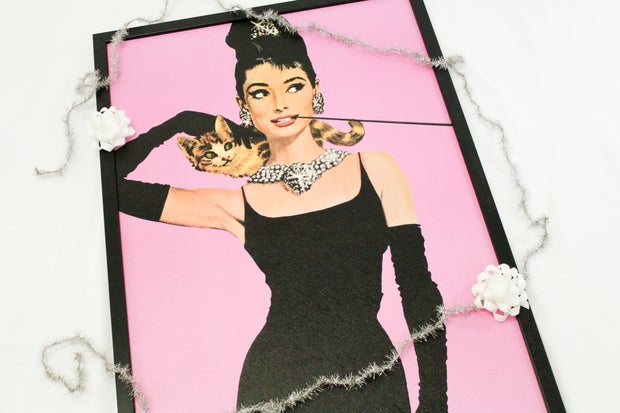 The actress had a harder life than you would initially guess. I also read Audrey Hepburn: An Elegant Spirit by Sean Hepburn Ferrer, her son's biography about her life, and was moved after learning all that she had endured. Surviving World War II caused her to always be malnourished and lack physical and mental health for her entire life. Her father was absent with many emotionally detached issues that impacted her future relationships immensely. And though she gave birth to two amazing children, she had two broken marriages. But instead of lashing out, giving up or being angry at the fate she was given time and time again, she became something pure, special and magnificent. She enjoyed her famous career but always put her children first. Her acting profession brought happiness and joy to many people, but it was her lifelong goal to help children across the world that made the biggest impact. Her work with UNICEF changed the community, saved numerous lives and gave hope to children who needed it most.
At times when I feel discouraged, I remember her intelligent quote: "Nothing is impossible; the word itself says, I'm possible."
Want to see more HCFSU? Be sure to like us on Facebook and follow us on Instagram, Twitter, TikTok, Youtube and Pinterest!