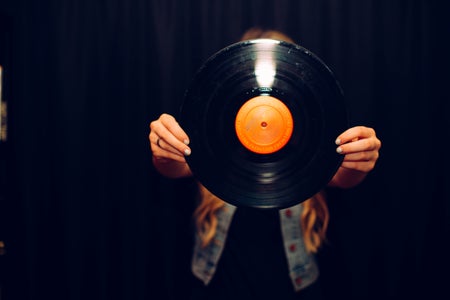 Breanna Coon / Her Campus
Ariana Grande Dominates Billboard Chart with 3 Top Songs
Ariana Grande's new album, thank u, next, has broken numerous records since its release on Feb. 8, just six months after the release of her fourth album Sweetener, last August. "7 Rings," "Break Up With Your Girlfriend, I'm Bored" and "thank u, next" have made the top three songs on Billboard's Hot 100 list. 
"Thank U, Next", which became a sensation even before its video release, spent seven weeks at No. 1 on the Hot 100 list before the release of Ariana's fifth album. The song, which mentions her exes, including Mac Miller who recently passed away, explains that through all the adversary and vulnerability, the most important relationship is with herself. The video, which followed the release of the song, references famous movies, such as 13 Going on 30, Mean Girls, Legally Blonde and Bring It On.
Giphy "7 Rings," which was released about a month prior to the thank u, next album, has spent four weeks at No. 1, despite the controversy that sparked after it was released as the second thank u, next album single. "7 Rings" opens with the melody to "My Favorite Things" from The Sound of Music, which immediately shocked fans. Just days after its release, some fans noticed similarities in "7 Rings" with other artists' songs, like Soulja Boy and Princess Nokia. Although the song has caused a debate among fans, "7 Rings" sits pretty on Billboard's chart and fans continue to stream the song.
"Break Up With Your Girlfriend, I'm Bored" now ranks at the No. 2 spot, after Ariana's fans started #Boycott7Rings on Twitter to help Ariana make history. The song, which is now the third single off of Thank U, Next, was also released with a music video, featuring Riverdale actor Charles Melton and model Ariel Yasmine. It ignited fans to create memes on Twitter about the song and video. 
"7 Rings," "Break Up With Your Girlfriend, I'm Bored," and "Thank U, Next" have made Ariana the first artist since 1964 - when the Beatles made top three - to have three songs from the same album make the top three on Billboard's Hot 100 list. Not only did she achieve this incredible feat, but she is also the first to do it as a solo female artist, beating out Drake, Mariah Carey and Britney Spears who are all tied at two songs.
Ariana noted on Twitter that at first, she didn't believe she had made history, but quickly tweeted, "Thank you from the bottom of my heart. For so many reasons."
According to Buzzfeed, Billboard had also recently announced that the thank u, next album had the biggest streaming week for a pop album. As of Feb. 20, all 12 of her songs off the album were all ranked under 50 on Billboard's Hot 100 list. However, accomplishing these wins under her belt wasn't done on a whim. Ariana strategically released the "Break Up With Your Girlfriend, I'm Bored" music video the same day as the release of the album, gaining her more traction on both fronts.
"It was yet another savvy move by Grande, who's proven herself to be one of the artists most capable at keeping up with streaming-era demands of constant curiosity about both her music and her persona," NBC News wrote of the release. Ariana has a massive social media presence, especially on Twitter, which has allowed her to get to know her fans more and made her topic of multiple conversations around the world.
Ariana has also recently won some impressive awards in the last few weeks. She won her first Grammy for Best Pop Vocal Album for Sweetener and won a 2019 Brit Award for International Female Solo Artist on Feb. 20. These accomplishments are not only big wins for Ariana and her fans but also the pop music genre and more female artists.
Want to see more HCFSU? Be sure to like us on Facebook and follow us on Instagram, Twitter and Pinterest!