Apps My Organized Self Can't Live Without
I might have the worst memory, so when it comes to juggling school, clubs and a social life, things can get a little jumbled. That doesn't keep me from the need to be organized. Thankfully I found a few apps and tricks that help me keep track of every aspect of my life, and honestly don't know what I would do without them. The best thing about all of these...they are apps and websites, so you can have them on your phone and laptop. I hope you are able to enjoy them as much as I do!
Notion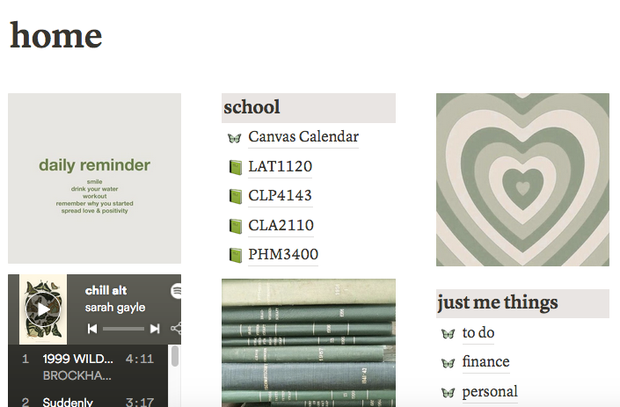 Photo by Sarah Gayle Thornton
First up, Notion! Notion has been my absolute saving grace this semester. This website/app lets you personalize every aspect of it. You didn't hear this from me, but one time I skipped class just to work on my Notion and it was worth it! This can be a little tricky to get the hang of at first, but don't worry, you will catch on quickly. Not to mention there are countless templates and videos to help you out along the way. Here is the home page of my Notion page that I couldn't be more proud of!
My Notion hosts all of my class's individual links to Canvas, professor information, syllabi and all of my notes. It's a one-stop-shop for everything I need for each of my classes. Not only does it hold everything I need for my classes but also the clubs I am involved with, and other personal and social aspects of my life.
Canva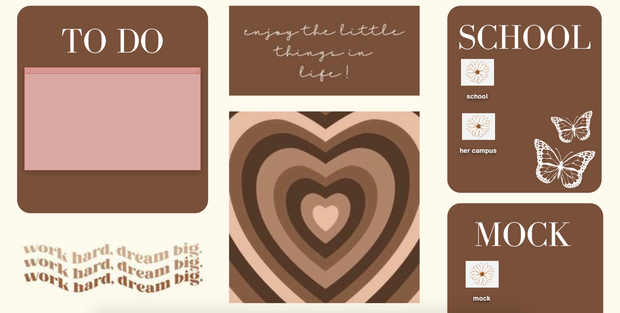 Photo by Sarah Gayle Thornton
This is where things get a little nit-picky for me. I have a strange need for everything to be color-coded, and honestly, it helps me be more productive. For those who don't know, Canva is a website that allows you to create anything from Instagram posts to desktop backgrounds. I don't know about you, but I am far more likely to get work done when things look nice and organized, so this is where Canva comes in.
This has been my recent organizational find, courtesy of TikTok. My desktop background has been cluttered for as long as I can remember, but thanks to Canva, there is an easy (and pretty) way to fix that. First, you go on Canva and choose "create a design" then "desktop wallpaper." From here, you can add whatever pictures or "elements" you want to make a perfectly organized desktop wallpaper to put all your folders. Mine holds my school books and papers and mock trial material all in perfect little folders, which, of course, I had to change from the blue. To do this, first, you pick a photo (png with a transparent background). Next, all you have to do is right-click the folder and press "Get Info." Next, click on the folder icon and press paste, easy as that. I also have my to-do list that I just add to using the Stickies app on MacBooks. 
Google Keep

Photo by Sarah Gayle Thornton
Sometimes it feels like I have a million things to do in a day, but Google Keep helps me keep track of it all. It is the perfect place to keep all of your to-do lists. I have tried so many different methods to remember things I need to do, ranging from notebooks to writing it on me, but for some reason, nothing would work. Then I found Google Keep. The best part about it is I can have it on my laptop, phone or any other device, so I am not limited to remembering to bring a notebook to remember what to do. No matter where I am, I have it ready to go to tell me what I need to do!
I hope you guys have found something that you can use to help better organize your lives. Little things such as a well-manicured desktop can honestly give you that little push to better organize your life and help with productivity. Enjoy!
Want to see more HCFSU? Be sure to like us on Facebook and follow us on Instagram, Twitter, TikTok, Youtube and Pinterest!