On Monroe Street in the great city of Tallahassee, there is a special cafe. What makes this cafe special is that while you are sipping on your iced chai, a cat is lying in your lap. The Tally Cat Cafe opened on May 21, 2018, and since then, they have helped over 1,000 cats get adopted. If you are allergic to cats but still want some delicious coffee or tea, no problem, the cats are kept in a completely different room with a full glass wall so you can enjoy their adorableness. I interviewed one of the owners about her journey of owning this very special cafe.
Her Campus (HC): What inspired you to open a cat cafe?
Tally Cat Cafe (TCC): I was working a desk job, and my husband was looking at a shop. Our friend, who's the third owner, was about to finish school, and we were all just kind of hanging out one night, and we asked each other what our dream job would be. One person said something along the lines of, "I don't know, I think I could retire owning a coffee shop." Someone else jumped in and said, "I really think I want to work with cats." That's when we all realized that there are such things as cat cafes. We just started off researching cat cafes for fun. Then, we were like, "Hey, I found this website that has commercial properties."
We looked at commercial properties, and then we started mapping everything out. We held meetings with multiple people, including local business owners and coffee shop suppliers. We kept following the path until we were finally ready to open the shop. We all invested personal money into the business. I ended up quitting my job, and our third partner graduated college. This is what we're doing now!
HC: So, the cafe's split between three people of you guys?
TCC: It's me, our friend Katie, and then my husband, Joshua Rice.
HC: How were you guys able to find the cats?
TCC: Katie was already interning at the Leon County Humane Society, so we already knew we would work with them because we had a good relationship. We've worked with them in the past individually as fosters, and we liked how they operated. We built a good rapport with the organization. We pitched the idea to them, and they loved it! We've got a mutually beneficial partnership. We don't even ask for any money from them; all of the adoption money goes straight to them. They just handle the medical expenses of the cats, and we provide our own litter. We basically utilize the space as a foster home for them to hold cats until they are adopted.
HC: How did you guys come up with the vibe or theme of the cafe?
TCC: When we visited other cat cafes, we got to see different types of vibes. We ended up liking the art scene vibe, as well as a velvety glam aesthetic. We learned that cats don't scratch up velvet furniture; they don't like doing it! We ended up leaning into the glam vibe; it's modern and easy!
(Side Note: They have a very cute backdrop in their cafe area that is perfect for Instagram photos.)
HC: What did you find to be the most challenging part of trying to get the cat cafe started?
TCC: We had a lot of challenges being young. I was 25 when I opened the café, and my friend was 23; she was our youngest. A lot of people did not take us seriously, and a lot of people assumed we were working with our parents' money. In reality, we're all firstborn first-generation college students. It was definitely bootstrap vibes going on. This was our money that we were putting into it.
We had a banker ask us if we knew what a credit score was. Once, we were in the building with a contractor we hired to look at the blueprints we designed with an architect. He turned around and asked us what we wanted to be when we were older. We were astounded.
So, yeah, I think that the hardest part was getting taken seriously. We interviewed several realtors until we found one that believed in young people building businesses. We were so grateful. Also, the cat concept was hard for people to understand. A lot of landlords assumed we would bring fleas to their building. We got shot down by several landlords, and we had to find one that accepted us.
HC: How long did that process take from the idea to finally getting it open?
TCC: It took a year. We announced it and did a GoFundMe, but all the money we used for the GoFundMe we put back into GoFundMe just to hype it up. We spent that time getting a lease. There were seven months of construction because we did have to build this from scratch. Other cities have the luxury of already having established places to start a business. If you want to set up a coffee shop, you could probably find a place that was a failed coffee shop and build up from there. This route would undoubtedly require a lot less money. This is hard in Tallahassee because there's not a lot of previous coffee shops, so we had to find a spot. We had to redo all of the plumbing for the espresso machine and all that other stuff. Then, we had to build the wall for the viewing bar. We had to do a bit of build-out, and that took a long time.
HC: Do you guys have any aspiration to open up a second location or anything?
TCC: Not a second location, but our own location. We want to buy our own plot of land and our own building. If we won the lottery, I would love to do this grand thing where we have an intake system, and we could also do a beer garden and have dogs as well. But, I think the most realistic thing for us would be to take a mortgage on a property. We'd be paying our own mortgage, and we could just build it out how we want to build it out. We'd probably still stick to a cat cafe. I would like to have a more expansive menu. Our kitchen space really limits us, so we just do drinks.
(Side Note: the drinks are delicious! My personal favorite is an iced chai with oat milk. They add a bit of nutmeg and cinnamon on top, which just makes it so good.)
HC: What do you think is your favorite part of owning the cafe?
TCC: Everything that I do feels impactful, and it feels fulfilling, like planning, adopting and even educating people about cats. A lot of people don't know things about cats, and a lot of people come here to ask about them. I don't feel like I'm doing busywork. I don't feel like I'm doing menial work. I don't feel like I'm doing anything that's not purposeful. And I think that's my favorite part.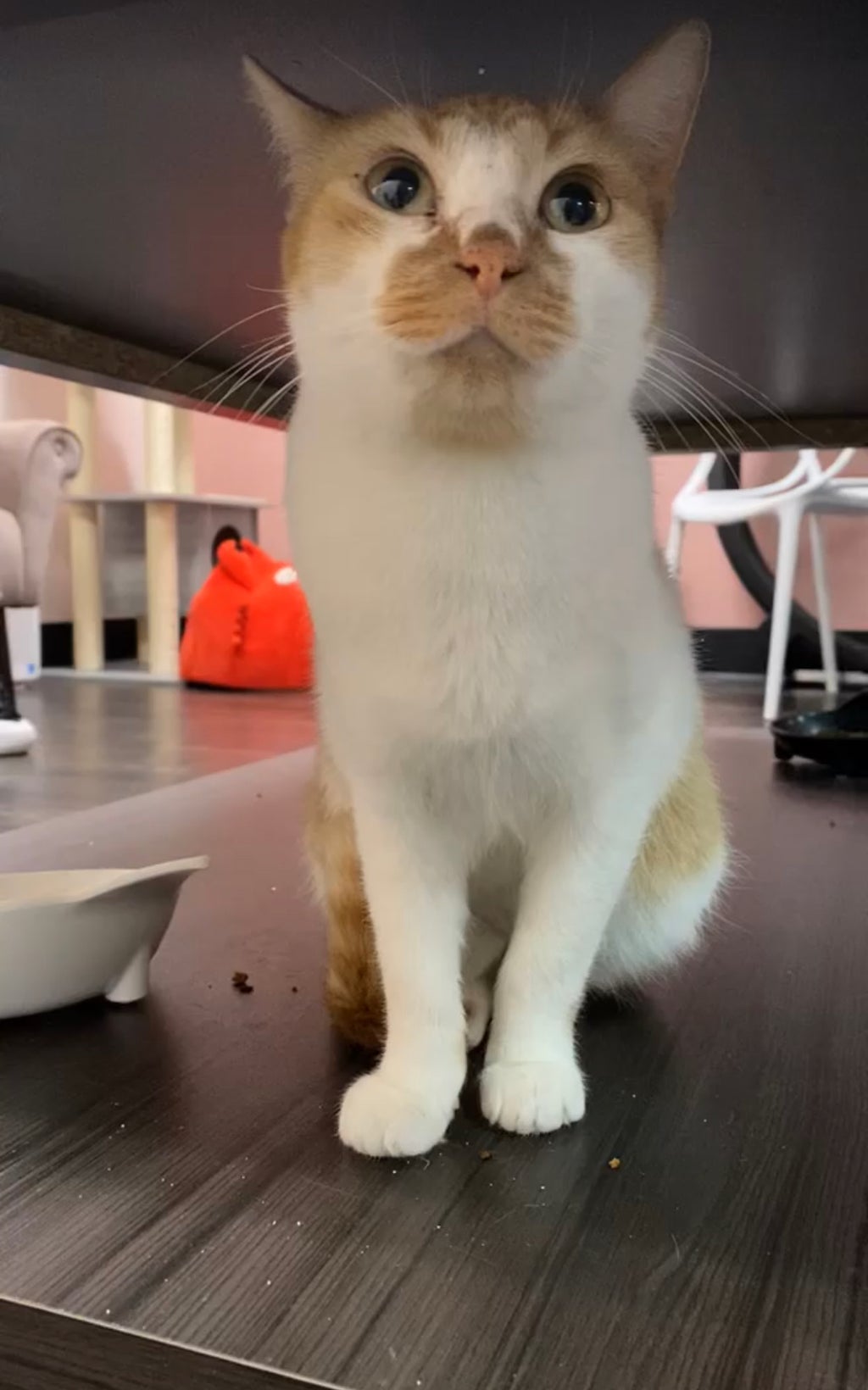 HC: How can people become involved? I know you guys don't have a lot of volunteer opportunities just because it's a small business. Are there other ways that people can support?
TCC: Sharing us on Facebook and Instagram; we have all sorts of social media. So, just promoting our social media is really helpful. Buying our merchandise is also helpful. If you see that we have an event, just share it so that it gets spread further. I just know that many people have never even heard about us yet, and I think making the world more aware of us would be super helpful.
HC: Last question, what is the adoption process for the cats?
TCC: So there's an application, and it's through the Leon County Humane Society. You can go on their website, or you can follow a link on our website. The kittens are 100 dollars. Adult cats are 80 dollars. All of them have been spayed, neutered, vaccinated, microchipped and tested. I can't give any specifics on the application questions, but once you fill it out, you can call us during our business hours to get started on the approval process. That can take around 20 minutes.
HC: Do you have any extra thoughts you'd like to share?
TCC: So we're starting to do more events lately, especially now that COVID is coming down, so keep an eye out for that. I want to do a Christmas party. Valentine's Day is always here. I just announced today an Animal Crossing party. We're also going to do an island tour contest. Originally, we wanted to do a launch party for the game, but it got canceled because all the restaurants had to shut down. It was very unfortunate timing. We're trying to do a second take at that, and we're really excited.
If you would like to visit the Tally Cat Cafe or adopt from them, check out their website to make a reservation and see all the kitties available.
Want to see more HCFSU? Be sure to like us on Facebook and follow us on Instagram, Twitter, TikTok, YouTube and Pinterest!