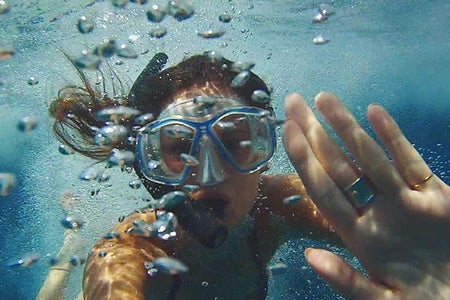 Meredith Kress / Her Campus
7 Ways to Make Summer '19 the Best One Yet
Summer '19 is right around the corner, and this year, happiness is in the air. Summer is the season of good music, natural tans, ice cream, swimming and the ultimate memories. Many people are wondering how to spend their almost four-month-long summer without getting that same old summertime sadness that looms when you tire of constantly doing the same routine. Whether you are interning, working, learning or just relaxing, here are seven ways to make Summer '19 the best: 
1. Start a business
Need to make some extra cash? One fun and easy way to make money this summer is by becoming your own boss! Whether you are good at spotting cheap finds or have an overflowing closet, you can turn those finds or mistakes into cash. Using the apps like Mercari, Poshmark, Curtsy and even good-ole eBay is the best way to get rid of the old and gain some extra cash. 
2. Road trip with friends or family 
Have a day or the weekend off? Plan an adventurous trip with your favorite girl gang or even your family. Nothing beats a killer playlist, windows down and a stunning view in the distance. Some good road trip ideas include a trip to the lake, a music festival, a scenic waterfall, a fun new city or a cool theme park. Rent a cool Airbnb and make the most out of this trip with the people you love the most. The most important thing to remember is to let loose, be safe and try some new things. 
3. Enjoy time alone
Whether everyone you know is busy or you are winding down after a busy day at work, the small moments by yourself are just as fun as being with others. Sunset cruising, taking yourself for a shopping spree, a self-care spa day, or reading/writing in the outdoors can be incredibly valuable and therapeutic for your mental health.
4. A trip to Tally
Whether you live 16 hours away or staying in Tally all summer, one of the best times to invite and show your family or friends your beautiful college campus (and favorite city) is when everyone is away. In the summer you don't have to sweat the long Chick-fil-a lines, traffic on Tennessee St. and the crowded sidewalks on Landis. You can finally spend more time exploring Tallahassee without all the pressure. 
5. Learn something new
Summer is the time to be adventurous and bold in everything you do. Try devoting about thirty minutes a day to learning a new language or practicing a new hobby, even invite your friends to join you!  Though you aren't in school, there is nothing wrong with still trying to expand your brain, especially if it could be valuable to you in the future. 
6. Shop and support local
No matter if you're a from a small town, a huge city or interning somewhere else, explore all that your city has to offer regardless if you've been before. Try shopping at your local boutique, getting lunch at your favorite family-owned restaurant, grabbing a treat at that new bakery, having a fun photo shoot on the square, taking a walk at the local park or even hitting the library. There is an adventure no matter where you are if you make it one.
7. Say yes a little more
Summer '19 is all about living your best life and finally becoming the person you want to be. One of the best ways of doing that is as simple as adding "yes" to your vocabulary a little more. Did your coworker just ask you to go out to lunch? Say yes! Is your mom begging you to join her at the grocery store? Say yes! Did your friends just text you at 3 a.m. and ask if you want to get food? Say yes! Try some new things, hang out with new people and go places you'd never thought you'd go before. Life is better when you get out and have fun!