10 Must-Listen Tracks for This Halloween
The second I wake up in the morning until I fall asleep at night, I can be found listening to music. Music helps set the tone and "vibe" of my day. With Halloween being this weekend, I wanted to share with you guys 10 of my favorite spooky-themed tracks. We can't go to any parties this year and must stay in our homes, but that doesn't mean we can't have the perfect playlist. We can still have the best songs in the background of our candy eating adventures this Oct. 31st. 
My first recommendation for the perfect spooky tracks is "Superstition" by Stevie Wonder. Quite frankly, I would be remiss if I didn't include this one. It is a classic song. The rad intro that has your feet tapping from the second the song starts combined with Wonder's classic vocals is just a recipe for success. If that wasn't enough, this amazing collection of horns kicks in while he sings that simply just makes you want to dance around. Even the title of the song helps with the optimal energy. You can hear this legend sing about superstition while telling your great ghost story to your roommates or at your latest Zoom party. 
Next is "Sisters of the Moon" by Fleetwood Mac. What is Halloween without a song from the witchy queen herself? Stevie Nicks rules over us all with her magical voice when she opens the song with a haunting "ooo" on repeat. You can hear some classic Fleetwood Mac/70's magic in this song with a very particular bass and guitar part. If that wasn't enough, the music seems to pick up while Stevie belts out the title of the song. 
Following that, I recommend "Touch-A, Touch-A, Touch Me" from the original soundtrack of The Rocky Horror Picture Show. Again, I feel as though this song is simply a must. The song is a must for any Halloween playlist because of its origin in a cult classic film we all know and love. Arguably, Time Warp is one of the most famous songs from the movie, but I have a ball singing along to this one and that factor helped it make the cut. That being said, overdramatic singing along to Susan Sarandon is encouraged.
To bring some eclectic 60's energy, I recommend "Season of the Witch" by Donovan. The catchy bassline with tapping drum part makes my inner witch rise to the surface. This song is a classic psychedelic rock that makes me want to twirl around and stir some trouble. Donovan's expressive vocals combined with lyrics of the mystic and a fun guitar part makes it essential for your Halloween escapades. 
To help bring in some eerie energy I recommend "Seven Devils" by Florence + The Machine. With classics such as Dog Days Are Over and Hunger, you know you can trust Florence Welch to sparkle in your spooky playlist. This song has a mystical intro that sets the stage for this magical tune. Welch's extended vocals create a haunting air while she sings about the seven deadly sins. Her chorus of ghosts that come in while she sings the title of the song and the surrounding lyrics makes this song simply a must.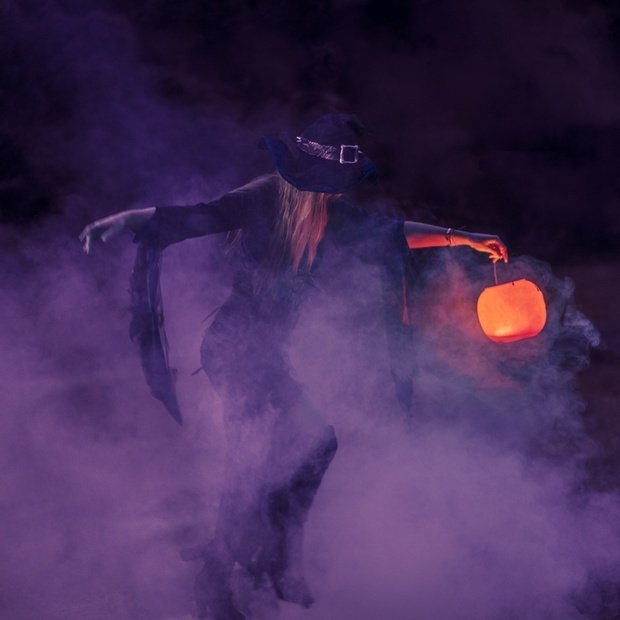 Photo by Zach Kadolph from Unsplash
That magical last song can only be topped by a classic: "Thriller" by Michael Jackson. The song opening with the creak of a door, the sound of the wind, nearing footsteps and a howl of the wolf — it simply screams Halloween. The lyrics of an impending murderous creature are just the absolute ideal. I don't need to further explain why this song by the king of pop is a must. If it's good enough for your nostalgic middle school dance, it's good enough for your quarantine spooky adventures.
With similar lyric energy to the track before, I recommend "Psycho Killer" by Talking Heads. These lyrics in particular seem to document the thoughts of a serial killer. They are accompanied by a funky beat that will make you want to nod your head along. Lead singer, David Byrne brings some notable vocals in this song. With a bridge in French and a set of pulsating drums, it sets an immaculate tone. 
Nearing the end, I suggest yet another classic: "Witchy Woman" by The Eagles. This song makes you want to sway and simply "vibe" in your living room. With surprising gritty lead vocals from Don Henley, you know you're in for a treat. I am particularly fond of the awesome instrumental parts and back vocals that adorn this song. You can pretend you are the woman with the moon in her eyes as you listen along to this spectacular song. 
Second, to last, I put this recent favorite, "Zombie" by The Cranberries covered by Miley Cyrus. The title itself is clue enough as to why this song made this curated list. This song is so incredibly 90's with its grunge-y energy. Cyrus's vocals are absolutely everything you'd want and more. The instrumental part adds to this feeling of impending doom that I am obsessed with. You simply must listen on repeat and at the highest volume. 
Finally, the most quintessential Halloween song, one to end all the legends in their tracks, "Calling All the Monsters" by China Anne McClain. It only felt right to follow one iconic Disney star with another. Though some of my precious statements may be coated with some healthy sarcasm, I truly do believe this one is a must. An upbeat rhythm and techno energy make this song just plain fun. This song is set to start a sing-along with you and your roommates or just anyone near you. It is simply that infectious and it is the perfect ending track. 
Want to see more HCFSU? Be sure to like us on Facebook and follow us on Instagram, Twitter, TikTok, Youtube and Pinterest!