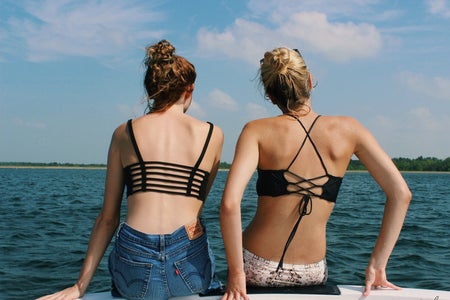 Anna Schultz / Her Campus
10 Gadgets Every Girl Should Have to Stay Safe for Spring Break
Spring break means one thing: party, party, party. And being women, no matter where you're going, at some point you are going to find yourself feeling paranoid or scared. This list is here to give you and your loved ones some peace of mind.
1. Roofie Detector
My Pick: SipChip Drink Spiking Test
Price: $14.99
This is one of the most important gadgets on here, date rape drugs are everywhere. Now,  you should always keep track of your drink, but let's say you happen to lose track and you don't want to buy another, this handy little test can save your life. Simply put a drop of the drink onto the little circle and wait 30 seconds, if two lines appear then you're good, but if only one line appears then your drink has been tampered with. There are many different options for date rape drug tests but I chose this one because it be taken on the go and is very discreet.
2. Personal Safe
My Pick: Book Safe with Combination Lock
Price: $11.99
In case of emergency is written all over this guy right here. Don't be that person who loses their wallet or gets robbed and has nothing kept in a secret compartment to get home. Just don't do it. Don't be that guy. This safe will keep some extra cash, keys and anything else you need to keep safe from prying hands.
3. Smart Jewelry
My Pick: invisawear Smart Jewelry
Price: $149.00
It's cute and it keeps you safe?? Oh, say less. Press the button on the back of this beauty and instantly 5 people that you choose are alerted to your GPS location and that you need help. It is the most expensive piece on the list clocking in at $150, but I will say that it's well worth it.
4. Swiss Pocket Knife
My Pick: Victorinox Swiss Army Classic SD Pocket Knife
Price: $15.95
It's a Swiss pocket knife, it literally has everything. If you don't have one then you need to reconsider your life. It'll keep you safe AND give the impression you have your life together.
5. Defense Key
My Pick: CRKT Williams Defense Key
Price: $9.73
The defense key is your everyday multi-tool for women's defense. It has a sharp, Philips  head that serves as a screwdriver but also a sharp edge to put in between those fingers when you're walking alone at night.
6. Small Taser
My Pick: Guard Dog Security Hornet World's Smallest Stun Gun
Price: $22.99
This is pretty standard in the world of women's weapons. Every girl either has or knows another girl who has one. This is great because tasers offer an attack from  afar or in close proximity depending on which style you get. This little guy here equips you with 8,400,000 volts and is the smallest ever. It can easily attach to your belt loop or bag for a quick attack.
7. Tactical Pen
My Pick: The Atomic Bear Tactical Pen
Price: $12.99
This is definitely a worst-case scenario weapon that I hope none of you ever have to use. It looks like just a regular pen but what it is actually a military-grade defense weapon that is used to break through car windows. Just simply take it out and take the cap off and you're instantly equipped with a weapon to help you get to safety. 
8. Lipstick Pepper Spray
My Pick: SABRE RED Lipstick Pepper Spray for Women
Price: $7.99
Compact lipstick design doesn't draw attention and fits discreetly in a purse, so if you are ever in a tough spot and don't want to be too noticeable when you pull this bad boy out, this is the thing for you. Since the lipstick is tiny and can fit in your pocket without drawing too much attention, it becomes the perfect defense when you go out and don't want to bring a bag.
9. Portable Door Lock
My Pick: WINONLY Portable Door Lock
Price: $12.99
So, here you are. In a run down, sketchy Airbnb with a questionable lock on the door that you booked because it was oh so cheap. Well, don't freak out just yet. This portable door lock installs in seconds without any tools required giving you additional safety, security and privacy. But this shouldn't be your only line of defense, always make sure your doors and windows are closed and locked before installing this device.
10. Personal Alarm Wristlet with Whistle
My Pick: iMaxAlarm SOS Alert Personal Alarm
Price: $16.99
One way to ward off some creep is to get as much attention on you as possible, and when you pull the tab off this little guy it lets out a high pitch sound clocking in at 130 Decibels! That's guaranteed to get someone to look over.
Spring break is a college student's happiest time of the year, but it's also one of the most dangerous. So make sure you take a look at these products and other defense items that might help or suit you better and stay safe out there ladies!
Want to see more HCFSU? Be sure to like us on Facebook and follow us on Instagram, Twitter and Pinterest!