Fall 2019 Survival Kit Reviews
This is a sponsored feature. All opinions are 100% our own.
Edited by Emily McCabe 
This semester Her Campus Framingham received various products from Garnier, Emergen-C, Extra, and Mary Kay for our survival kits. Our members were excited to choose from the various products, and we hope you will find our reviews both insightful and useful. 
Emergen-C Nutrient Shot 
https://www.emergenc.com
Pomegranate-Berry 
For me, the directions on how to dispense the powder into the shot were kind of confusing. Also, this flavor tasted like cold medicine and was not easy to drink. It did give me some energy before my 8:30 class, and maybe a different flavor would be better, but this product is not for me. –Victoria B 
The packaging of these shots are cute, and although it was confusing, I enjoyed twisting the cap to the left to release the Emergen-C powder, shaking it like crazy, and then turning it back to the right to open it. I've started heavily relying on caffeine, mostly through coffee, but seeing as these have around the same amount of caffeine as a small Dunkin Donuts coffee, these might be a healthier alternative, especially compared to energy drinks. The taste was a little bitter and did taste like cough syrup, but I feel like it did give me a little energy. I think the taste can definitely be improved, but for now, I would consider buying it as is. –Emily M 
I feel like it did everything it claimed. I'm sensitive to caffeine and I feel like it gave me more energy but I didn't love the taste. I feel like it had a strange aftertaste. –Beverly L 
Peach-Mango 
This product is a little bit of a game changer. I'm an RA, and sometimes the 1 a.m. rounds are a bit daunting. I took the Emergen-C nutrient shot at 7:30 p.m. right before going on duty, and it made me the most productive I have ever been past midnight. I was doing paperwork, organizing rosters, and planning ahead for my week. When my 1 a.m. round rolled around, I was ready to go without a problem. I have been skeptical of energy drinks or energy supplements in the past, because I have heard they can be a little bit problematic, but this one did not make me jittery or cause me problems going to sleep afterward. 
As far as taste, the Peach-Mango was pretty good. It left a slight bitter taste in my mouth for a few minutes after drinking it, but it wasn't a deal breaker for me. The packaging was pretty interesting too. The twist cap technique was something I don't see very often, and it was a unique way of drinking an energy supplement. Overall, I really enjoyed trying this product and I will totally buy it in the future to get me through long nights on duty. – Sam C 
Emergen-C has a lot more products than I thought they did! I have NEVER heard of a nutrient shot made by them. When we got them, we had the choice of pomegranate-berry or peach-mango. I went with the Peach-Mango, because usually that is a pretty safe flavor. The product itself is pretty easy to open. You just have to make sure you shake the product well. Even when you shake the product well, there are still some weird particles on the bottom. When I first opened it, it smelled pretty good. But the smell was very deceiving. The peach-mango taste was not good at all. It was a very bitter flavor, and it left a pretty nasty after taste in your mouth. I couldn't even finish the whole drink. And the drink itself is only 55 mL. I'm not sure how this drink is with providing energy, and I am sure I won't find out from only drinking two little sips of this. If I were to grade this product, I would give it a C. Some people may enjoy the flavor, but for me personally, I do not. – Celia M 
It tastes okay; it has a bit of an after taste. I don't think it worked for me. It didn't give me more energy. –Savana G 
The day I used this, I woke up around 6 a.m. Around 5 p.m., I started to crash a bit. I decided to use the shot because I had to stay up until 2 a.m., and I knew I would get tired. After taking the shot, I felt wide awake. About 7 hours later, I still felt the effects of it. I think it really works and would definitely try it again. My only complaint is that it has a very weird aftertaste for the first couple of minutes. Other than that, I really enjoyed it! –Destiny O 
Emergen-C Vitamin C Drink Mix 
https://www.amazon.com/Emergen-C-Super-Orange-10-count/dp/B005GWSZMW 
I used to take these every single day, until I started taking Vitamin C pills instead to save some money. But I still love Emergen-C and what it does for me. Back when I was drinking it everyday, I never got sick, ever. I saw a real result. The orange flavor isn't my favorite though. If I were ever to go back to these, I would definitely get a different flavor, like the raspberry ones or the strawberry kiwi.  -Victoria B
I had high hopes for this product after trying the Emergen-C nutrient shots, but unfortunately, I was not very impressed. The taste was quite bitter, almost like Crystal Light's angry cousin. I drank it after going to the gym as the box suggested and I felt refreshed, but it was nothing magical. –Sam C 
Before I got Emergen-C in my survival kit, I used to use this product religiously. If some of you don't know what Emergen-C is, to put it to simple terms, it is a vitamin C drink mix. You put on packet into a standard size water bottle, shake, and enjoy! It comes in a variety of flavors which include super orange, acai berry, coconut-pineapple, cranberry-pomegranate, lemon-lime, Meyer lemon, pink lemonade, raspberry, strawberry-kiwi, tangerine, and tropical. This product is supposed to help boost your immune system to help prevent you from getting sick. I know some people who take this product every day. I personally do not take this product every day. I usually take it when I feel myself becoming sick. If I notice my throat starting to hurt or my nose is becoming stuffy, I take Emergen-C once every day until I am feeling better. The flavor I received in my survival kit was super orange. I am not a huge fan of artificial orange flavor. But the flavor for the Emergen-C was not bad at all. It is not a super strong orange flavor and it doesn't taste super acidic. If I were to rate this product, I would give it a solid A+! –Celia M 
It tastes good. I like it best in orange juice. It works. –Savana G 
This was my favorite out of all the products. It did everything it claimed to do. I felt energized and good. I tried the "super orange" flavor but I have tried the raspberry and I think it tasted better. -Beverly L 
Extra Refreshers Gum 
https://www.behance.net/gallery/79924677/Wrigleys-Extra 
I like this gum but neither the flavor nor the consistency lasts too long. I have to chew two pieces at a time to enjoy it. –Victoria B 
I love the cute container it comes it, and it's fun to shake around. There are a decent number of pieces in it as well. None of the pieces are individually wrapped, which is good if you tend to leave empty wrappers laying around or crumple them into your pocket, but bad if you like spitting your gum out into those wrappers. The flavor is okay; sometimes I feel like it lasts a while and other times it dries out really fast. I think I would still choose an Icebreakers container over this one, but I appreciate the effort. –Emily M 
The flavor doesn't last as long as it implies. It tastes good. –Savana G 
Mary Kay Skincare Products 
https://weekly-ads.us/mary-kay-ads/flyer-77173-3 
Mary Kay Moisturizing Stick 
I love this product a lot. My skin is always super dry, especially in the winter. I get a lot of dry skin that's flaky and visible around my nose piercing, and this moisturizing stick is perfect for it. I used it after I showered at night, and it was very easy to apply. It doesn't have a strong scent or anything, and it doesn't make your skin greasy. Also, you don't have to worry about getting it on your hands, as the stick form makes it simple to just rub on. I highly recommend this product! –Victoria B 
So, I'm not a big lotion person, but certain lotions I'll wear. I tend to like the lotions that aren't very waxy feeling and don't leave an oily residue on your skin. I also like the lotions that make your skin feel nice and soft! When I got the Mary Kay Moisturizing Stick I was so excited! Moisturizing sticks are something I haven't particularly tried before. So, I was excited to try something different. This moisturizer is meant for people with normal to dry skin, which I tend to have. My first thought was how beautiful the packaging was! I had high hopes for this product. So, when I used it, I can't lie, I was a little disappointed. Right when I put the moisturizer on my face, it immediately felt greasy. I tried rubbing it in a little more, but it left a waxy residue on my face. It also left my face feeling very dry. It never really added any softness to my face. I'm not sure if it's just because I am not a big lotion person. So, I had my mom try it as well! She is big into lotion and very picky about what she likes! My mom tried the moisturizing stick right after she washed her face for the night. My mom LOVED this product. "It's like a nice, smooth feeling. You just want to make sure you don't put too much on cause then you will get that waxy feeling. So just put it on sparingly." –Celia M 
I feel like this was just a tube of Vaseline? It didn't smell very good. I can see how it would work for dry skin, but if you apply to actually make a difference, you'll just be greasy for an hour until it fully sets into the skin. I'm not sure how much this actually costs, but I'm pretty sure it wouldn't be worth buying. Stick to your regular facial moisturizer. –Emily M 
Mary Kay Naturally Nourishing Oil 
I have never tried facial oil before because I was scared of it making my face feel yucky, but this natural oil was a pleasant surprise! It smells delicious and is really easy to use! There is no mess, no greasy after feeling, and so far, no breakouts. I use two drops each time and massage it into my cheeks (I have sensitive skin on only my cheeks) and they feel so soft and smooth after! I'm looking forward to continuing to use the product every morning in my skincare routine. Thanks Mary Kay. –Sam C 
Mary Kay Naturally Purifying Cleanser 
I tried the Mary Kay cleanser and I enjoyed it overall. The product smells a little like sunscreen, but it did smell clean. It was very easy to apply. The texture was somewhat creamy without being thick. The cleanser didn't lather up as much as I expected, but it was very easy to wash off and left my skin feeling clean but not dried out. –Amy W 
Smells nice, helps clear skin, doesn't leave skin dry. –Savana G 
Garnier Whole Blends Miracle Nectar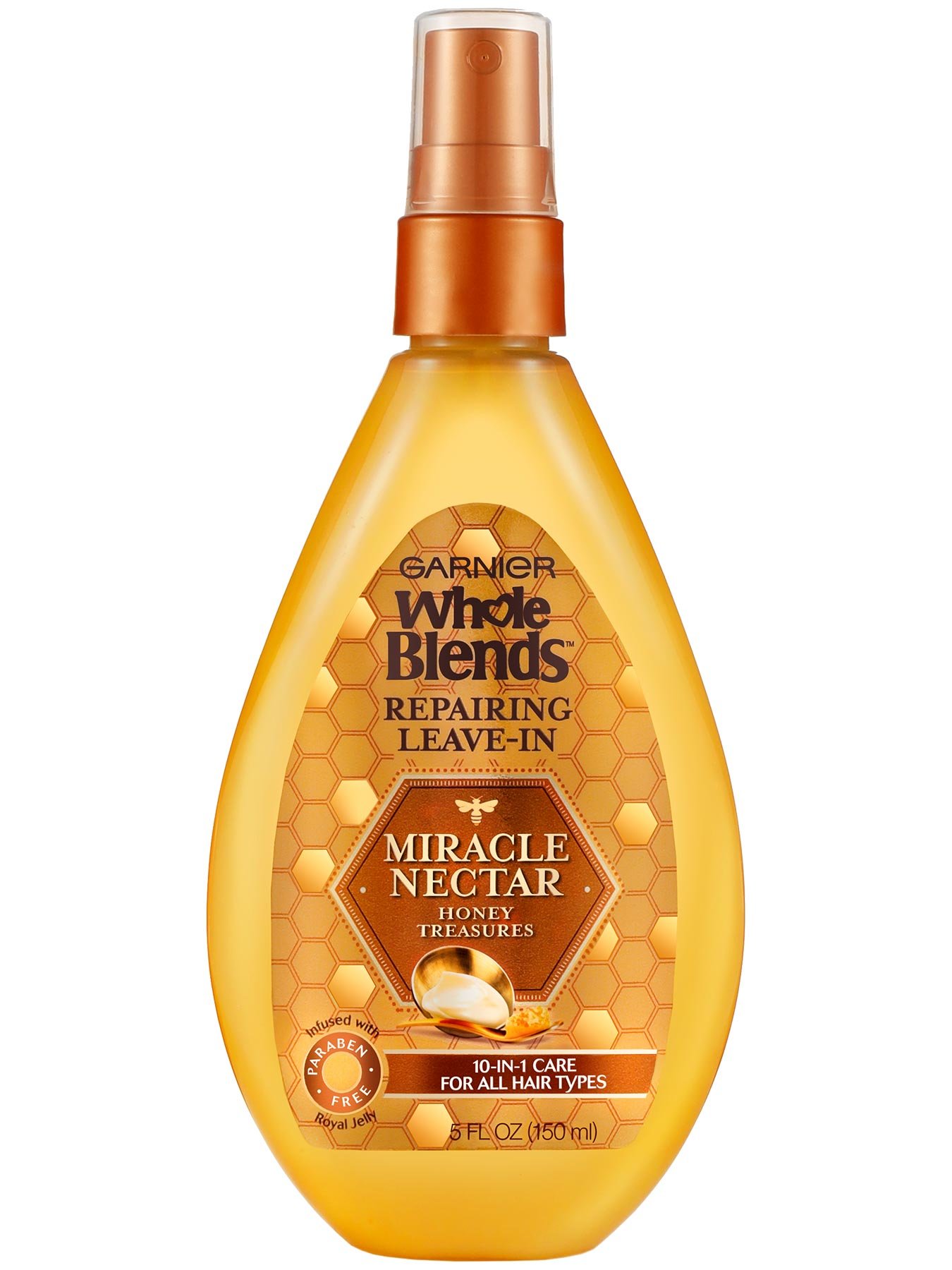 https://www.garnierusa.com/about-our-brands/whole-blends/honey-treasures...
Okay first of all, this product smells SO good! As soon as you open the packet you can smell the nice little aroma! It is easy to work with and makes combing your hair a breeze. I think I put a little bit too much in my hair the first time I used it because it dried a slightly stiff but it definitely defined my loose curls. The second time I used the product I used a little bit less and I did not experience any stiffness. I would totally recommend this treatment to a friend who is looking to spice up their hair care routine! –Sam C 
Smells good, helps control frizz, makes hair soft. –Savana G 
I liked this product. It made my hair feel softer and moisturized, and it made it look shinier. –Beverly L