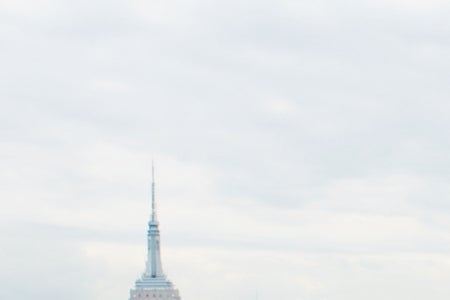 Anna Thetard / Her Campus
I don't know about you, but I live for small moments that make me think, "This. This is peak NYC energy." Does it sound a bit basic? Absolutely. Does that impact my happiness at the moment? Not at all. Coming from Texas, most of my ideas about what life in NYC would be like came from Gossip Girl. Serena and Blair set my expectations high, but as a college student in the Bronx, I regrettably don't sit on the Met Steps and attend galas on a day-to-day basis. Below I have my list of odd (and sometimes meaningful) moments that make me feel one step closer to becoming a true New Yorker. Whatever that means.
1.

Washington Square Park

Anna Schultz / Her Campus

A week before the start of the fall semester, my mom and I were sitting on a park bench, talking and drinking our Japanese teas in Washington Sq. Park. About 30 minutes into our conversation, we noticed that the man sitting across from us (an evident NYU student) had his sketchpad out and had been drawing us the entire time. Oh, and before we left, a pigeon hopped on top of my knee. I screamed, but I also felt touched to have been a resting spot for NYC "wildlife."

Anna Thetard / Her Campus

Two of my friends and I switched up our usual Friday plans to try out a jazz club I had heard about, Fat Cat. The place was a mix of college students and jazz enthusiasts. We had a great time watching a live jazz performance and playing cards and a couple of rounds of pool. We ended the night running to catch the next MetroNorth in our heeled boots (we made it by a very slim margin).

The first time I went to a stand-up comedy show, the atmosphere and various comics enthralled me. I drew comparisons from The Marvelous Mrs. Maisel, an amazing TV show that follows a woman that discovers she has a talent for stand-up (in NYC!). My experience was perfect. Not only was the comedy show incredibly funny, but my friend and I were singled out by a comic, which completed the experience.

I've decided to group multiple subway rat sightings. As someone who came to New York with very little public transportation knowledge, the idea of spotting a lone subway rat seemed exotic and thrilling (still is). There is a clear hierarchy with shower rat and pizza rat towards the top. Some of my sightings include sewer rat from Times Square, clock rat from the Highline, and MetroNorth rat at the Fordham Station. While I would never want to see a rat anywhere near my dorm, I can appreciate the grit of an NYC rat from afar. If you feel the same way, this article by The New York Times (https://www.nytimes.com/2019/11/20/nyregion/nyc-animals-urban-wildlife.html) highlights more urban wildlife. 

It'd only be right to end on Central Park, arguably one of the most iconic spots in NYC. Any time I stroll through, it feels like a haven nestled inside the hustle and bustle of Manhattan. My favorite memory in Central Park is coming back from The Met, coffee in hand, and snow on the ground.