Savage X Fenty by Rihanna: The Inclusivity That We Need
Rihanna hosted her own New York Fashion Week show in promotion with her all-inclusive lingerie line, Savage X Fenty. 
The Savage X Fenty show, which is now available on Amazon Prime, is 50 minutes and encaptures the entire process of the show: the lingerie design process, the set design, searching for models, and the actual show itself.
While still in the beginning phases of planning the show, Rihanna says that she's "looking for unique characteristics and people who aren't usually highlighted in the world of fashion as it pertains to lingerie and sexy, what society sees as sexy."
Rihanna also shares that "the most exciting part of the design process of the Savage X Fenty lingerie brand is just telling a story that is from my own perspective." 
(Image Credit: Giphy)
As a whole, there was one main focus that was prevalent in the show: inclusivity. 
"What we stand for mainly here is inclusivity," says Rihanna, "That's what I stand for in everything that I create."
The dancing cast shared the same feelings of positivity as the famous singer. Shea, a dancer from Laguna Beach, California, said "Savage is hot and hot is fun. There's so much difference and uniqueness in the line that I think represents different sides of me." 
Additionally, no two women look alike. The dancers wore dramatic makeup, but nothing that would distract from the energy they exert from their dancing. Even though they would wear the same pieces, every piece was in different sizes to fit the women comfortably and make her feel confident while she danced. Every body - no matter how she looked - moved in a way that was strong.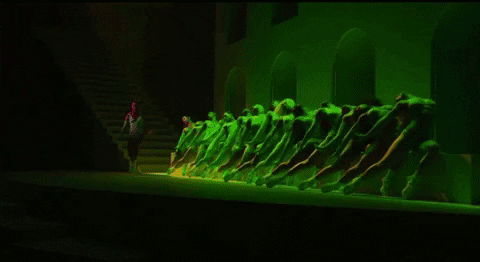 (Image Credit: Giphy)
The fashion show begins with slow, instrumental music. Dancers are posing still and spotlights are right on them. The music starts to pick up. Rihanna is dancing in the center. The set is a bland white with neon lights contrasting and flashing around.
That's exactly what to expect from a fashion show produced and hosted by Rihanna. Nothing she does will be similar to anyone else.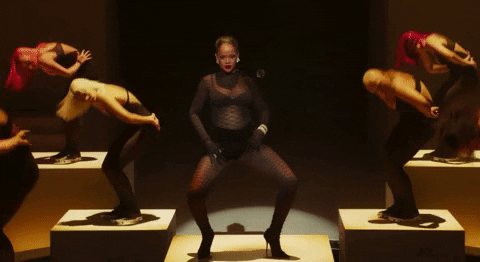 (Image Credit: Giphy)
The fashion show - which was a mixture of a live dance performance and a runway show - also included musical performances. The musical performers include: Big Sean, A$AP Ferg, Migos, Halsey, DJ Khaled, Fat Joe, Tierra Whack, and Fabulous. 
There were also famous faces as dancers and models as well. Some names include Gigi Hadid, Bella Hadid, Cara Delevigne, 21 Savage, Normani, and Laverne Cox.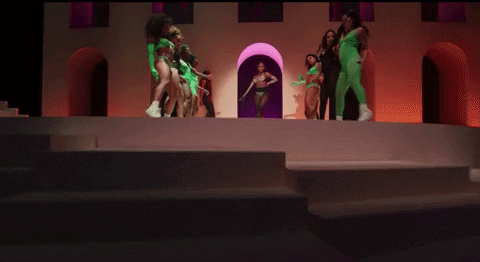 (Image Credit: Giphy)
The final perfomance of the Savage X Fenty Fashion Show is filled with energy. The dancers are radiating, the music is pumping up the crowd, and the gorgeous Rihanna steps out one final time.
While the crowd roars with applause, Rihanna stands on the stage, blows a kiss to the audience and flips her hair- a very typical way for a Rihanna thank you.
The Savage X Fenty Fashion Show is a must-see show. Even if you are not into dance, music, or fashion, the show is much more than that. The fashion show is an example of inclusivity, women empowerment, feeling sexy and comfortable in your own skin, and loving who you are.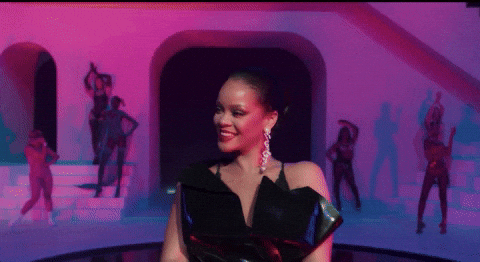 (Image Credit: Giphy)