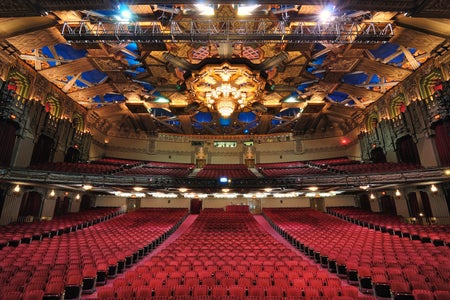 "Hamilton" Is In Miami- But What Is it?
History is happening in Manhattan... I mean Miami!
The award-winning Broadway musical Hamilton: An American Musical is now playing in the Adrienne Arsht Center from Tuesday, February 18 to Sunday, March 15. Tickets are still available to purchase. If you want to test your luck and win two $10 (for the Founding Father, of course) tickets, download the Hamilton app on your mobile device and enter the daily lottery. 
Hamilton is a musical created by Lin-Manuel Miranda. He created the book, lyrics, and music for this international phenomena. The musical is inspired by the book Alexander Hamilton, written by Ron Chernow. After performances off-broadway, Hamilton made its way to Richard Rodgers Theatre on Broadway in New York City. Miranda led the musical by playing the role of Alexander Hamilton, "an immigrant who emerges with unprecedented financial power."
The musical is extremely successful. Sold-out shows every day to see the original cast, alongside demands for the show to travel, led to what the show is now. While the original cast has stopped performing (Miranda's last show was July 2016, although he did reprise the role for a three-week run in Puerto Rico to raise money for the arts), the show has widespread to different cities around the world. The show is playing in Chicago, the West End, and has different stops for U.S. productions. 
Hamilton is also being adapted to film. The film will be released on October 15, 2021, by Walt Disney Studios Motion Pictures and will be a screening of the original cast performing in Richard Rodgers Theatre. Miranda's other musical, In the Heights, is also becoming a movie on June 26, 2020, by Warner Bros. Pictures.
So, the show is a success. But what about it is so "special?" The easy answer: the show is unorthodox for a Broadway production.
Hamilton is a modern take on history. It tells the story of an orphan who makes his way to New York and grows to become a Founding Father of a brand new nation. Besides following the story of Hamilton, the musical also brings knowledge about his family, love affairs, and other historical figures, such as George Washington, Thomas Jefferson, and James Madison. You will even learn about some new historical characters who played a big role, such as Marquis de Lafayette, Hercules Mulligan, and John Laurens.
The musical does have its ballads, yes, but it also consists of tons of rapping, historical puns, and phenomenal stage work. The musical is heroic, triumphant, and patriotic; but, it also does not fail to mention the failures made along the way of starting a new nation. The casting is very diverse, steering far from the traditional "Founding Father look" and hiring minorities to play lead roles. Hamilton compares to nothing on Broadway, hence its almost instant success rate. 
If you are interested in more of Miranda's work, his prior musical about the Washington Heights neighborhood, In the Heights, is also coming to Miami on Friday, May 8 to Saturday, May 9. Tickets are sold for the Adrienne Arsht Center. He also created the music for the famous Disney film Moana, which is available for purchase or to stream on Disney+.
You can purchase tickets to see Hamilton live now. Additionally, the whole musical is also available to stream on musical platforms.
Don't throw away your shot, go see Hamilton!