Chicago's Ultimate Halloween Guide
Halloween Costume Ideas & Traditions
There's no better season than spooky season! Halloween is right around the corner and, you may be wondering what are some good costume ideas and traditions that you can do for this year. If you've never celebrated or done anything for Halloween, try doing something new that you haven't thought of doing before such as participating in a costume contest or binge watching some good old Halloween movies like the 'Halloweentown' series! Not only this, but let's start considering some new and improved Halloween costume ideas. If you're tired of being a vampire every single year and want to switch it up, try finding some inspiration on Pinterest-- there's tons of cute options on there. Check out some of the top, easy DIY costumes and traditions that aren't too hard to put together below!
TOP COSTUME IDEAS
1. Good/Dark Angel
This outfit can go two different ways and look just as good. This can also be a great duo or couple costume!
(https://data.whicdn.com/images/316078385/original.jpg)
2 . Skeletons
Can we agree that this costume has some of the best makeup looks of all time?
(https://66.media.tumblr.com/fea6f1e1c000894c50e251761b1d8996/tumblr_oyigzd7QYU1wz8qq3o1_400.jpg)
3. Alien
You'll definitely be out of this world.
(https://images-na.ssl-images-amazon.com/images/I/41grOtucuoL.jpg)
4. Cops & Robbers
Freeze! You have the right to remain silent!
(https://4.bp.blogspot.com/-_i81XruDMmI/W9ighZPn42I/AAAAAAAAK5Q/TWJwF9WFyB4he4LeLd8xOKvP9lc18haXwCLcBGAs/s1600/49d13c7573fe3e52ba7c0fe10761957e.jpg)
5. Celebrities
From celebs such as Michael Jackson or Ariana Grande, choosing a celebrity has an endless amount of options.
( https://i.pinimg.com/originals/00/66/d8/0066d81ca867e54f06512b8803eb2859.jpg )
TRADITIONS
1. HALLOWEEN HORROR NIGHTS: When it comes to Halloween there are so many festivities and traditions that can be set into motion. One thing that you should definitely experience at least once in your life is Halloween Horror Nights in Orlando! It's an amazing experience and really sets you in the spooky mood! This is best experienced when you have a group of friends with you. From themes such as The Walking Dead or Stranger Things, Halloween Horror Nights is best known for giving people some classic scares!
(https://orlando.halloweenhorrornights.com/webdata/hhn/files/images/HHN-2019-Stranger-Things-Images-u.jpg)
2. HALLOWEEN PARTY: Another fun activity you can partake in is a Halloween Party. You can make a bunch of Halloween themed snacks and drinks to go along with it. Everyone has the opportunity to dress up in their desired costumes. While hosting this you can give out cool prizes for those who participate in a costume contest.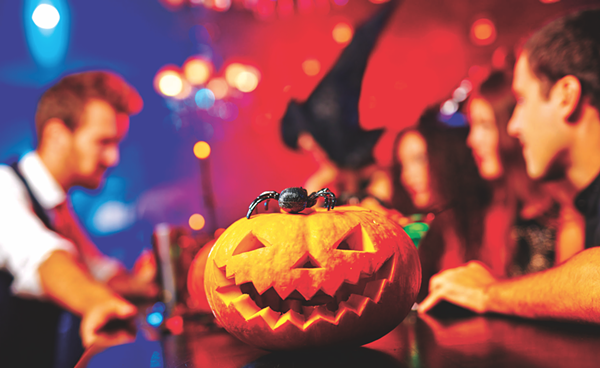 (https://media2.fdncms.com/sacurrent/imager/u/original/16740105/hocus_pocus.png)
3. PUMPKIN PATCH/HAY RIDES: Large pumpkin patches are so much better than small ones and the best part is carving or decorating them afterwards. In some places down south hay rides are a bit more rare, but if you do get the opportunity, its a nice family outing!
(https://www.chaseoaks.org/wp-content/uploads/2018/10/Local-Pumpkin-Patch...)
4. HALLOWEEN DECORATIONS: If you really want to get into the Halloween spirit try adding some house decorations or even just adding some minor things like a skeleton in your room. The great thing is that you can be as creative as you want with this and there's so many different decor inspirtions you can find online as well! 
(https://i.pinimg.com/originals/07/75/a5/0775a57a604352f6d81e524328af0a96...)