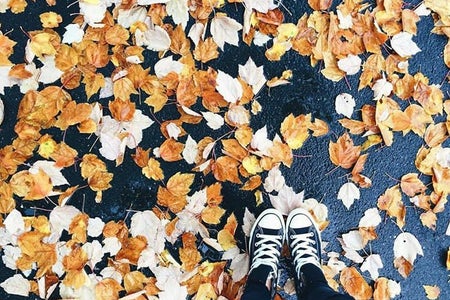 We have been in the midst of fall for about 3 weeks now. For some that live in areas, such as Miami where it is summer all year round, they may need to create their own fall experience. But for people in other areas, it is a little easier to experience the season. Regardless of your location, I have some general tips on what to watch, eat, and wear for this fall season.
Start by decorating for the season. I personally like to celebrate each holiday with decorations. So, Halloween, Thanksgiving, and Christmas are all crafty projects for me. If you want to decorate, but not for the holidays, you can do general fall decorations that will work for the entire season. For example, adding fake fall leaves, an autumn color scheme for decorations, and pumpkins! When decorating, get creative. Pinterest is the best to get inspiration from. Enjoy the process of decorating and to save, try to go to dollar stores and shop affordably.
Set the mood in fall-inspired scents! Mahogany Teakwood is a revered scent that people love for the fall time. Scent picking is an in-person experience and your desired scent is unique, ranging from wood-sy scents to even the traditional sweet ones.
Now that your season scents are all around, and your décor invites you in like a warm hug, it's time to bring it to life through fashion.
- Boots, as always, are extremely in this season. Especially now, everyone has been rocking their unique pair with their mix of dresses, coats, or even jeans. Navigate what color you want first and then get into the more specifics of whether you want them textured or the heel size. Do not be afraid to wear boots even if you are in an area where it might be hotter like Miami, for example. People will adore your shoe selection and it gets you in the fall mindset even more.
- Leather. Leather is an amazing accessory this fall season. Get yourself a good pair of leather jeans or thick leather leggings that can even look like jeans and pair them with a variation of almost anything. This TikTok shows an incredible mix of ways to style your leather pants that can come in handy all throughout this season's looks.
There is one element of the holidays that we can all agree on loving and that is... food. This is the year to be adventurous in your food selection for the fall. With the limited ability to go out into crowded spaces, take the time to go to the grocery store and try fun, fall foods at home. Trader Joe's has a large array of new fall foods that you have to go out and try ranging from "Pumpkin Ginger Hold the Cone" ice cream to "Gobbler Quesadilla". This is the year where if you still have not tried the famous Pumpkin Spice Latte drink at Starbucks, just order it to say you have and give it your own judgement. One of my favorite fall desserts are pies. I love almost any type of pie but especially pecan pie. Last season I tried pumpkin pie for the first time and was sold as well.
You have your decorations in order, candles have been lit, an incredible outfit has been worn, and yummy foods have been ate. But, what are you going to watch? I like to go through each season with movies and celebrate them all individually. I start with my Halloween flicks, and then I move on to the Hallmark holiday films. Go back and recount the movies that made you giddy as a child and made your fall so special, watch those again as an adult and embrace the nostalgia. Create a list of holiday movies you have never watched and make it a point to watch every single one throughout this season. If you have not already, Hocus Pocus is a must.