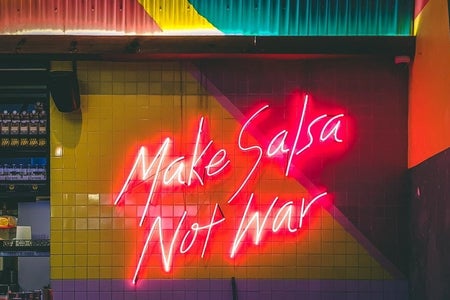 12 Ways to Celebrate Hispanic Heritage Month
La dieta comienza mañana (after October 15th).
1. Cook one of your favorite dishes or a new from your culture you've yet to try at home.
During quarantine, lots of people are having some extra free time on their hands. Not having to be stuck in traffic for a couple or more hours a day opens up the possibilities for cooking at home rather than eating soup in a cup yet another time. This Hispanic Heritage month, try celebrating your heritage by cooking a dish representative of it. It can be as simple or intricate as you like. It can also be a fun bonding experience if you're rooming with your parents. If you're not, you can have a virtual cooking date with a family member.
2. Listen to the music of your country or countries.
A great way to connect to our heritage and sometimes even discover great music we have never listened to is to spend a few hours listening to music that stems from it. Apple, Spotify, Pandora, and even Youtube likely have a playlist for yours. Tip: you can play it while you clean, do homework, drive, or exercise. I'm doing so as I write this
3. Watch documentaries of your country/heritage's history or culture. 
Next time you're scrolling through Netflix, try looking for a piece related to your Hispanic Heritage. You might be surprised at how many movies/documentaries are probably out there (even if not on Netflix). If you consider documentaries boring, then maybe opt for a creative film (i.e. dance; romance; comedy) that depicts some aspects of your heritage (i.e. food, dialect, fashion).
4. Ask your family to tell you stories about their favorite memories.
What defines your family? Where did you come from? Where did your parents come from? How about your grandparents? What did it take to get here? What was a family member's favorite family memory as a child? Their favorite dish? Have they ever been to the country of your Hispanic Heritage? What was it like? These are all questions that can be asked to learn more about your family and your heritage but by no means an exhaustive list. 
5. Order from your local Hispanic restaurant. 
It has never been more important to support local restaurants. This is also a great alternative to #1 if you don't trust your cooking skills or don't have the items to make a dish you want to try.
6. Get involved in your nearby Hispanic community. 
Volunteer for a local church. Become a Spanish tutor. Help coordinate COVID-safe events that celebrate Hispanic Heritage. Becoming involved connects us not only to others but to ourselves.
7. Support Hispanic designers.
Unfortunately, Hispanic and Latinx designers are often copied by non-Hispanic brands. Their ideas then end up being sold at a higher price and they receive none of the profit and very little, if any, of the credit. This Hispanic Heritage month, if you're in the market for new (or upcycled) clothing, try shopping from Hispanic/Latinx designers and giving them the credit they deserve. 
8. Shop from Latinx-owned brands.
Latinx own all types of brands. Makeup, wellness, skincare, accessories, and shoes are just a few. Alamar Cosmetics by Gabriela Trujillo and LightsLabel by Kathleen Lights are a couple. 
9. Read books by Latinx authors.
Whether in Spanish or English, reading books by Latinx authors supports the Latinx writer community, exposes you to diverse literature, and often can make you feel more connected to your roots.  
10. Create a makeup look inspired by your Hispanic heritage. 
You might've seen compilations of different makeup artists/creatives coming together to create videos of makeup looks representing their Hispanic Heritage. They can be as simple as using the colors of the flag, or as intricate as face-painting the country's flower.
11. Donate To Organizations That Advocate For Latinx Communities.
A quick Google search will give lots of options- anywhere from leadership foundations to help improve the health of communities. You can find a few links here. 
12. Sign Up To Work Or Interpret At The Polls.
Contact your local poll office by calling or taking a look at their website. Helping the Latinx community exercise their power to vote is one of the best ways to make sure Latinx communities are heard, taken into account, and celebrated in the United States.