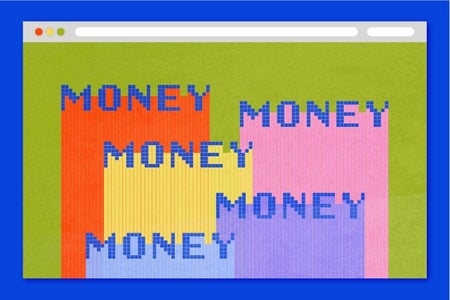 11 Side Hustles You Can Start Right Now
Quarantine has had many of us exploring our creativity in all types of ways- including how we think about making money. Here are some side hustles that can work around your time and potentially make you more money than you make at your part-time or 9-5. 
1. Baking 
If you've developed a love for baking during quarantine (who hasn't baked banana bread by now?!), why not share your sweets with others? Surely, people are still buying pre-made sweets. The options are endless. If you're looking to get started, cupcakes are a good option- they're practically mistake-proof and always delicious. Once you master the essential flavors, you can start to have fun with toppings, frostings, and fillings! *Sorry if your mouth just watered* Check out this small at-home baking business if you're looking for inspiration.
2. Invest in the stock market 
Newsflash: you don't need to be rich or a businessman to do this. You can very well start investing with a few dollars and work your way up. Apps like Robinhood and Coinbase are good places to start. If you are part of a company that offers 401k to its employees, then you're already investing in the stock market through every paycheck. If you don't currently work for a company that offers 401k, then you can simulate having one on your own. You also don't need to have an immense amount of training or be an expert to start. The two essentials you should get familiar with are day-trading and long-term investments. For day-trading, the goal is usually for the value of your investments (your portfolio) to increase 2% daily. Whereas for long-term trading, you are expecting your returns to be relatively bigger and take a while longer. If you are now starting, you can do so with just a few dollars (literally about $10) to get your feet wet and become comfortable with the process. Tip: to simulate a 401k better, try to add a few dollars every week to your investment amount.
3. Tutor
With so many students online learning this year, help is needed. Parents are not trained to be teachers and few have the time to work full-time and help their children 100% with homework. Thanks to Zoom, virtual tutoring has become quite acceptable. Even just a couple of hours a week can be of great help to a family and your pockets. Pricing varies, but many tutors charge anywhere from $15 to $20 an hour. If you're interested in high school or college tutoring, reach out to tutoring companies that can hire you as an independent contractor for SAT/ACT/high school subjects and/or your own university's tutoring departments that might be hiring.
4. Sell prints of some of your favorite photos or designs
If you have developed a love for photography the past few months or have been into photography for years, now is a great time to take it to the next level by sharing it with others. Setting up a shop online has become easier and easier over the years, to the point that virtually anyone can do it. Prints are super popular at the moment- from minimalistic to abstract, to pop art. If you instead do graphic designs, you can sell designs as prints, too- you could even add them to different products (e.g., keychains, stickers). Take a look at this shop for inspiration. 
5. Shop secondhand, upcycle, and Depop
Thrift shopping is great, but not everyone has the time nor the eye to pick out great finds. If you love thrifting, you could try picking out a few good items that you wouldn't necessarily wear yourself, or items that you would wear but don't need, and set up a Depop shop with them. If you're feeling extra creative, you could upcycle some (e.g., add some patches, turn men's shirts into crop tops, make a 2-piece set out of one crewneck). For price suggestions, check out other Depop stores that sell similar items. Remember that customers are paying for your time, your taste, and your creativity (on top of a great item). 
6. Start an online vintage shop of some of your favorite non-clothing thrift finds
Similar to #5, but perfect for all of the great non-clothing items that you can find at thrift stores. Silverware, plates, china, frames, glasses, cameras, furniture- there are SO many options. 
7. Create and sell a workout/fitness guide 
If you're a fitness enthusiast, you could be making money by sharing with others what you do for yourself. Put together a few meal guides and exercises for multiple target areas, ask others if they'd be interested in purchasing, and voila! Similar to looking at Depop shops, I'd do some research on workout guides that are currently selling. You could create a guide, as a document, with subheadings and photos, or you can get super creative and add videos + challenges! 
8. Create a rate sheet and reach out to brands pitching yourself 
If you're a blogger or content creator, creating a rate sheet might be one of the most important steps you take in monetizing your craft. No, you don't need 10k followers to start earning for your time, creativity, editing, and craft. If you dream of working with certain brands, reaching out to them through email can never hurt. If they don't reply/offer a collaboration now, they might remember you in the future. A rate sheet can let companies know you mean serious business. In it, you can include your engagement rate and samples of your content. 
9. Essay reviewing/editing
If you already write for a newspaper or magazine, this could be a great side hustle that comes super easy for you. Countless people struggle with writing matters such as grammar, concision, organization, and sentence structure. While you could be an independent contractor under a company that provides such services, you could also begin to freelance at any moment. Adequate pricing ranges based on several factors like essay/paper length and content- anywhere from $20 to $60. 
10. Offer to handle a social media account for a small brand
Social media branding can be expensive. If you know of any small brands starting out and you're interested in curating social media accounts, offering to handle a social media account for a relatively small fee is a great way to get your feet wet. Once you do it for one brand, then you can show your work to other brands and begin to charge more based on your expertise and the quality of your work.
11. Host virtual seminars for a skill of your choice (i.e., styling, branding, writing, content creation, investing) 
Online seminars are currently bigger than ever and rightfully so. All it takes is a camera and a skill that is of value to others. You could start by creating a plan and an Eventbrite for your seminar. Prices for seminars vary from one to the next, but anywhere from $5 to $25 per person could be a good start, depending on the demand for it. If you've thought about it before, now is the perfect time to go for it. You could also reach out to university clubs/organizations that you think might be interested in attending or sharing.