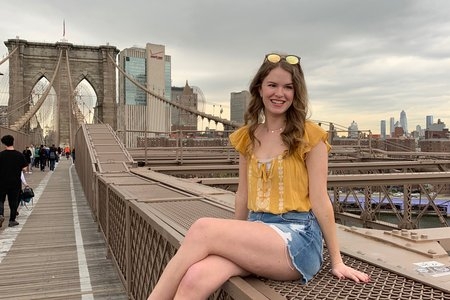 Meet Your President: Carli Brennan
Hometown: Monmouth County, New Jersey.
Major: Fashion Business Management.
Fun fact: I have a twin sister!
Dream job: Editor-in-Chief at Cosmopolitan. 
Favorite movie: Legally Blonde.
Favorite food: Cheeseburgers - especially if they have bacon on them. 
Favorite spot in NYC: Governor's Island - renting bikes there is so much fun!
Why did you decide to join Her Campus?
I had been writing for the national style section with Her Campus for a few months and decided to launch a chapter at FIT so I could become even more involved with the HC community and share it with others at FIT! 
What is your favorite part about being involved with Her Campus?
I love the community of ambitious women that work and write for Her Campus. Her Campus FIT is still a new chapter, but I am so proud of how much progress we've made this year and how hard everyone on my team works. I can not wait to see what the future has in store for us!
Want to join Her Campus FIT? Email [email protected] or [email protected]