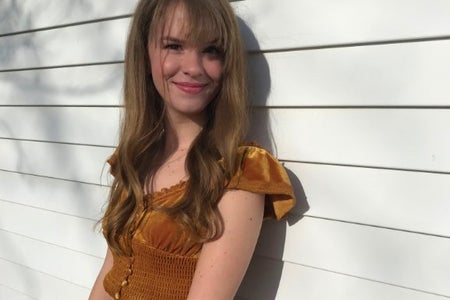 I Got Quarantine Bangs and You Should Too
I have always thought about getting bangs, but never thought it was something I could pull off. I have naturally curly hair and the idea of styling bangs every day was a daunting task. A few weeks back, I was watching the (underrated) Disney movie "Prom" and mentioned in passing that I love Aimee Teegarden's bangs. Flash forward to 12 hours later and I was letting my 16 year old sister cut my bangs (luckily, she's a cosmetology student). Now that I am going to be staying home indefinitely, I figured what better time to try out a new hairstyle. If I ended up hating them, no one would see them anyway.
I'm sure at this point in quarantine, a lot of us are starting to go stir crazy. Staying home - although I know it's for the best - is slowly making me lose my mind, TBH. It feels as though my routine is at a standstill, which is why it's the perfect time to try out a new hairstyle you've always wanted. This break from the ordinary will give you something to be excited about. Isn't that what we all need right now?
While I'm not sure I'll keep the bangs for long, it was fun to try something new without the fear of it looking ridiculous or regretting it right after. If one good thing comes from this quarantine, let it be the ability to try something new. Whether it's getting bangs or dyeing your hair blue (like Hilary Duff), try that hairstyle you've secretly always wanted but have been too scared to do.If it goes horribly wrong, you have at least a month until anyone will even see it - plenty of time for it to grow back out.