Cara Benevenia is a name you'll want to remember. The New Jersey native launched her eponymous handbag label in 2019 and has been hustling ever since. With a gorgeous, one of a kind woven leather textile and a commitment to domestic production, Cara is well on her way to becoming a household name in the fashion industry.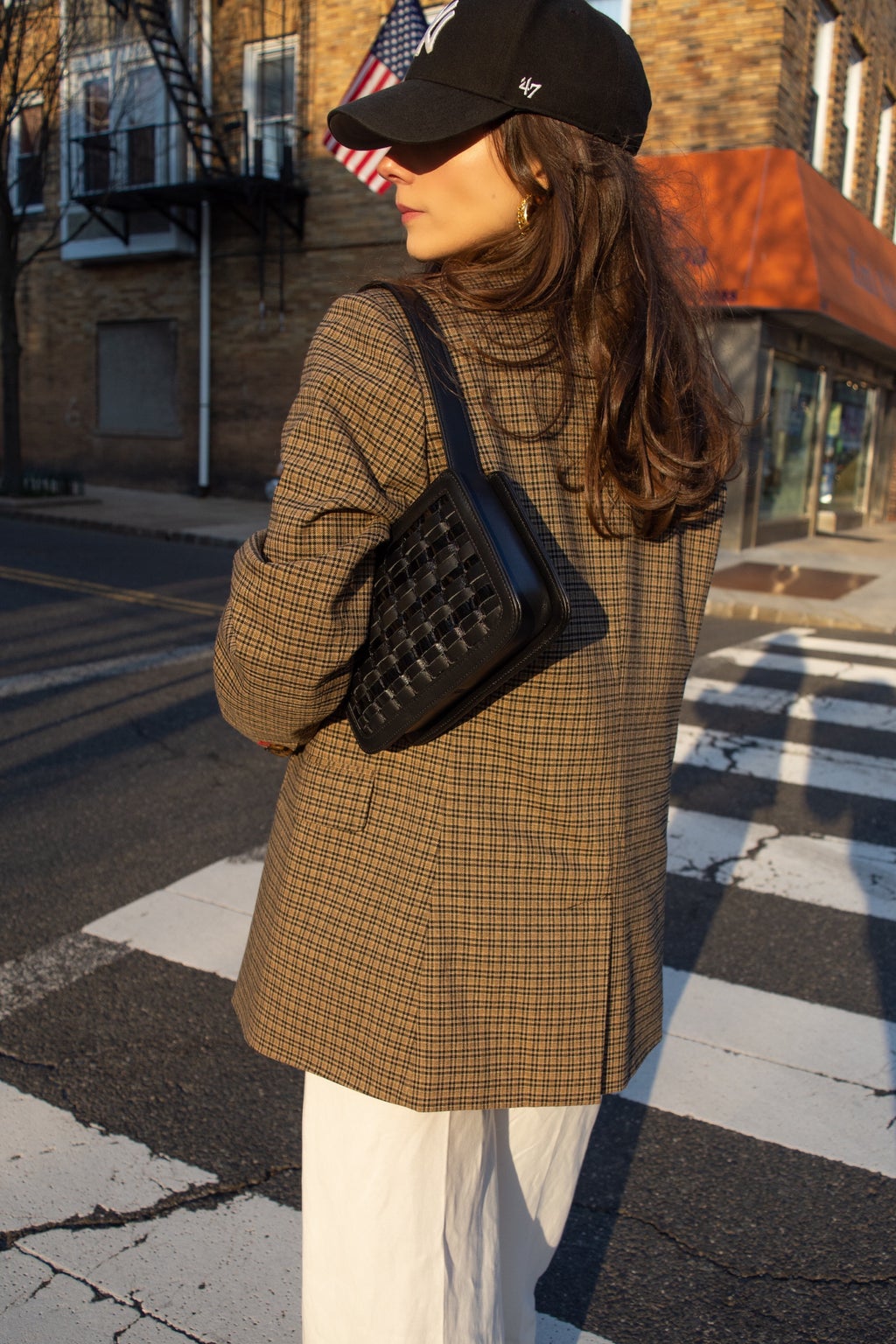 Cara graduated from Marist College in 2017, earning her Bachelor of Fine Arts in Fashion/Apparel Design, where she was awarded the prestigious Outstanding Senior Collection award. While in college, Cara loved the creative freedom she had to design without worrying about the costs of mass production and other more technical aspects of designing in the industry.
She says: "Really getting to create whatever I wanted and let my vision shine through was such a high and such a time of adrenaline, and not necessarily attention, but really just a feel-good part of my life where my art really got to shine."
Fast forward to after graduation, and she began working with Zac Posen at his atelier. However, her corporate role left something to be desired in terms of creativity. Her work mostly consisted of managing the atelier workflow, fabric development, and working on her computer more than she was at a sewing machine.
"I loved it, it was a great opportunity but at the end of the day I wanted my work to shine and I just knew I have that passion and I have that drive and I have what it takes to do something on my own," Cara shares. 
Cara took a leap of faith and quit her corporate job in order to pursue her dream of being a designer. She developed her first bag, the Icon Bag, and worked on branding for 9 months before launching her eponymous handbag label. 
"I knew if I was going to have a chance, I was going to have to have something that was first to market," she shares. 
That's where her design school days come in. Cara's senior collection included outerwear pieces made of a fabulous woven textile that she used as inspiration to design her handbags. Her one of a kind woven leather textile took three rounds of prototypes before it was perfect, working with a local leather factory to iron out the details. To this day, Cara is committed to domestic production, as all of her handbags are produced in her home state of New Jersey by local artisans. They work together to strategically measure and engineer the strips of leather so that they lay perfectly in the mesh that holds them together. Each bag is truly a work of art and the attention to craftsmanship is evident in every Cara Benevenia design.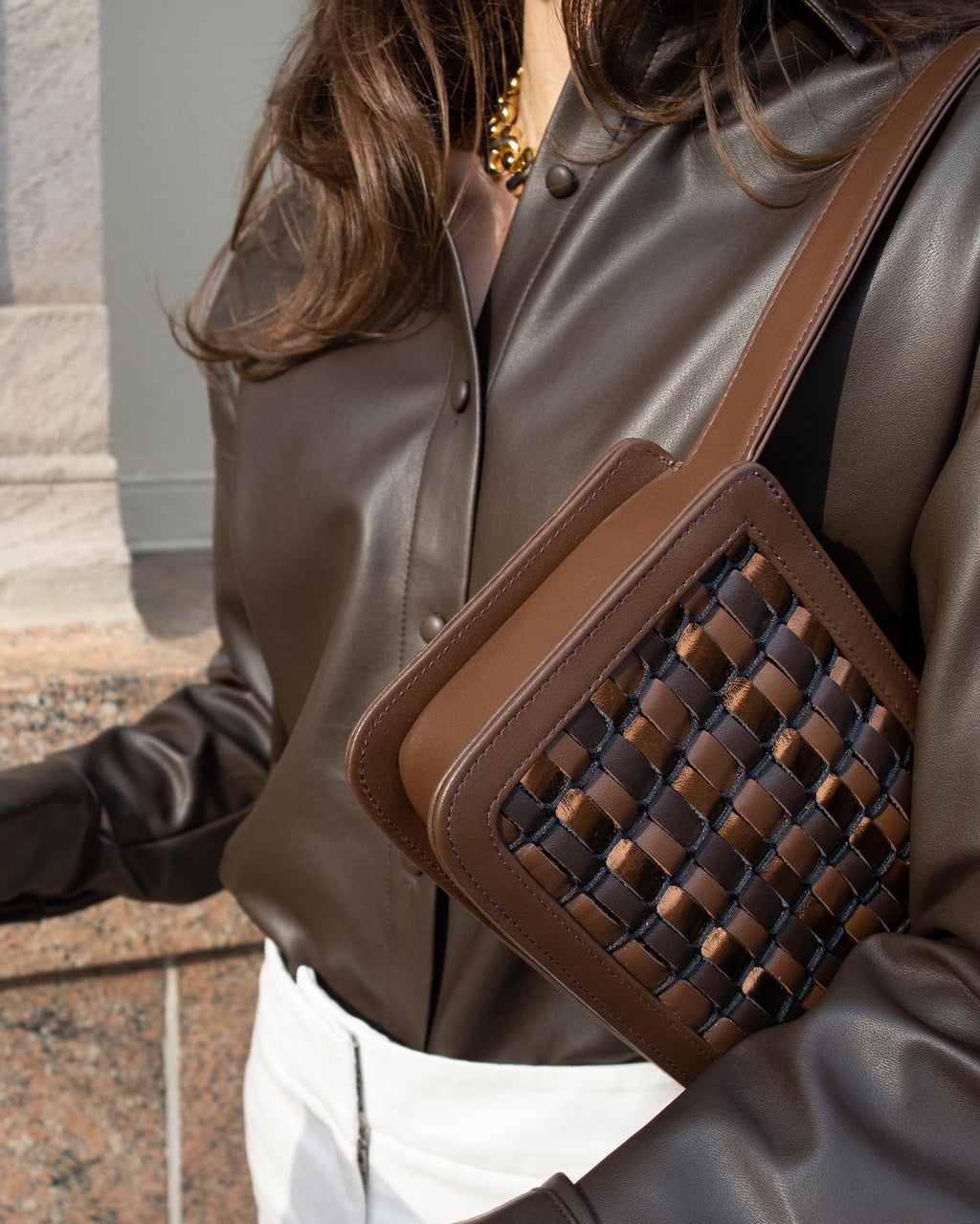 Cara's story isn't one of sheer luck—it's a story of grit, determination, and hard work above all. She may make it look easy, but her success didn't come overnight. 
"I launched Cara Benevenia just a few months before COVID happened, which was just mentally tough," Cara shares. "That year I was really like 'What am I doing? I need to give up' You know, you're sitting on Instagram trying to figure out how to market a $500 bag when people are dying and losing their jobs… I had these gorgeous top of the line bags and I just couldn't find it in my heart to promote them."
Stress about the future and playing the comparison game (which we're all guilty of) led Cara to rush the launch of her Baguette and Billie bags, a decision she now says taught her an important lesson to not rush the process. 
"In the industry that I'm in, I'm not competing with fast fashion and I didn't need to rush either of those bags to market because these bags, like the mold, you will have for life. It's not a bag that you're going to wear one season and toss out because it ripped or it's not in style. Putting in the time and effort to make sure it's going to be timeless and to make sure it's going to last forever is more important . . . I feel that slow and steady wins the race and I need to focus on really having beautiful top of the line bags at a great price that tell a story and that my customers are going to love and wear forever."
Take one look at Cara's designs, and it's true. Her bags are timeless works of art that will truly last a lifetime. It's clear that Cara is passionate about what she does, who she is, and what she stands for. Her handbags tell a story of pursuing a dream and working hard to get there.
"It's almost like everything I've been through and all that I've grown is woven into each bag and I just feel really proud and really happy," she tells me.
Today, Cara's handbags have graced the pages of NJ Monthly, New Jersey Digest, and Yahoo! Finance. Style icons such as Gabrielle Union and Caroline Vazzana have rocked their Cara Benevenia handbags. While she is proud of her work as a designer, even more impressive is her journey of self-discovery.
"I feel like I've become the person who I felt like was lacking in the industry when I worked there, just someone who's really kind, and someone who my interns really enjoy working with and working for. Someone who stands for something."
In an industry that sometimes gets labeled under a bad stereotype (ahem, The Devil Wears Prada) Cara preaches that kindness is the way to success. "Kindness is really key," she says. "The industry is so small and I think kind, genuine people really do make it far."
And for those looking to become entrepreneurs themselves, she suggests having something unique that will make your brand stand out. Whether it's a first to market product or a unique way of conducting business, these are the things that can help you stand out in an oversaturated market.
"I know there are so many brands out there and you can't reinvent the wheel, but maybe you can reinvent the way it's done."