TikTok star and content creator Clare (McLaughlin) Sullivan is that girl you wish you were friends with. Her TikTok series Budget Luxury shows viewers how to lead a luxurious life on a budget, and it shares everything from apartment decor to organization tips. Her enviable space looks straight out of a Nancy Meyers movie mixed with Coastal Grandmother style. Below, I chatted with Clare about her best tips to transform a college space on a budget.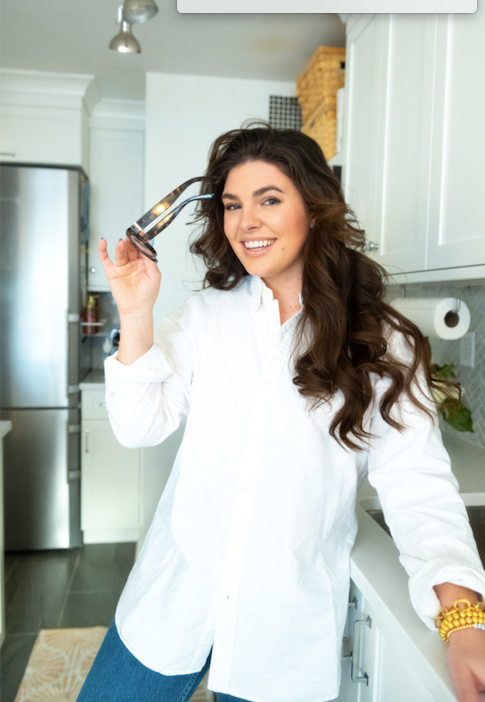 Her Campus (HC): How did you get inspired to start Budget Luxury?
Clare Sullivan (CS): I was inspired to start budget luxury a few months ago while I was walking through Williams Sonoma. This sounds silly, but I just love the way I feel in that store. I wanted to create an atmosphere in my own home that would feel just as elevated & luxe. My only barrier was budget! I decided that if I started to look for alternative ways to style my home without spending loads of money, I could also help my followers do the same. And once I started, I couldn't stop! My life has become budget luxury, and the projects are spanning from my friends apartments to designing my family's home in Florida!
HC: Which home decor pieces should you splurge on?
CS: I believe you should splurge on items that won't break your budget. For example, if you want a gorgeous storage cabinet that looks expensive, purchase something affordable with good structure – from Amazon or IKEA. From there, splurge on the little things, like knobs you're absolutely in love with. A pricey knob could run you $20, which is more accessible than spending $4,000 on a "luxury" storage unit.
I also believe you should only splurge on items you're truly in love with. If you're at an antique store and something very unique calls your name, there's a reason you're drawn to it. Purchase decor that excites you & only you! Too many young people purchase decor that feels trendy instead of decor that feels like THEM.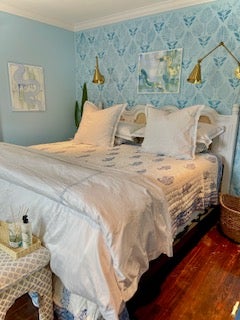 HC: Which home decor pieces should you save on?
CS: You should save on items that don't *have* to be expensive. For example, as long as sheets are 100% cotton, they're likely going to be good quality. There's no need to purchase sheets for hundreds of dollars when you can find a great quality set at Marshall's.
HC: What was your college dorm room like?
CS: When I was in college, I prided myself in my unique decor. Looking back, it wasn't the mature look I thought it was – but it definitely was cute! I took string and hung it across my walls in horizontal rows. Then I clipped polaroid pictures of my friends, vintage postcards, and CD inserts to the strings. I also had a great bedding set from Pinecone Hill that lasted from freshman – senior year. It was a pastel floral and really brightened up my dorm space.
HC: If you were in college today, how would you go about decorating your dorm room?
CS: If I was in college today, I would focus on peel and stick EVERYTHING! I would probably go crazy with putting peel and stick tile on the floor, and maybe would even try putting marble contact paper across my desk. I think it would also be important for me to feel safe and have a lot of privacy. I remember that having roommates could be overwhelming as an introvert – so looking back, I should have tried stringing up a curtain around my bed to create a canopy of privacy.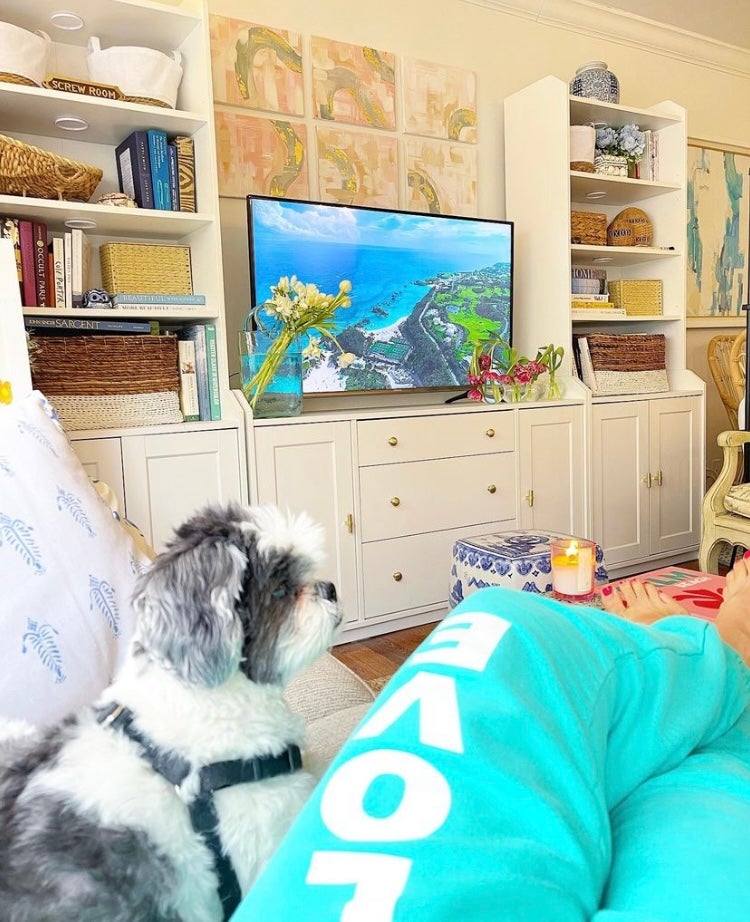 HC: What's your best advice for decorating a college space on a budget?
CS: If you want a cohesively designed room on a budget, check out amazon for items that you wouldn't NORMALLY see in a dorm room! Think twin sized headboards, framed art (you can hang this with command strips), and a beautiful matching bed set. You could even have some fun with peel and stick wallpaper. Maybe there's a small wall area that you could apply wallpaper on behind your headboard or desk. If you're not loving the colors of the prescribed dorm furniture you received, try covering your chair with a fun tablecloth design and put a throw pillow over it.