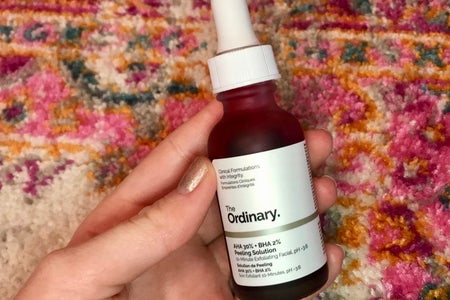 This $7 Peel From Ulta Saved My Skin
I had always had relatively clear skin until college. I don't know if it's the New York City air or some kind of internal protest by my face, but ever since starting college my skin has been breaking out nonstop. That is, until I started using The Ordinary AHA 30% + BHA 2% Peeling Solution. While the name may sound intimidating, it is the most effective mask I have ever used - and I've used a lot of face masks. If that wasn't enough, it's only $7.
If you've never heard of The Ordinary, allow me to introduce you. The Ordinary was founded by parent company DECIEM wwith the goal to create simple, effective skincare at fair prices. Their mission is to create "clinical formulations with integrity". They also don't test on animals and create all of their products free from parabens, sulphates, and mineral oil, among other ingredients. The entire brand sits on a foundation of honesty and integrity, and isn't that what we all need a little more of right now?
The Ordinary Peeling Solution is essentially a 10-minute super exfoliator. It comes in a glass dropper (which makes me feel like a scientist) and had a cool, gel-like consistency. The key ingredients that really get to work on your skin are AHAs (Alpha Hydroxyl Acids) and BHAs (Beta Hydroxyl Acids) that exfoliate the skin to brighten your complexion and clear your pores. Vitamin B5 goes to work healing while Hyaluronic Acid - a widely used moisturizer - soothes your skin.
If I'm being completely honest, one of the main reasons I was first drawn to this mask is the color. The blood red hue reminds me of Kim Kardashian's famous blood facial - in the best way possible. The peel gets its unique hue from a combination of Tasmanian Pepperberry Derivative and Black Carrot. These ingredients reduce irritation that can sometimes occur with the use of acids and provide an antioxidant boost.
I've been using this peel twice a week or the past month and my skin has never been clearer. ​I was a little nervous at first because my skin can be very sensitive, but I was happy to find no irritation upon using this peel. It leaves my skin clearer, softer, and with less redness than it had prior. I've stopped using the products my dermatologist gave me and now religiously use this peel in conjunction with my CeraVe cleanser. 
If you're tired of trying countless products that don't work, add this peel to your cart during your next Ulta order. It's perfect for all of your Kim K inspired quarantine face mask selfies.