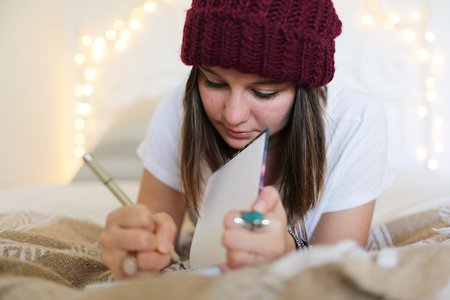 "5 Productivity Tips During Quarantine"
Hello Collegiettes and happy April! March was definitely a month that will never be forgotten, and we're all devastated not being in Fairfield right now. Regardless, we're still doing everything we can to keep everyone up to date! Since classes have switched to online, we know that it can be super hard to stay focused when surrounded by so many distractions. Here are our top 5 productivity tips during quarantine! 
1.Follow a routine
This one can be the most effective way to stay productive. It can be so tempting to wake up at 11 am every day, especially if your lectures are prerecorded. By making yourself a daily schedule, you are forcing yourself to still be productive! Google calendar is a great way to do this or a daily to-do list since you can time block by the hour. 
2.Setting a time limit on your phone 
This is a great tip! It can be so hard to stay off your phones, considering its one thing we all have the most access to stay in touch with all of our friends and family. Setting a time limit on certain apps, like Tik Tok and Instagram, can prevent you from not only ruining your sleep schedule, but helping your brain rest. 
3.Daily Exercise 
Exercise, in general, is so good for you and your body, but it's even better during this time for your mental health, and to escape being cooped up with your family. My daily walks have been saving me and have been giving me time to think and just help my mental health! If you have a place you can walk to or an at-home gym, take advantage of it! 
4.Gratitude Journal 
Keeping a gratitude journal or writing your daily affirmations are also really great during this time. It can be very easy to forget the things you are grateful for, like your health and wellness, and replace them with being upset about the current situation. Everyone has been impacted by this in one way or another, and no one wants to be in this mess. In order to be productive, that has to be accepted and that for the time being, doing this will save a lot more lives. 
5.Keeping workspace and room clean and organized
This last tip is also one of the most important! By keeping a clean room and workspace, your mind is also clear. If you're living in clutter and piles of dirty clothes, you won't be able to focus nearly as well as you could otherwise. Take the time to honestly deep clean your room. Go through your clothes, drawers, and just purge a lot of stuff you kept at home because you didn't need to bring it to college. That will help too and give you more space to move, since being cramped inside of your house with your family again can be tough. 
Well, ladies, those were our top 5 productivity tips for during quarantine! We hope that you're all staying safe and practicing proper social distancing methods as well!