When Winter Wreaks Havoc On Your Skin
It's that time of year again; the weather is cold and our skin starts to feel tight, dry and rough. I have come up with a few suggestions on things you can do to help combat the dry skin winter brings to us every year. 
Stay Hydrated 
It seems natural that if you stay hydrated that your skin will too. Keeping our skin hydrated is important because it reduces the likelihood of it cracking and getting painful. If you struggle to remember to drink enough, I would suggest purchasing a water bottle with a straw, like one you might get from Starbucks if you ordered a smoothie. It seems silly, but not having to take a lid off and just being able to sip your water throughout the day may encourage you to drink more, and in turn help you and your skin stay hydrated, not to mention all the other benefits water give us. 
Tweak your skincare routine 
In winter it is important to recognise the changes your skin needs, and that can mean changing up your skincare routine. As soon as the weather starts too get a bit cooler I like to moisturise and exfoliate more. Twice a week in the morning I use a gentle exfoliator (I like the Strawberry Sugar Exfoliating Face Wash from Fresh) to clean my face before adding a generous amount of moisturiser (I use the Lotus Youth Preserve from Fresh) and some eye cream (I recently found the GinZing Bright Eyes eye cream from Origins and I'm obsessed). Once a week, when I have my 'facial day' I will use an extra moisturising mask with anything that says 'hydration' or 'moisture' to help keep my face moisturised and prevent dry patches. These simple tweaks will hopefully make a huge difference to how your skin looks and feels, keeping the dry skin at bay.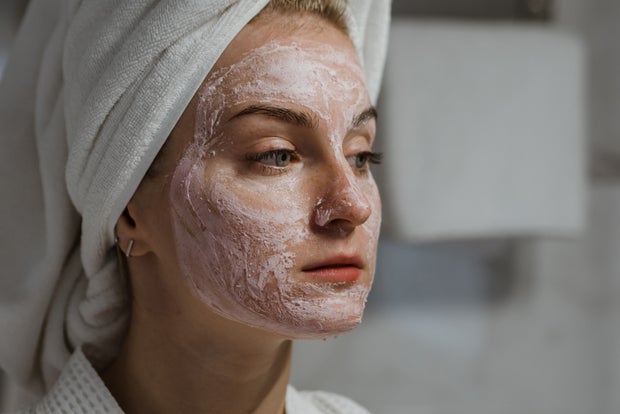 Photo by Polina Kovaleva from Pexels
Use that lip balm 
I use lip balm constantly, all year round, but I do find myself using more in winter to keep dry and chapped lips away. I like to use a nourishing balm with cocoa or shea butter in as I find it helps keep my lips soft and moisturised for longer. I also like ones with mint in because they have a cooling effect, especially the sweet mint one from EOS. 
Hand cream is a hero 
Dry hands and winter are one of my least favourite combinations. I would also argue its been worse this year due to the pandemic because of increased hand washing and hand sanitiser. To combat those dry hands, try and wear gloves when you go out, it will help protect your hands from the elements and keep your skin soft. Also try and prevent your hands from getting too wet as it will eventually lead to them drying out. Use washing up gloves when cleaning and, if you can, use hand cream after washing your hands. The very last thing I do before falling asleep at night is to put hand cream on. That way it can work overnight and I wake up with soft hands - the dream! 
Don't forget the rest of your body 
It's easy to forget about the rest of your body in winter, especially when it's covered in clothes and no one can see it. It's still super important to moisturise and keep your skin soft as otherwise it can become dry and flaky. Try and use a moisturising body wash in the shower and exfoliater. When you exfolitate, you remove dry and dead skin, allowing new skin to come to the fore. Don't forget to moistureise after your shower or bath to keep moistureised. I like to use a body butter or a thick cream in winter because I find the heavy duty creams help to keep my skin soft and prevent it from becoming too dry.