It was a pleasure to speak to Eden Kankam-Nantwi (she/her) via video call. Eden is a third year Law student, and this year's president of Feminist Society (femsoc). She defines feminism to be "The liberation of all genders under the patriarchy and breaking down the intertwining effects of all systems of oppression such as racism, fatphobia, homophobia, ableism, transphobia. Feminism, I believe, is working towards eradicating all of these oppressions." 
We discussed her plans for femsoc, as well as the myths and challenges facing feminists today. I have often been told that I am not doing enough as a feminist, often by those who aren't doing anything, because there are so many issues globally which effect women and non-binary people every day. I ask Eden [picture below] how she navigates this, "I have accepted that as one person I will never do enough, but the way to end oppression is together, so spreading the word, educating others and knowing when to move forward with the allies you have and stop arguing with people who aren't listening, is how I deal with that." Discussing femsoc this year Eden is keen to "more than just discuss, but actively give more attention to fatphobia and ableism with things like fat positive and body-inclusive yoga, and events which demonstrate that we are not only here for able-bodied or thin girls. We want it to be clear that everyone is welcome and cis men are not excluded in that either."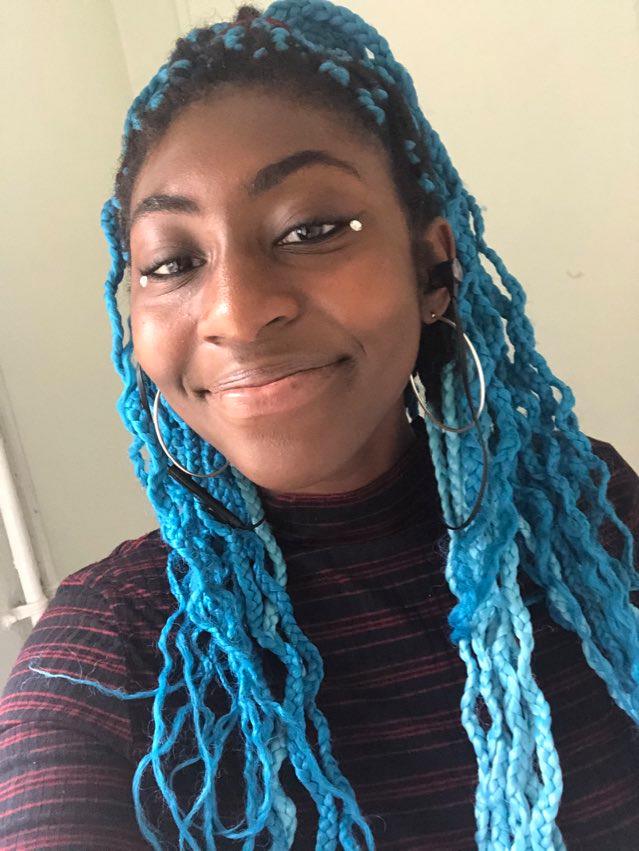 I ask Eden what myths she would like to bust about Feminism, "a myth I really don't like is that Feminism is Men vs. Women, because that excludes non-binary people before they have even walked through the door. There are not just two genders. Making it men vs women ignores that trans men suffer under the patriarchy. We need to hold more space for trans people as feminists. Another myth is that feminists are ugly." I laugh at this, because the ignorance and blatant sexism of this myth appears ridiculous. Eden continues, "ugliness is seen as disposable, and ugly people seen as not worth listening to, saying that feminists are ugly old witches you are saying that because someone is not desirable to you then they aren't valuable. But desirability is all constructed under white supremacy. Socially my Blackness alone does not allow me to fall under their categorisations of desirable. So, if you're not thin or not white or not cis then you are not considered desirable by society. You're categorised as ugly, so you don't matter. So, consider that I'm ugly and I still do matter because I'm still breathing." Eden and I went on to discuss how 'ugly' in reality actually doesn't exist – it is not an aesthetic thing a human can be – but ugly is a construction of the white supremacist patriarchy.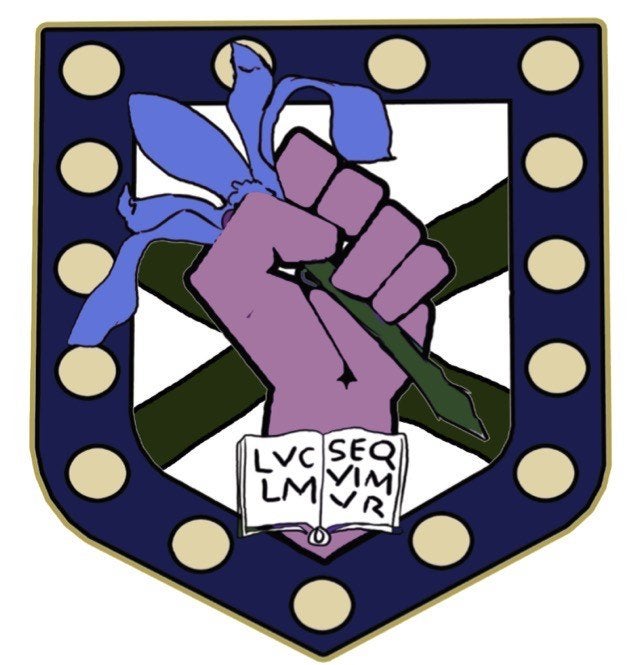 – Exeter Femsoc Logo – 
Eden and I went on to discuss the Civil Rights Movement of 2020, the shifts in online activism, as well as Eden's own experiences of racism. "I'm wary of the black boxes on Instagram, especially when they are devoid of resources, it makes me wonder, what have you concretely done, not for media recognition. People sharing information is really good, but we need to exercise critical thinking. People read something on Instagram in the morning and by the evening they are an expert which is ridiculous. Instagram is on the same phone as google, you just need to fact check. It takes time to learn information, you can't pretend you've finished learning." 
I asked Eden if in this article she would like me to say Person of Colour, or BAME, or Black. Her answer came quickly and assertively: "Black person. The grouping of ethnic minorities is othering, it doesn't do what people think it's doing – giving us community. It is wrong to assume to that simply because we are all not white that we are all the same. Community is who you trust and who you love and that is based not only on skin tone but on actual communication and real life. By making it BAME and then white people it makes it seem like White people and then everyone else. I definitely don't like when people refer to me as non-white because my personhood is not the absence whiteness. " 
We spoke more specifically about racism here in Exeter, "I have not personally seen a Black lecturer, much less a Black woman lecturer. A friend told me they had a Black woman lecturer once and people would talk over her, and even leave while she was still speaking. These things may not seem big because they are on an inter-personal scale but is the same racism just executed in different ways." I asked her about changes which need to happen in teaching: "You can't decolonise the curriculum unless you actually try to, it has to affect a lesson plan, it can't just be words and no action.  And you can't teach in the same way anymore, it's not just surrounding race, there are disabled students who weren't always able to come to campus that had to suffer and now so much is online you realise that it was a choice by the Uni to not facilitate for disabled people previously." She tells me about a specific experience of appalling ignorance by a lecturer, whilst being taught about the attack by police with tasers on Michael Gilchrist in the UK, a Black autistic man, Eden demonstrated to me the way the lecturer made 'comedic' zapping actions, shaking his body. He was demonstrating this man's pain as a joke. He also neglected to mention that Gilchrist was Black. I asked Eden if she had called this behaviour out, "No – it would seem that I was criticizing his character, he might think 'this Black girl is against me'. This is the problem with diversity vs inclusivity – you can have Black people in the room, but I don't actually have any influence to correct people. I'm your diversity point maybe but do I actually have a voice? I do not."  
Femsoc accept members at any time, membership is £3, as Eden said, "We are trying to grab community and grab support not grab money". 
Eden's recommendations:
On Ugliness and Desirability: 
Assata: An Autobiography
Are Prisons Obsolete? by Angela Davis
The Autobiography of Malcolm X by Alex Haley and Malcolm X
Black on Both Sides: A Racial History of Trans Identity by C. Riley Snorton
The Red Library
The Comrade Closet
Instagram: @viteloi; @aepoyi; @jonquelart; @_picolo; @blanime_art; @princey7798; @esx.art; @nnyahan