Warming Winter Ras el Hanout Loaf Cake
One of the best things about Winter is the food. From pigs in blankets, to cheesy-stuffed dates, to crispy Florentines and gooey mince pies!
If you're anything like me then you love to get into the festive spirit by cooking up some of your own treats to share around, but one thing you might not have thought of adding to your festive bakes this season is Ras el Hanout. Literally meaning 'house spice' in Arabic, this warming blend is usually added to curries and stews to give them an intense flavour boost, but it can also be added to your favourite sweet treats to add some gentle warming heat to your cakes and bakes.
Ras el Hanout tastes great when added to fruit cakes, coffee cake, cheesecakes, and carrot cake, but I like to add it to a humble buttermilk loaf cake, to give it a subtle spicy boost that warms you right down to your toes!
Warming Winter Ras el Hanout Loaf Cake
Ingredients:
- 3 eggs
- 175g caster sugar
- 1 teaspoon vanilla extract
- 175g plain flour
- 150g unsalted butter, melted
- 1 teaspoon baking powder
- 1 heaped tablespoon ras el hanout
- 1 teaspoon ground ginger
- 1 teaspoon ground cinnamon
- 150ml buttermilk
- 75g icing sugar
Method:
1. Preheat the oven to 180 degrees centigrade, and line and/or grease a 900g loaf tin with baking paper
2. Beat the eggs and sugar together in a bowl until smooth and combined. Mix in the butter, vanilla extract, flour, baking powder, and spices (ras el hanout, ginger & cinnamon) until a smooth mixture forms.
3. Add the buttermilk and stir until combined.
4. Pour the mixture into the loaf tin and bake for 50-60 minutes, or until a skewer insterted into the centre of the cake comes out clean. Leave to cool in the tin.
5. Once the loaf has cooked, mix the icing sugar with three teaspoons of water to form a smooth icing, and smooth over the top of the cake.
If you're feeling *extra* you can add some decorations, like freeze-dried raspberries, edible flower petals, or just some good old fashioned sprinkles!
(Makes roughly eight portions)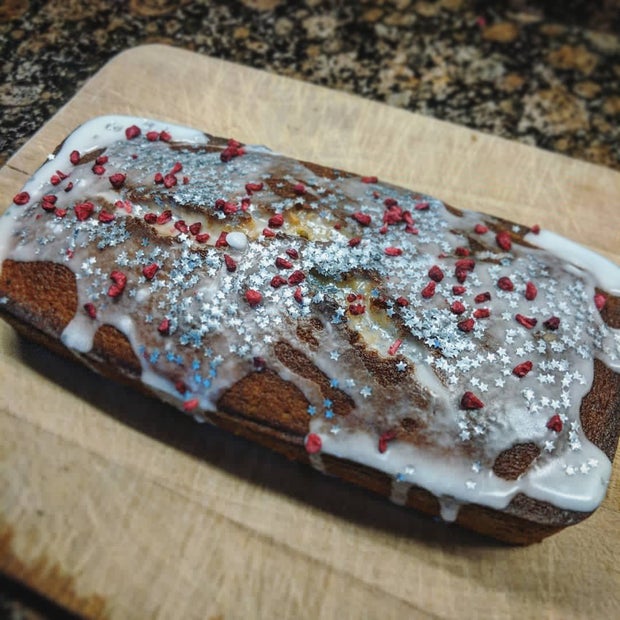 If you do decide to get baking over the festive period we'd love to see what you produce! Snap a pic of your bake and tag us on Facebook, Instagram, or Twitter.