In Conversation with Roshini Bains and Lydia Sariak
Roshini Bains (she/her) and Lydia Sariak (she/her) are the co-presidents of the Queer and BAME Collective, a brand-new society which they describe as "a positive, inclusive, creative community for Queer and/or BAME students and allies". I was fortunate enough to talk to them via video call to learn more about their new society.  Roshini is a third-year English student, and Lydia is also a third year, studying sociology and criminology, the two met through building the society and have since become good friends. 
I asked Roshini and Lydia a little about the work of the society, for Lydia it is important that they create "a safe space for Queer and BAME students and allies, for voices to be heard". Roshini noted that "there has been a really positive response, it seems people feel that this is something the university needed." The enthusiasm of both co-presidents is substantial, Roshini described her own excitement: "I want to further educate myself. The Black Queer week we ran on our Instagram already introduced me to many icons I wasn't aware of, I'm excited to learn more about queer culture and differing cultures of different minority groups. I'm especially eager to get to work with the committee who are all loving, passionate people". The society honoured seven Black Queer icons, including Marsha P. Johnson, Audre Lord, and Ernestine Eckstein. These can still be found on an Instagram highlight, which I would highly recommend reading. It is so important that we are aware of key figures in history and know what human beings have achieved and fought for, so we can continue fighting. 
Lydia, Roshini, and I discussed why they chose the name 'Queer and BAME Collective'. Lydia noted, "Queer has a lot of negative connotations, historically used just for a gay cis man, to mean 'strange'. It's not a term that has always resonated with me, or something I have identified with personally. But Queer is an umbrella term we have chosen to be inclusive of any sexuality that is not heterosexual, any gender that is not just cis, it is to include as many as possible." Roshini clarified "we took time over choosing BAME, we considered BIPOC, but felt it would be inappropriate as 'indigenous' in the UK may have been confusing, BAME is anyone who is a minority race or ethnic group, and we are here to be a community to share experiences." To which Lydia added, "BAME for me is not just ethnically diverse but also culturally, people of any colour are welcome to come in and share their culture with us." 
We discussed the way in which lockdown has for many been a time to reflect and think critically about our own actions and attitudes. With many striving to be better allies, I asked Lydia and Roshini what, for them, makes a good ally. For Roshini [picture below], "not only using your voice to amplify the supressed voices of other ethnic groups but genuinely listening to them yourself, in a non-defensive way. People sometimes doubt my own experiences of microaggressions. To be a good ally you have to be willing to listen to those facing oppression and believe them." We discussed who could be an ally, Lydia was clear: "you don't have to fit any certain brief, you just have to stand by the movement and keep supporting it. And be clear about your position – allyship of the intersection of BAME and Queer is not overtly clear in the media." As a society, the Queer and BAME collective is open to allies, "we want people who may not be Queer or BAME to come and listen and be educated. One of our main aims is actually to promote allyship."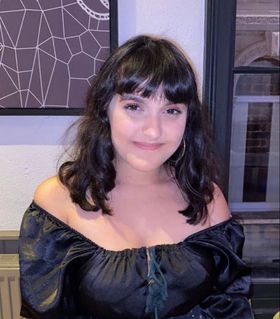 Asking if Roshini and Lydia would be comfortable sharing their own experiences at Exeter, Lydia responded, "Of course I will: for me, I am Algerian, I'm North African. But a lot of people assume my ethnicity, often they assume Indian – societies would come up to me in fresher's week asking me to join based on the way that I look. And I know I have been picked out by staff because of their unconscious racist bias. I'm not that open about my sexuality in Exeter actually – I suppose because I'm already one minority I don't want to have to be seen as two. I suppose I haven't felt like there was a safe space – until now!" Roshini described her experiences of "subtle racism": "I'm Indian so people can assume I'll fit certain stereotypes." Far less subtly however Roshini shared that the has been called racial slurs in the city, and when Lydia revealed she has been told "I don't fancy brown girls", Roshini was quick to respond: "so have I!" When it came to bad experiences of being Queer, for both Lydia and Roshini discussed the fetishization of 'girl on girl', as well as the assumptions that if you are bisexual you will want to have a threesome. Both Roshini and Lydia said they would feel nervous to show affection to a partner of the same gender in public. "It's that feeling of not being safe" (Lydia, [picture below]).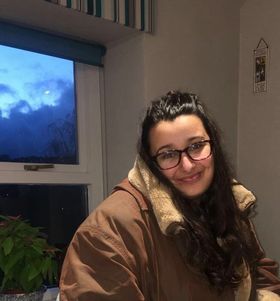 Being Queer encompasses many differing experiences. Lydia refers to how 'coming out' is often not a single event, "there's always someone you have to come out to, you feel like it's almost duty to tell them. I am nervous about starting this society, I have got hesitations, these things can still be taboo in the 21st century. There are things which we will explore as a society, which people often don't understand: being white-passing but being an ethnic minority; how bisexuality is not 50% fancying boys 50% fancying girls. There will be things which will be hard, but we want to make sure we are doing what is right for everyone, and I think we can do it". Whilst discussing bi-sexuality, Roshini noted "sexuality is on a spectrum, there is no 100% of anything. I'm more attracted to guys, that doesn't mean I won't date girls. But then when I started dating girls people acted like I was being wishy washy". There is a bi-blindness which this society is clearly keen to highlight, as men or women who are bisexual, but happen to be in 'hetero'-relationships may be able to avoid bigotry, they are also often considered to be 'failing' at being Bi. The Queer and BAME collective strive to be a place where concepts such as this can be discussed safely. 
The Queer and BAME collective hold regular meetings and will accept members at any point during the academic year.
Roshini and Lydia's recommendations: