Exeter Veg Share is a student-run volunteer project to provide organic, local veg to students and staff on Streatham campus, as part of Be the Change Society (Exeter Uni's leading environmental society). Project lead and Her Campus writer Zoe Allen talks us through this exciting new project.
Q: What's the point of Exeter Veg Share? 
The fruit and veg you pick up at the supermarket (plastic packaging and a general dislike of huge corporations aside) can have a huge global impact. A huge demand for year-round exotic fruits and vegetables means that a lot of the fruit and veg we eat could have travelled even further than you have in your life. It's actually common for fruit and veg to be air freighted all the way from central Africa. 
What's more, exploitation of the growers who produce the plastic-wrapped green beans and tenderstem broccoli for supermarkets is a huge issue. The Independent reports that Kenyan growers are paid just 26p for a kilo of green beans. This costs us over a fiver in Tesco. 
Whether its actually important for you to make these small changes versus whether it's all on the Big Corporations is a whole 'nother kettle of fish that I won't get into here. But I felt like I wanted to have an option for fruit and vegetables that made me feel like I was making the right choice but didn't bust the bank either. 
Exeter Veg Share ran until 2017 under the Guild's Green Unit and was hugely popular, but closed down when the unit was shut down. I had really wanted to get involved in the project so when I found out it had closed I decided I had better start it up again, as part of Be the Change Society. 
So the point of Exeter Veg Share is to provide an answer to these ethical and sustainability issues for students. We want to feel like we are making the right choices but we don't always have the time or money to research or visit the best options. Veg Share makes this easy, because it's all organic and sustainable and local and seasonal … I could go on and on! It's also actually cheaper than buying your veg in the supermarket. 
Our veg bags, mid-packing.
Q: Wow! It's really cheaper than the supermarket? 
Yes! We recently estimated the cost of what the same amounts of veg would cost if we bought it from a supermarket (we used Sainsbury's). Even using the cheapest, non-organic options, the contents of the veg boxes cost £8.18 – when our boxes only cost £7. If you select organic veg from the supermarket, then it costs a whopping £12.20! Buying from us saves you over a fiver – for better quality produce. 
So, when you chose to get veg organic, sustainable, and plastic-free, you actually pay less. And, any (small) profits we make get re-invested back into the project, or into social events like a cooking class we are running with Slow Food on Campus Society and Exeter Vegan and Vegetarian Society. 
Q: Okay, so how does it work? 
You can pre-order your bag on the Guild website and say when you want to pick it up. Then, we order a whole load of seasonal vegetables, depending on what our suppliers Shillingford Organics (located just outside of Exeter) have in stock and get them delivered to campus on the pick-up day. As it's seasonal, our boxes contain different items every week, and you don't know what's in it until you get it – it's a surprise. We do a pick up every other week, but our selection is designed to last two weeks so always contains lots of staples like onions and potatoes.  
Then, we have a group of great volunteers who sort the veg in equal portions into our reusable bags. We ask that our customers pay a £3 deposit, which they get back at the end of the year, to use the bags, and that makes sure they keep bringing the bags back. You can then come to our pick-up point – in the Forum whenever possible, but sometimes in different spaces when there is an event on – between 1 and 4pm on designated Wednesdays to pick up your bag. If you warn us in advance, you can send a friend to pick up your bag, come and pick it up a little early or late or even collect it from one of our volunteers the next day.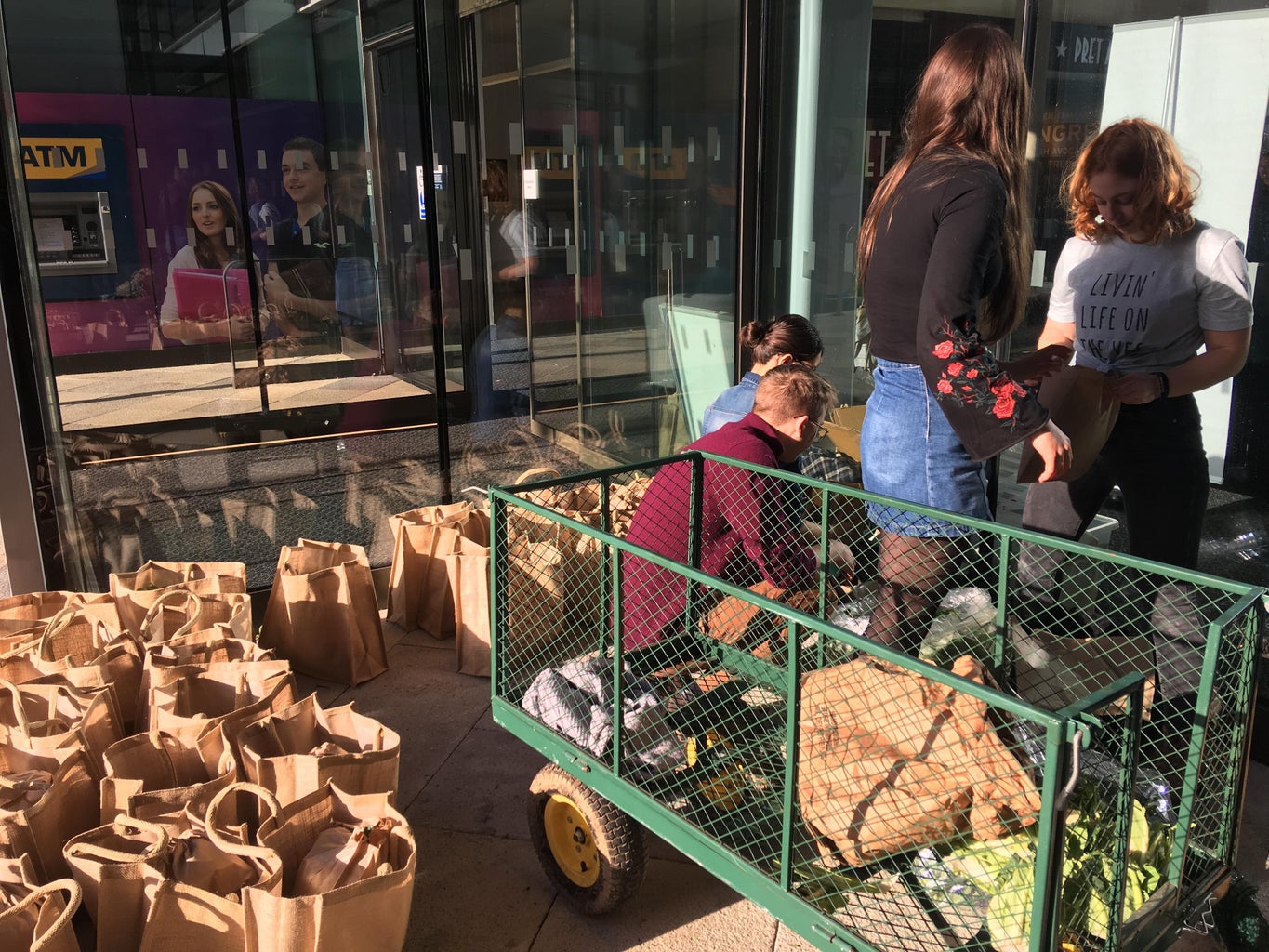 Our volunteers, Mihaela, Ben, Olivia and Zoe, prepping the bags for collection. 
Q: What about volunteering? 
We're always looking for more volunteers too, and you can volunteer as much or as little as you like. As we are a Be the Change project, you'll have to join Be the Change, which costs £5, but allows you to get involved with loads more environmental projects too. It's a great way to make friends and, as I mentioned before, we have some socials lined up, as well as all of Be the Change's whole society socials too. It's really good fun, and usually just involves sorting vegetables once every two weeks, or handing out veg to customers and chatting to them about the project. There are also opportunities to get involved with other things, like running the social media pages – and we are even looking for someone to run the project next year.
Also, the best part is, if there's excess veg after sorting, which there usually is, volunteers get to take this home for free – recently, one of our volunteers went home with a couple of kilos of purple sprouting broccoli because he wanted to make it into a huge soup!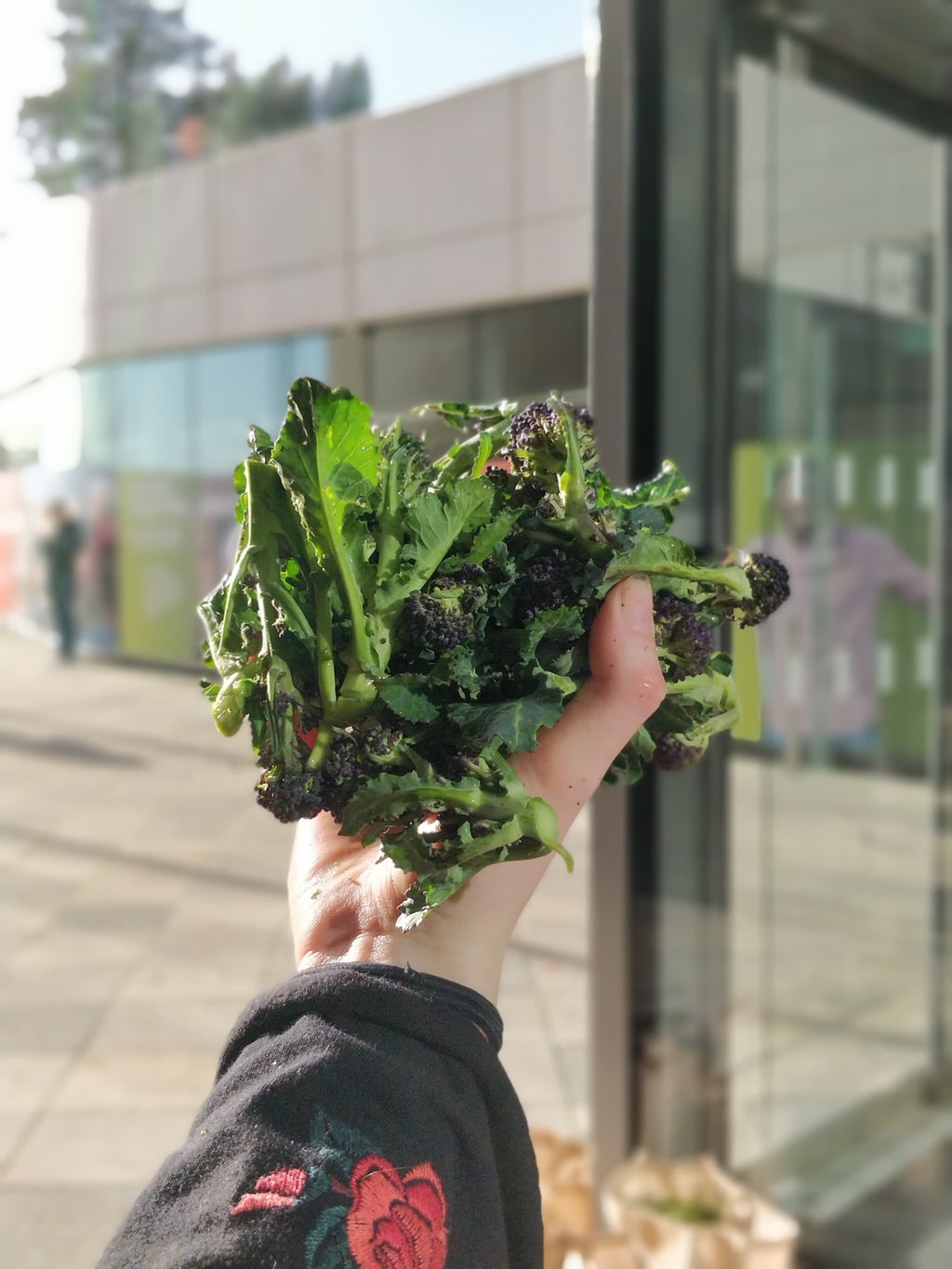 Organic purple sprouting broccoli from local farm Shillingford Organics. 
If you're interested in volunteering, send us a message on Facebook or an email at [email protected].
Q: What more can you say about the project? 
Just that our volunteers, along with the Be the Change committee, work very hard on this project and would love to see it grow and thrive. We're really passionate about the planet and great food, so we hope that everyone loves the initiative as much as we do.
Make sure you follow us on Facebook (Exeter Veg Share 2019/2020) as this is where we post most of our updates, and on Instagram (@vegshareexeter) and Twitter (@vegshare) too. 
Finally, if you want to order a box, click here!