You might not all agree, but I'd argue halloween is more romantic than Valentines. Spooky couples activities and get scared together is way more fun than overpriced chocolate and a crowded restaurant. This has never been more true than this year, with no house parties or halloween events thanks to Covid, you've got nothing better to do than eats lots of spooky themed snacks and watch halloween films together! I've made a list with a whole months worth of Halloween films, but here are the romantic halloween date night highlights!
1. Corpse Bride
Perfect combination of spooky, sweet, funny and its not scary! This Tim Burton film is perfect for a night together just taking in all the halloween fun, and not ruining your sleep!
Halloween vibes – 4/5
Scares – 1/5
2. The Babadook
If you're wanting to dive all the way in to halloween and scare yourself silly then Babadook is a great choice. You won't feel safe in your own room anymore, after watching this twisted storybook character terrorise the poor family on screen, but that's what Halloween's for! Watch it for yourself to see why its rated 98% on Rotten Tomatoes!
Halloween vibes – 3/5
Scares – 4/5
3. Halloween
What better to watch on the scariest night of the year than a massive slasher classic! It's in the name! Watch the Scream Queen Jamie Lee Curtis do what she does best, and keep checking for Micheal Myers before you sleep. It's better to watch it together than alone!
Halloween vibes – 5/5
Scares – 5/5
4. Get Out
Not your traditional spooky horror movie, but definitely a stand out film to watch on halloween. If you haven't already heard of the film (where have you been?) its about a black man who visits his white girlfriends family and…things do not go well. 
Halloween vibes – 2/5
Scares – 4/5
5. The Rocky Horror Picture Show
If you're not a *scary* movie kind of couple, but aren't looking for a Disney kind of spooky halloween, then watch the cult classic Rocky Horror Picture Show. Honestly, its easier to just tell you to watch the film than explain it. It's a musical, comedy and horror, what more could you want for halloween! No mega scares but definitely not for kids.
Halloween vibes – 4/5
Scares – 2/5
The films aren't all you need for a perfect halloween date night! Make an event out of halloween together and spend the whole evening doing cute spooky activities.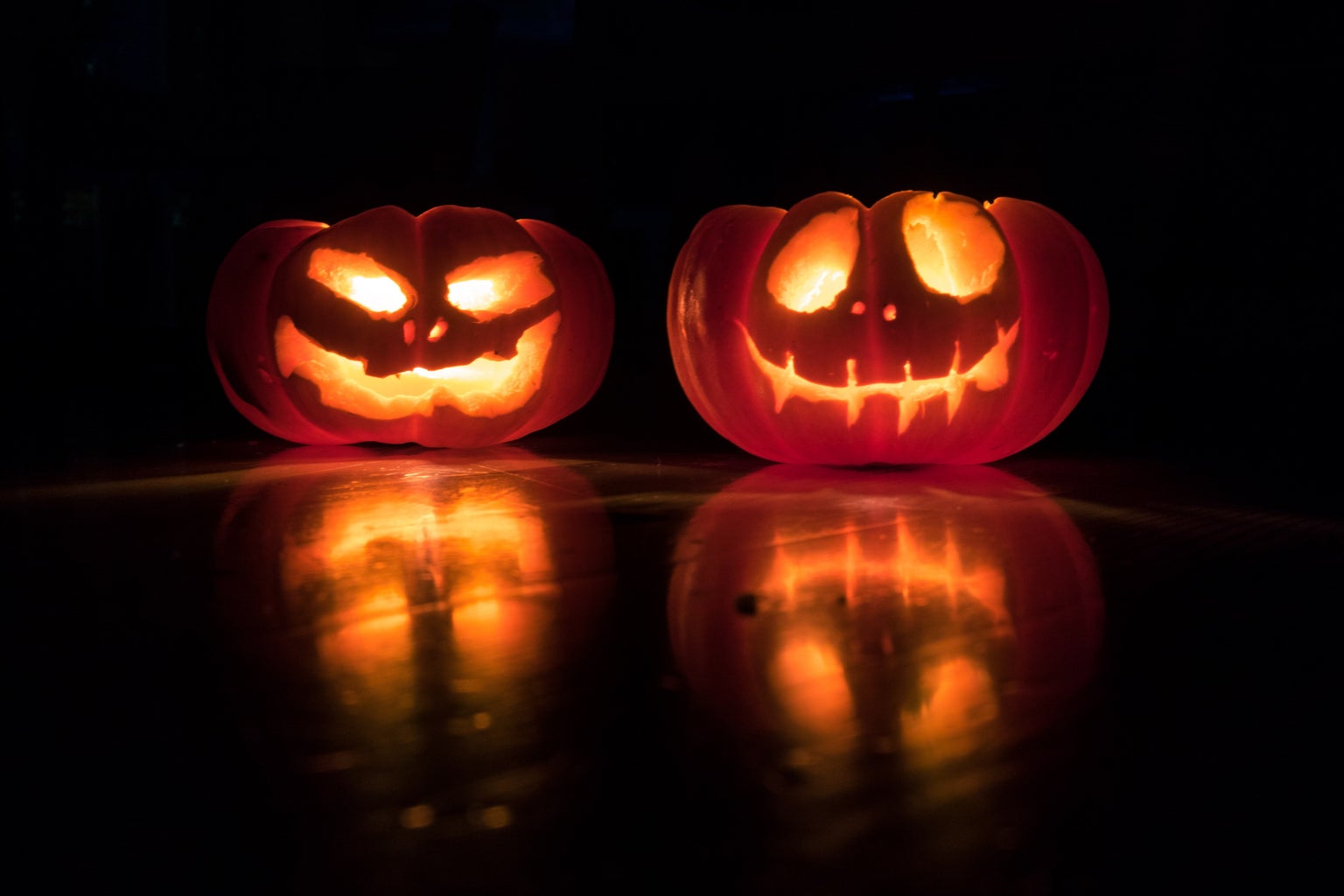 1. Pumpkin Carving
Obviously! Look up some inspiration online, or just wing it and see who can carve the best pumpkin. Plus, you can then use all the innards you've carved out for some on theme snacks!
2. Halloween snacks
You can use the guts of your pumpkin for some pumpkin seeds to snack on, or pumpkin soup for dinner! Even better, there are so many sweet halloween themed recipes you can try like toffee apples, or these bleeding chocolate cups!
3. Halloween DRINKS 
Finally, what is halloween if not an excuse to get a bit messy, and since you're stuck at home, you don't have to be stuck drinking mediocre club mixers! Try these bright and spooky drinks like Witches Brew or your own Polyjuice potion!