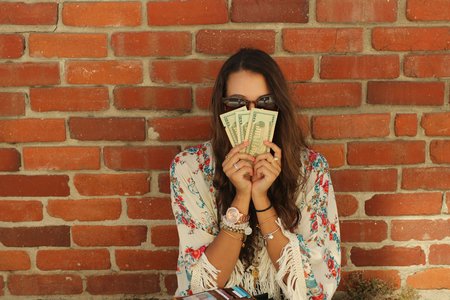 Kellyn Simpkin / Her Campus
First, it was hot girl summer, then it was semester girl bummer, and now it's broke bitch fall. We have all been there: it's ramen for dinner, sneaking leftovers out of the Student Center, or even begging random first years to just let you in for a free meal. 
Being broke sucks at any time, but being broke for Fall Break is even worse; at Emory especially. When you're stuck staring at a negative balance in your checking account, it's likely that someone you know is living it up at the beach, on an island, or even jetting off to Europe for the long weekend (absurd, truly). 
Money, however, is no obstacle because we can all be #Frugal #Queens this Fall Break and leading up to it and here's how:
1. Start. Saving. 
In the world of modern technology, the ways to save are endless. Always be sure to have the Publix and Kroger apps downloaded to stay on top of weekly ads, don't forget to check Target's cartwheel offers for extended discounts on something you may be shopping for, and DOWNLOAD IBOTTA. Ibotta is the app I could talk about forever, but it will basically save you money any time you make a purchase and scan the receipt of that purchase. It will even give you percentages back on online purchases, which will add up in the long run.
2. Stay local 
Obviously, the best way to save money on fall break is to stay in Atlanta, but lucky for you, there's so much to do here. Check out the Dekalb Farmers Market, go to the movies (because who actually has time for that during the semester), have friends over for a budget-friendly wine and cheese night, or even have a spa night where you treat yourself to some well-deserved pampering. The possibilities are endless. 
3. If you're traveling, do something free
When you're traveling anywhere, there are almost always free events going on, whether it's a festival, a concert, or even a free walking tour. While it may not be as glamorous as a $28 margarita on a black sand beach, it's still a good time. 
4. Find a friend 
It's hard to feel FOMO if you have someone by your side, and it's unlikely that there's not a single person who is also broke af that wouldn't be down to hang. Get a pal and go for a run through Lullwater when no one is going to be there to judge, or even through campus! Having a partner in crime will keep you entertained more than Insta-stalking will. 
5. Only eat one meal a day out 
Eating out is a weakness, and I understand how tempting UberEats is in the wee hours of the night. If you want to eat out, pick one meal a day. If you decide to go somewhere expensive, try to go for lunch rather than dinner because lunch deals are usually a lot cheaper than full price charges for dinners. 
6. Think about experiences rather than things 
Don't we all dream of unlimited shopping? I know I do, but my wallet cries at the thought. It's hard to say it, but shirts get ruined, jeans get thrown out, and shoes get worn down. Instead of thinking about all the things you could be getting, think about all the things you could be doing. Make memories at Stone Mountain while you hike it during sunrise, laugh until your sides hurt at Waffle House with your friends after (All-Star Special is only $8 for an ungodly amount of food), or take in the sunshine in your hammock on the quad. There are experiences that are more valuable than stuff can ever be. 
7. Use another means of transport 
A lot of people fly to their destination, but if you can't afford that, consider your other options. MARTA can take you downtown and back for about $5, you can rent a car with enterprise car share (~$12/hour), you can scooter with Lime, or you could bike. While you might not be covering hundreds of miles, you'll be able to get out of your bubble and see something new. 
8. Look for the quirky side to wherever you are
Tourist traps will wreck your budget. Although they've earned their status, anywhere you decide to go is going to have something cool to see, people worth meeting, and food worth trying that doesn't involve hours in a line or a crazy dollar amount to enjoy. If you're looking for something quirky, try the website Atlas Obscura, which has all sorts of things in Atlanta (and anywhere else) that won't be as popular, but will still be as cool. 
9. If you've got to go, go somewhere budget-friendly 
There are a lot of ways to travel on a budget, and if you google that phrase, a lot of answers can show you tips: stay in hostels, get student discounts, go off the beaten path, etc. But also be sure not to disregard the things that are stigmatized. Spirit Airlines is SO cheap and it'll get you there the same as Delta with half the cost. Virgin Atlantic has student discounts, even though it's not glamorous. Hostels are great, so are Airbnb's. There are lots of ways to travel within your means, even though they might not be the most luxurious.