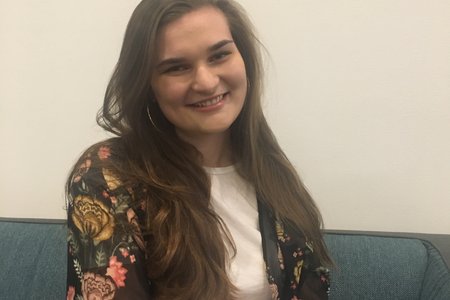 Student Leader Spotlight: Tracy Neville
Her Campus at Emmanuel is thrilled to present our Student Leader Spotlight Series, a series of articles featuring student leaders from a variety of clubs, jobs and organizations. For this installment, we interviewed Resident Assistant Tracy Neville. Read on to get her advice for becoming more involved on campus and managing a busy schedule!
Name: Tracy Neville
Pronouns: She/Her/Hers
Class Year: 2021
Major: Developmental Psychology, Minor in Biology
Involvement on Campus: Resident Assistant, Undergraduate Psychology Researcher, General Member of START & BSU
Her Campus at Emmanuel: Thank you for speaking with us, Tracy! Can you tell us about your roles on campus? 
Tracy Neville: Much of my time commitment on campus is devoted to ResLife. I spend time on duty, as well as completing administrative tasks, bulletin board making, and program planning. I also spend time as a researcher for Dr. Helen MacDonald of the Psychology department with various tasks per week. In my free time I like to attend all of the events I find interesting happening around campus from all of the amazing student groups we have!
HCE: How did you find things you are passionate about at Emmanuel?
TN: I started engaging with the Emmanuel community by simply attending events I found interesting. Soon through networking with other students I discovered ways I could get involved and spend my time doing things I love.
HCE: Do you have any mentors? Tell us a little bit about them?
TN: Diana Estime, Residence Director of St. Ann Hall, has guided my experience as an RA and a student since my first day. I love that she holds me accountable by tracking my goals with me throughout the year. Dr. Lisa Schneier, Assistant Professor of Education, has been a wonderful mentor as well since working as a Research Assistant for her in the summer of 2019.
HCE: What are some challenges you face as a student leader?
TN: Modeling responsible behavior is an important piece of being a student leader. Being an enforcer of policy as an RA is certainly something that takes getting used to, as well as time managing in making sure you are planning time for just you! iCal has become my lifeline for being on time and avoiding scheduling conflicts.
HCE: How has being a student leader helped you?
TN: I have learned valuable lessons from the experience, from self care and forming better habits for my quality of life to solidifying time management skills. I have also had the privilege to meet and collaborate with peers, leading to projects that I'm really proud of.
HCE: What advice do you have for students who want to become student leaders?
TN: The best advice I have received in taking on the responsibility along with the excitement that comes with being a student leader is to remember where you're going--see the bigger picture when challenges feel bigger than you. Everything seems work itself out, so you got this.
HCE: What would you tell your freshman self?
TN: Turn outward. Connect with new people that you may not normally interact with. Engage in the opportunities you come across. If you find yourself struggling, seek support from peers or professional staff. 
We thank Tracy for taking the time to interview with us and share her experiences as a student leader! If you are interested in being featured or would like to nominate a student leader to be featured, please email [email protected].