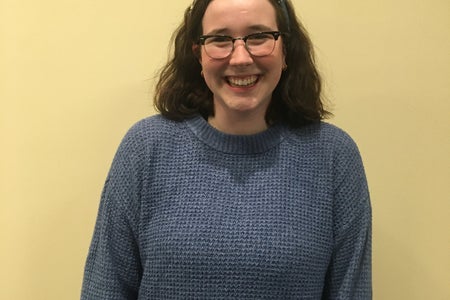 Student Leader Spotlight: Maddie Johnson
Her Campus at Emmanuel is thrilled to present our Student Leader Spotlight Series, a series of articles featuring student leaders from a variety of clubs, jobs and organizations. For this installment, we interviewed Family Orientation Leader Maddie Johnson. Read on to learn more about what she loves about her roles on campus and what she wishes she knew her freshman year. 
Name: Maddie Johnson
Pronouns: She/Her/Hers
Class Year: 2022
Major: Secondary Education and History
 Involvement on Campus: Family Orientation Leader
Her Campus at Emmanuel: Thank you for chatting with us, Maddie! Can you tell us about your roles on campus? 
Maddie Johnson: Currently I am a Family Orientation Leader at Emmanuel! While new students come to Emmanuel for orientation, I work with their families to tell them all about Emmanuel and what to expect with their student's transition to college. Outside of family orientation, I am also an OSAMP office assistant, SGA executive board member, and member of the the Colleges of the Fenway Dance Project!
HCE:  How did you find things you are passionate about at Emmanuel?
MJ: When I first came to Emmanuel I wasn't really involved on campus. The only thing I really did throughout my freshman year was The COF Dance Project, which isn't exclusively Emmanuel. The first big thing I got involved in at Emmanuel the family orientation. That really helped me find things I was passionate about on campus. Working during orientation opened so many doors for me, and I made so many incredible friends. Getting involved really helped me find people who were passionate about Emmanuel, which in turn made me passionate about Emmanuel.
HCE: Do you have any mentors? Tell us a little bit about them!
MJ: I have so many great mentors here!. This first would be my former boss, Dan Darcy, who hired me for the family orientation position. He really helped shape me into the student leader I am today. Dan always made me feel like I could do anything, even if I felt like it was too much during stressful times. He also has an incredible dedication to the students he works with, which made it so easy to work for him and talk to him. My other mentor would have to be my friend, Maeve Hegarty. Maeve and I met during orientation when she was one of the AOL's for orientation in 2019. She always gave me such great guidance throughout orientation, and continues to do so now as my friend. 
HCE:  What are some challenges you face as a student leader?
MJ: TIme management has always been an issue for me. On top of balancing 4-5 classes, making time for all the areas I'm involved in is definitely a juggling act. You want to put your all into everything you do, but sometimes there is only so much you can do as an individual. Learning how to set boundaries for yourself can be the most difficult task you encounter as a student leader. 
HCE: How has being a student leader helped you?
MJ: Being a student leader has opened so many doors for me. After doing orientation, I was able to get my job as a student worker in OSAMP, and recieved my nomination to the Student Government Association. I really feel like I became established by pushing myself to get involved. I also love being a familiar face on campus and being a resource for my peers. It has also helped me meet some great friends!
HCE: What advice do you have for students who want to become student leaders?
MJ: Even if you're hesitant about going for a student leadership position, go for it anyway. You may be surprised with how much it will impact your experience here at Emmanuel. It's such a great way to find your people on campus and really find your niche here.
HCE:  What would you tell your freshman self?
MJ: If I could go back in time and talk to my freshman self, I would literally tell her to chill out. I came into college believing I was so sure of what I wanted to do here, and nothing actually went that way. It went even better than I could have imagined. I would tell her to get involved much sooner than she actually did. I came into college not sure what I wanted to do on campus. I just kept trying things until I found the right fit for me! Everything works out with time, you just need to sit back and see where life will take you. Be confident!
We thank Maddie for taking the time to interview with us and share her experiences as a student leader! If you are interested in being featured or would like to nominate a student leader to be featured, please email [email protected].