Senior Send-Off: Victoria Harding
Victoria has been a part of Her Campus at Emmanuel since her freshman year, and this year, she served as President of the Emmanuel chapter. Keep reading to learn more about Victoria as we send her off!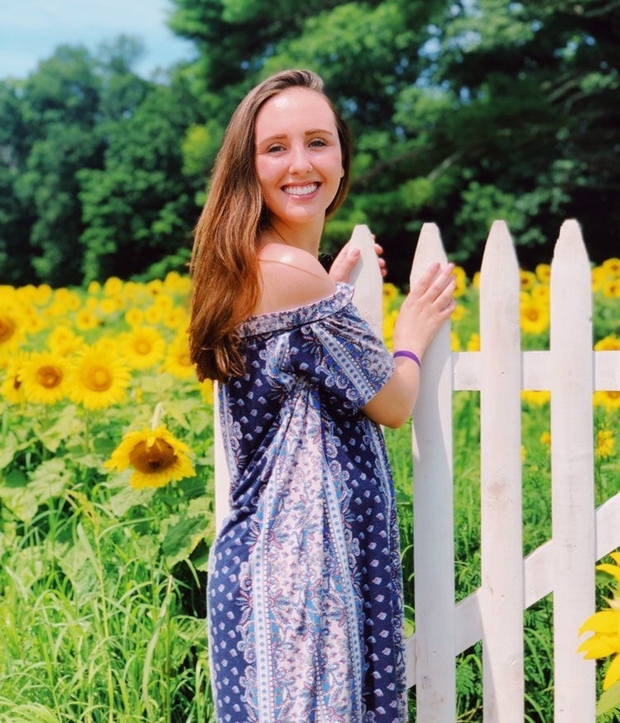 Name: Victoria 
Major: Communication & Media Studies with a minor in Management
Zodiac sign: Scorpio
Favorite Emmanuel class: Anything with Dr. Pope!
Favorite thing to do in Boston: Walking on a nice day to try a new restaurant!
HCE: When did you originally start getting involved with Her Campus?
Victoria: In high school I was one of those people who loved being in every club I could find time for and I told myself I would cut back on extracurricular activities in college. By the time I was out on the quad for an involvement fair, though, I already had put my email down for like 15 different clubs. Towards the end of my loop around the fair, the Her Campus table caught my eye and I saw my RA Autumn standing at it so I walked over. I saw that Her Campus did social media, events and writing so I was instantly excited to sign up. A lot of the members of Her Campus at Emmanuel at the time were also in theater and I was dancing in a musical that year so that also helped me get to know people and get more involved in our chapter!
HCE: What has been the most rewarding part of serving as HCE President this year? 
Victoria: Being President of HCE has been amazing and has taught me so much! Day to day victories like watching someone who has been really shy in meetings raise their hand to speak and seeing what amazing articles people write always give me the warm and fuzzies. We also had a really successful fashion show and hit 1,000 followers on Instagram! We also transitioned to being a functioning remote club and lived to tell the tale! 
That being said, the proudest moment I have had as president was very recent. A couple weeks ago Emmanuel College students began speaking out about the mistreatment of their sexual assault cases on campus. Finding out assailants were still living and holding prominent roles on campus was disturbing and what survivors have had to go through at Emmanuel is heartbreaking. Our chapter has always promoted empowerment and our mission has always been to be a voice for our community. The combined efforts of our chapter in response to this information confirmed that these weren't empty words. We were one of the first clubs to communicate our solidarity with survivors on social media, we dedicated a week of social media content to sexual assault awareness and demanding action, we followed clubs like HUELLAS and ASA in writing letters and we published articles about sexual assault and how we wanted the administration to do better. Many of our members also spoke during the forum Emmanuel College held about sexual assault on campus. This is such a heavy subject, and each day I was amazed by the hard work of our team and how much each member supported both one another and our fellow students through this dark and triggering time. I will always look back and be so proud of Her Campus at Emmanuel, especially in regards to this.  
HCE: What is your favorite article you've ever written? 
Victoria: My favorite articles to write are ones where I learn more about other people and events- I love using our online platform to tell other people's stories! Although I think our chapter is amazing and makes big strides with content every year, there is always room to improve when it comes to representing every voice in the Emmanuel community. This past March I was invited to cover a workshop at school called The Marathon Man'tality and interview the presenter David Horne. This event was dedicated to uplifting men on color on campus and it was really inspiring to learn more about David and sit in for some of the workshop activities! 
HCE: Favorite Her Campus event? 
Victoria: The annual fashion show! I love meeting the models and watching them choose different outfits to wear for the show. It's also fun picking decorations, music and student entertainment. This year was especially memorable because Primark was one of our sponsors. They had personal stylists put together the model outfits and had a pop up outside the day of the show. People from the Her Campus national office also came for the show! The fashion show is how a lot of people learn about our chapter and it was amazing to hear great feedback from people on campus, especially new members!
HCE: What is your most memorable experience at Emmanuel College? 
Victoria: Definitely being a Resident Assistant! I've been an RA since my sophomore year and I couldn't picture my college experience any other way. It's how I met many of my closest friends and it taught me so much about problem solving and time-management. Every day was different, and I absolutely loved getting to know my residents and build a community in the buildings I worked in. 
HCE: What was your biggest challenge so far in your college career? 
Victoria: I would say mental health. I have had OCD since middle school and it's definitely manifested in different ways throughout my college career. Counseling and doing more research about it has definitely helped!
HCE: What about your biggest accomplishment? 
Victoria: I didn't become a Communications & Media Studies major until the second semester of my junior year! I had been a business major and didn't really like it, but I thought getting a job in a creative field was unrealistic for me. After spending time in Her Campus and failing a stats class I finally changed my major and things instantly fell into place. I was able to get a lot of writing and internship experience in a pretty short time and I've loved all of it! So I would say my biggest accomplishment was catching up in my major quickly and still ending undergrad with a solid resume and collection of work. 
HCE: If you could give your freshman self advice, what would you say? 
Victoria: I would just hand her the book The Subtle Art of Not Giving a F***. I think a big challenge every freshman faces is everything changing at once. It can be really exciting but it can be hard handling ended friendships and relationships and a completely different day-to-day life. I definitely let problems with others consume me and although other people did hurt me, my reactions were often toxic and lacked any personal accountability. This book helps people see what they're doing wrong in life and how to focus on the things they can control rather than the things they can't. It changed my outlook on life so much! I definitely think 19-year-old Victoria could have used it. I would also tell her to delete her finsta and to stop eating junk food for every meal and sleeping with makeup on. 
HCE: Do you have any plans post-grad? 
Victoria: By some miracle, yes! I love service and was very eager to start my career in the marketing and communications field and I luckily landed a position through AmeriCorps VISTA that will let me do both. I will be doing a year of service as a Marketing & Communications Specialist for a school in upstate New York! I will start online because of everything going on with COVID-19 and will eventually move. I am also doing some freelance writing and social media work on the side! 
HCE: Is there anything you want to say to the rest of your team? 
Victoria: I don't even know where to start- both our Executive Board and general members have blown me away with their creativity, hard work, enthusiasm and kindness. Our Executive Board this year was extremely reliable and the ideas they came up with during our brainstorms were exceptional! They kept everything running so smoothly this year and our group chat and highs and lows during meetings always made my day. Our general members have come up with fantastic articles and continuously impressed me with how willing they were to venture out of their comfort zones. I loved getting to know each and every one of them and share laughs and thoughts during meetings. I hope that I was as good of a leader as everyone was as general and Executive Board members, it has truly been an honor to be President of such a fantastic group! I will always remember Her Campus at Emmanuel as one of my best EC experiences! I have full confidence that the team next year will be even better.
 I can truly say it has been an honor to be a part of Her Campus with Victoria as President, and it has been even more rewarding to work closely with her on the Executive Board. Throughout the year, Victoria has handled every obstacle and event with grace and kindness, and I think that is part of the legacy she will leave behind with our entire team. 
Victoria, thank you so much for everything you have done. We will miss you dearly, but we are so proud and so excited to watch you take the world by storm!