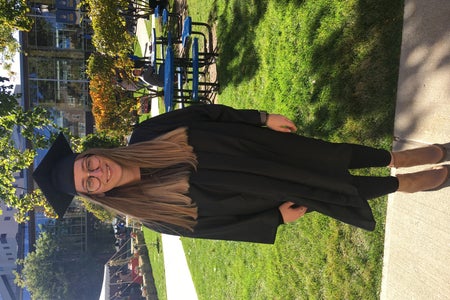 Senior Send-Off: Caroline Ferrari
Name: Caroline Ferrari
Major: Communication and Media Studies, Minors in Writing, Political Communication
Favorite Class at Emmanuel: Digital Culture, Astronomy
Dream Job: Writer at Entertainment Weekly
Favorite Thing to do around Boston: Red Sox Games
Favorite Hobby: Playing DnD with my friends
HCE: How did you get involved with Her Campus any why?
Caroline: I would see flyers around campus but I never really knew what it was. My friend Jaime, who was a previous e-board member, told me about the club. She convinced me to join and the club was in need of a treasurer so I applied on a whim and the rest is history!
HCE: What is your favorite Emmanuel College memory?
Caroline: The NYC trips! Even though I hate waking up super early, I had the greatest times on these trips with my friends. I have gotten to see Frozen and Aladdin on Broadway, go to the Met to recreate the iconic Gossip Girl photos and take a tour of the NBC Studios at 30 Rock. Even the bus rides were fun, even if we were all losing our minds from lack of sleep on the ride home. 
HCE: Do you have a favorite event hosted by Emmanuel?
Caroline: The Body Positivity Fashion Show! I never went to it before this year and I wish I had gone before. Not only was it so much fun, but the message is so important. People, and women especially, are expected to look and dress in a creative way thanks to society's outdated standards. The fashion show is a chance for all of us to just be completely ourselves and not have to worry about what others think. I hope HCE will continue the tradition. 
HCE: Looking back, what advice would senior year Caroline give to freshman year Caroline?
Caroline: Take a chance. Freshman year me never really left her bubble and I wish I had. Joining a club isn't lame and leaving your room once and a while is good for you. 
HCE: Do you have any advice for upcoming seniors, or to the current students?
Caroline: The friends you make here are your family for life. You might not find them right away, but they are there. Make some memories.