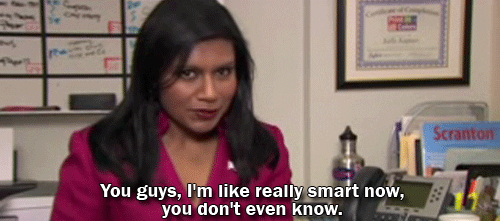 Image Source: Giphy
My name's Ashley. I'm the President and Co-Campus Correspondent of the Her Campus at Emmanuel chapter for the 2018-2019 year. Honestly, it's been really fun. I love my team. I'm involved in something bigger than myself. We're almost halfway through the year. (As of November 23, 2018) We've published 64 articles, consistently posted on Twitter, Instagram and Facebook, hosted two campus events, bonded at College Fashion Week Boston, and did this all while having an absolute amazing time. It's been eventful, and honestly like nothing else I've ever experienced.
I had big shoes to fill when I took over as the HCE President. It's a difficult role that's beneficial in every aspect of my college life. This position has taught me about working as a team, achieving attainable goals, and being a leader. My absolute favorite part has been organizing our Annual Fashion Show. We changed venues this year and it worked well for us. Another favorite part has been working with underclassmen to help them get more involved with our chapter. Working with a group of students who want HCE to succeed as much as I do is what makes this position so fulfilling.
I've learned being a leader is about more than just making decisions. It's about learning to work best with others. Being the Her Campus at Emmanuel President is about being there when HCE needs you. That's what I try my best to do and I'm excited to learn even more next semester.
Until spring semester….
HCXO,
Ashley